On his third trip to Montana, the author finds success using mules, staying mobile & by just going.
The last grip of winter's cold hands clinched the Rockies as we left Arkansas headed towards the western peaks. The words of John Muir rang in the alacrity of our highway speeds while pulling the two-horse trailer – "The mountains are calling and I must go."
"Those snow flakes are the size of quarters," I said to Kolby as we drove. It was April 28th and a snowstorm had just dumped its load on Montana. "Bears love the snow," I said sarcastically. After a short pause for emphasis, I shook my head, "No, they don't," I said. It was pretty early to be bear hunting. The weather-related drama was secondary to my internal anxiousness about traveling with livestock across the country; it's a complicated process, and it was our maiden voyage. But even more ominous was the looming possibility of another unsuccessful hunt. This would be my third expedition and I'd never been in gun range of a bruin. This type of hunting ain't easy, and it's no respecter of people.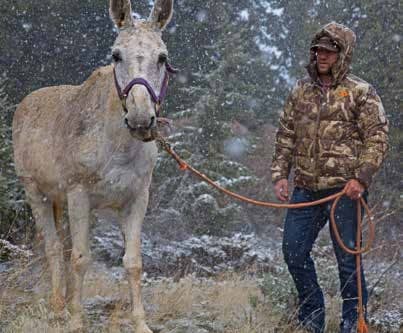 Just a week before I'd asked Kolby Morehead if he'd come along. He wasn't prepared, but said he was up for the challenge. After getting health papers for the mules, checking our gear, and shooting the Best of the West 300 Win Mag, we were northbound on the 30-hour road trip. From my experience on the past two hunts, it was clear we needed to be more mobile. We'd backpacked in on foot the first trip and stayed in one place our entire hunt, only to see a bear on the last day. The second trip we used the equine animals of a friend in Wyoming and split a six-day hunt between two areas. Our closest opportunity came within the first few hours of moving to a new location. I realized that we didn't need to "wait" on a bear, but we needed to keep moving until we found one. This trip was going to test my new western bear hunting philosophy. Be mobile.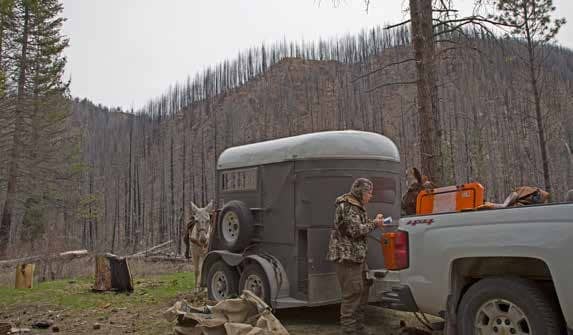 The Plan
My plan was to make daytrips on the mules, and if we found bears, we'd stay. This meant we'd pack enough provisions for three days on every excursion, but might end up back at the truck at the end of the day. Secondly, we had to pack light because we didn't bring pack animals. We just had two mules. Most equine hunts involve a riding animal and a pack animal for each person. Our lightweight backpacking gear was critical, even though we had mules. They don't have supernatural strength, and they typically can only carry 150-200 pounds of dead weight, but can carry more with a live rider. With all my gear and me, Izzie's load was pushing 250 pounds, which is about their limit for longer rides.
After making an overnight stop in South Dakota at a friend's farm, and letting the mules get respite from my rough-riding 1960s trailer, we arrived in Montana on the evening of April 30th. We stayed the night with some good friends on the western edge of the state. They live near a massive block of National Forest and regularly view wildlife through spotting scopes off their back porch. After a great dinner of moose steaks, Rebecca said, "I bet you $20 bucks we can spot a bear off the back porch."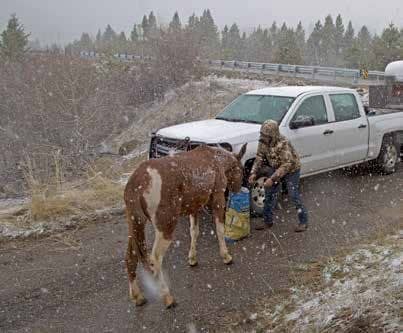 "Really, you think so?" I said.
"Let's try," She replied.
Continue Reading with Magzter GOLD
Log-in, if you are already a subscriber
Get unlimited access to thousands of curated premium stories and 5,000+ magazines
READ THE ENTIRE ISSUE
November - December 2019