Bowhunting the Bears of the Blue Ridge Mountains
September means bow season, and opening weekend of the Georgia's bow season 2019 found me slowly making my way up a white oak ridge in the beautiful mountains of northern Georgia.
I had found this spot several weeks earlier while summer scouting, and the fresh bear scat littering the ground confirmed the bears were feeding in the area. I moved slowly through the maze of mountain laurel, stopping to listen every few steps until I finally heard what I was hoping for. The sound of breaking oak limbs was unmistakable. The sharp crack of the branch reminded me of the sound of pine limbs snapping during an ice storm. As I eased closer, with a crossbow in hand, I could see broken limbs and leaf litter strewn about the forest floor as leaves drifted down from the canopy above. I stood patiently just twenty yards from the base of the tree. I knew it would be a waiting game until the bear decided to descend from his perch 70 feet above. Without warning, I heard a loud huff quickly followed by the sound of shredding bark as the bear came down the tree with amazing speed for something so large. The young boar hit the ground as if shot out of a cannon and was enveloped by the thick vegetation instantly. A few seconds later and the woods were quiet again.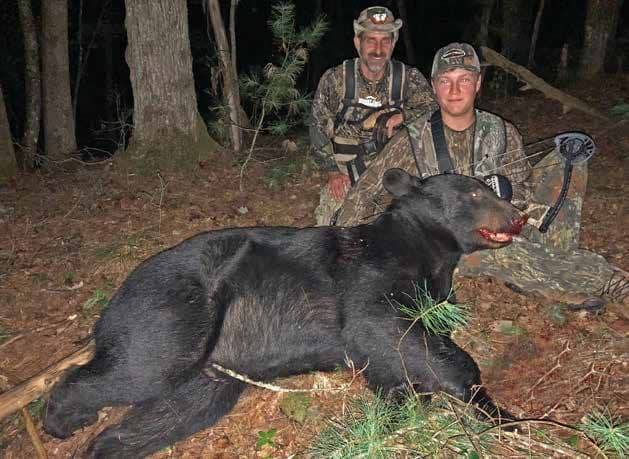 For a few weeks every fall, hunters who have the fortitude to make the long pull up a hardwood lead (ridge) have an excellent opportunity to test their woodsmanship in pursuit of the black bear of the Blue Ridge Mountains. This ancient landscape is located on the southern end of the vast Appalachian Mountains. Last year alone, there were almost 550 bears taken in Georgia, with the majority of those coming from the 750,000 acres of Chattahoochee National Forest, most of which is comprised by the rugged terrain known as the Blue Ridge Mountains. For the bowhunter that does not have the opportunity to hunt over bait, or with hounds, there is likely no better opportunity for a chance at a bruin than hunting early bow season in the southern Appalachians.
Food Source
You can read upto 3 premium stories before you subscribe to Magzter GOLD
Log-in, if you are already a subscriber
Get unlimited access to thousands of curated premium stories and 5,000+ magazines
READ THE ENTIRE ISSUE
March - April 2020