Jack Of Hall Trades
Angler's Mail|November 26, 2019
The ace angling coach is here in the Mail for an exclusive series revealing his on-the-bank lessons and views on modern fishing.
SINCE I returned from my epic journey to France last month, I have been finding my coaching and angling sessions quite challenging. The weather has been unsettling and unforgiving, making every single bite very hard work.
Although the coaching sessions that I have been running over the past two weeks have been challenging, they have not been without reward. My BTEC students from Gable Hall School, in Essex, have continued to come on in leaps and bounds, both in terms of their angling skills and their understanding of the environment around them.
We dabbled in a spot of livebait fishing for pike, and the reaction of the students was fascinating. After a fruitless couple of hours, one of the students spotted a small pike in the margins, so they set about trying to catch it.
Watching four of them crowded around one rod, desperately willing the pike to attack the livebait, was a priceless moment. For a potentially 'challenging' group of students, it was amazing to see. The way they were stalking the pike, you could have heard a pin drop, they were that transfixed.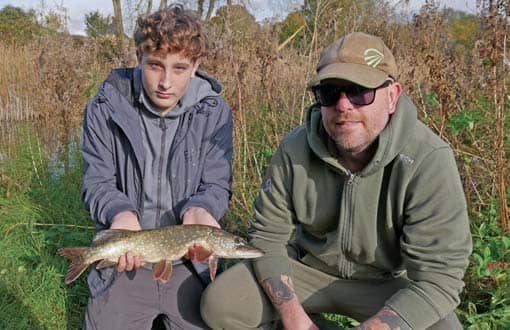 The silence was broken when suddenly the pike took the bait. One of the lads struck, but unfortunately he didn't hook the pike. Although there was disappointment in the air, they still saw the funny side of it, and pressed on with trying to tempt another pike.
They didn't have to wait too long, as a pike took the bait, and this time it was hooked successfully. After a flurry of excitement, there was a small jack at the bottom of the net and a group of students who didn't quite know what to do next.
I got the pike out and onto the unhooking mat, where I then demonstrated how to unhook it safely. The students were really fascinated by the rows of razor-sharp teeth in its mouth, and as this wasn't a particularly large specimen, they didn't find it too intimidating.
We also had some carp rods out, as we were fishing on a Rayleigh Angling Club water that offers a great range of mixed coarse fishing. We were blessed with a few hours of glorious sunshine when the rain gave us a temporary reprieve.
You can read upto 3 premium stories before you subscribe to Magzter GOLD
Log-in, if you are already a subscriber
Get unlimited access to thousands of curated premium stories and 5,000+ magazines
READ THE ENTIRE ISSUE
November 26, 2019