Alien aquatic plants
In this final part of my special look at alien species, I have highlighted some invasive aquatic plants that have had an impact on waters, with an evaluation on the degree of threat that they pose, on a scale of one to ten, one being the lowest.
Australian swamp stonecrop
(Crassula helmsii)
Description
The plant has round stems, fleshy leaves and flowers that are small and white with four petals.
Introduction and spread
Brought to the UK from Tasmania in 1911 as an oxygenating plant for ponds and aquaria. It was first reported in the wild in Essex in the 1950s, and has now spread throughout much of England, and is still spreading.
Risk analysis
With a vigorous growth habit, a tolerance of a wide range of pH and salinity, the ability to grow from tiny plant fragments, and capable of colonising mud as well as water, this is a robust and competitive alien plant. It forms dense mats of vegetation that suppress native aquatic plants and restrict water flow, leading to land drainage and flood management problems.
Control
Listed under Schedule 9 of the Wildlife and Countryside Act 1981, it is an offence to plant or allow the species to grow in the wild. It can be controlled by shading and controlled chemical spraying, and visitors to sites known to hold the species should follow the 'Check, Clean, Dry' procedure advised by www.nonnativespecies.org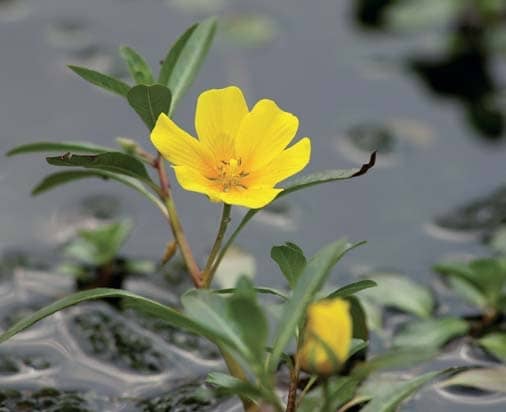 Water primrose
(Ludwigia grandiflora)
Description
Fleshy stems with dark green leaves, the plant emerges and forms distinctive bright yellow flowers, spreading out from the banks of stillwaters, canals or slow-moving rivers via fragmentation and seeds.
Introduction and spread
Native to South America, the plant was introduced to the UK for the ornamental aquatic trade, and escapee colonies have been identified in a limited number of locations, primarily in the southern counties of England, although it has already been successfully eradicated from some of them.
Risk analysis
An aggressive and potentially serious threat, it outcompetes native aquatic plant species, restricts diversity and has serious flood management implications.
Control
You can read upto 3 premium stories before you subscribe to Magzter GOLD
Log-in, if you are already a subscriber
Get unlimited access to thousands of curated premium stories and 5,000+ magazines
READ THE ENTIRE ISSUE
January 14, 2020