7-River Roach Safari
Angler's Mail
|
September 24, 2019
You'll always learn loads and be inspired by this vastly experienced traditional angler, who also relishes exploring the latest coarse techniques… with help from his friends.
DEREK CAUSER is my kind of guy. When great pal Ian Lewis told me he was bringing Derek down for a couple of days roach hunting, I did my research.
Though Derek lives on the barbel-rich River Severn, it has always been roach for the man. His search for a river 'two' has been lifelong. Derek has fished nationwide in his quest, and with experts to guide him. He has been on the Avon, Stour, Frome, Trent… just about everywhere but East Anglia, it seemed.
I was dubious about his visit on two counts. First, would my rivers measure up and make Derek's journey worthwhile? Of course, they all have great redfin history, but the past is the past.
And then, there is me. How would my roach knowledge stack up against that of the guys that Derek has met and fished with on his travels? I reckon I am a good roach man, but perhaps I have been living in a bubble of complacency all these years?
In preparation, I decided to throw my East Anglian net wide. Along with Robbie Northman, I spent the best part of the week before Derek's appearance on a roach hunt along the rivers Thet, Lark, Little Ouse, Bure, Yare, Waveney and, of course, my home passion, the Wensum.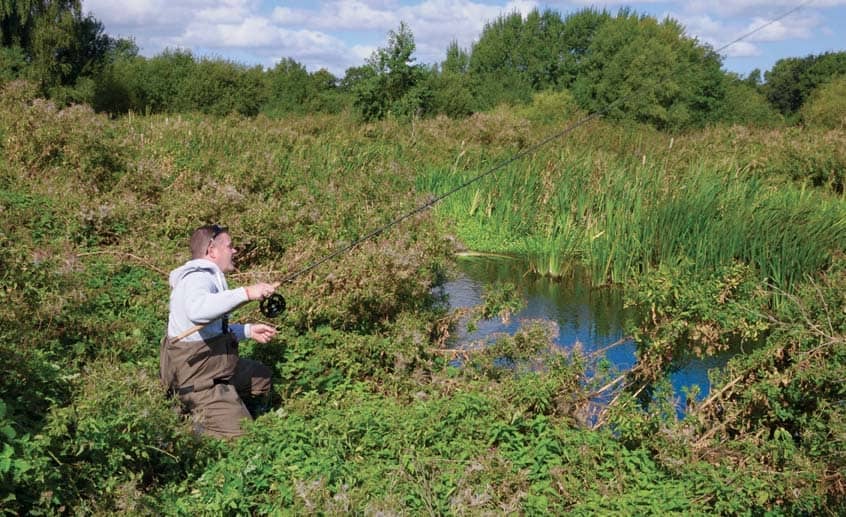 Discovery with Robbie
So, what is the state of the East Anglian river roach scene in autumn 2019? I guess it mirrors pretty much that of all our small lowland rivers all over the country and is a mix of good news and bad. I drove nearly 700 miles in six days of searching, as well as walking 43 miles of bank. Blimey! You have to hand it to me: I'm no quitter.
The good news is that Robbie and I found plenty of kids river fishing close to the several towns that we visited. They loved the sport, they loved their floats and they loved roach when they could catch them. They were no different from me and my mates on the Northern canals in the 1950s. We also found endless features on each and every mile that we trekked. The dredgers are a menace of the past, and habitat fit for roach abounds. Trees, overhangs, rafts, woody debris and endless meanders on all of the rivers looked great.
The flip side is less encouraging. Flows everywhere were depressingly low. Of course, it has been a long, dryish summer, but we can't develop willy nilly and expect to be able to abstract forever without seeing dreadful consequences.
River depths were well down in all of the swims as I remembered from fishing them in the past. Many of the good old roach holes from the past century are half their original depth if that.
You can read up to 3 premium stories before you subscribe to Magzter GOLD
Log in, if you are already a subscriber
Get unlimited access to thousands of curated premium stories, newspapers and 5,000+ magazines
READ THE ENTIRE ISSUE
September 24, 2019