We Need To Talk About Kevin
As KEVIN SMITH returns to the View Askewniverse with JAY AND SILENT BOB REBOOT, we caught up with this major genre fave to discuss his latest film, upcoming projects, reuniting with Ben Affleck, and much more...
STARBURST: Firstly, as fans of the View Askewniverse and its characters, thank you for making this movie.
Kevin Smith: Oh my goodness, thank you for watching it. I've been on the road with it, on the Reboot road tour. We've done New Jersey, Chicago, Detroit, Grand Rapids. Every audience is full of hardcore fans. It's not just a movie crowd going, "Hey, what's playing this week?" It's people who grew up with these movies, who know the dialogue and the characters. Watching it with them every night, it's like being basked in absolute adulation. It's so lovely. The movie is made for that audience. Chiefly, it's made for me, as I'm the biggest Kevin Smith fan. But if you're a Kevin Smith fan, this movie is made for you. It's a dream come true for me.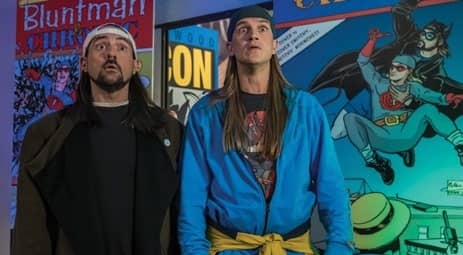 The last time we saw this world in live-action was back in 2006 with Clerks II, so how long has this film been gestating for?
It's something we've been trying to do for three years as Reboot, but technically this goes back five years to when I was trying to make Clerks III. Then that didn't happen, so I was just, "Wait, we're gonna make Mallrats 2." When that didn't happen, I was a little frustrated so just thought, "Why don't we work smarter not harder?" We own Jay and Silent Bob, me and Jay, and we want to do it, so let's pursue Jay and Silent Bob Reboot. And in that, I started doing sequels to everything else. I felt like it was the only View Askew movie I was going to get to make, so I put a Clerks sequel in there, I put a Mallrats sequel in there, a Chasing Amy sequel, and a Dogma sequel. For me, it was like, "Let me take the best parts of the two projects that I couldn't make happen, throw them into this as starter courses, and see what comes of it." Jason Mewes being a dad really put us on the right track. He's been a dad for about four and a half years, and he's this amazing father. You wouldn't think it, because he's this guy you wouldn't trust with a carton of eggs, let alone a human being, let alone one that's tiny and fragile. He turns out to be the greatest dad I've ever seen, including myself in the equation, including my father.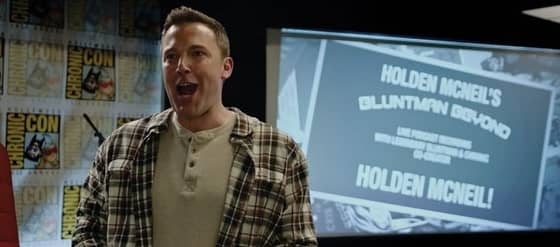 Clearly Reboot relies on a level of nostalgia initially, but how did you balance that greatest hits element while still allowing this fresh story to breathe?
Continue Reading with Magzter GOLD
Log-in, if you are already a subscriber
Get unlimited access to thousands of curated premium stories and 5,000+ magazines
READ THE ENTIRE ISSUE
December 2019