HOVERBOARDS, FLYING CARS, SELF-DRYING CLOTHES, AND JAWS 19… JUST SOME OF THE THINGS THAT APPEAR IN BACK TO THE FUTURE: PART II. IT WAS RELEASED THIRTY YEARS AGO AND WAS SET IN A TIME THAT HAS NOW PASSED. SO WE ASK: "WHAT DID IT PREDICT CORRECTLY?"
In 1985, one of the greatest sci-fi adventure films, Back to the Future, directed by legendary filmmaker Robert Zemeckis, graced the screens. Following on from the success of the film and the fact that Marty McFly and Doc had ventured to the past, the 1989 sequel took our heroes to the distant future and posed the question: what will life be like in the far reaches of 2015? So what did the film get right? Do we finally have flying cars? Are we so lazy that we have to get shoes to tie themselves? Did the Cubs win the World Series? Let us celebrate the monumental 30th Anniversary of the second part of this famous trilogy and look at what technology and events the filmmakers predicted correctly see if you spotted all of these too!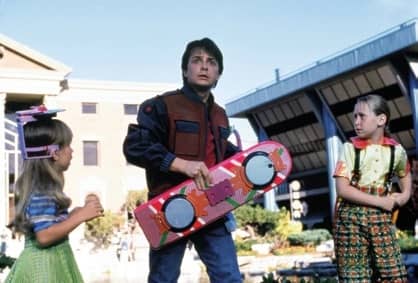 3D CINEMA AND SEQUELITUS
Now, 3D and gimmick-centered films are not anything new, but BTTF2 presumed that the eye-popping cinema experience would be a big hit in 2015 when Marty was 'attacked' by a giant shark used to advertise the latest instalment in the Jaws franchise, Jaws 19. In recent times, since Avatar propelled 3D cinema journeys into a new age in 2009, we've also had the introduction of 4DX - an experience where everything from the breeze to a tornado is simulated within the confines of the auditorium (the closest thing to being eaten by a shark!), and also IMAX and IMAX 3D.
In addition to that, when the film predicted that Jaws would get to the 19th instalment, it completely nailed that franchises would reach a ridiculous number of films, with some including the likes of Friday the 13th and Halloween both reaching a whopping ELEVEN movies as of publication (with more planned for both!).
Perhaps today's filmmakers were inspired by this and have since set out on a life mission to make the longest-running film franchise of all time (with some getting mightily close, you could say!). We wonder how real-life audiences would receive Jaws 19 if it were real… probably not too well!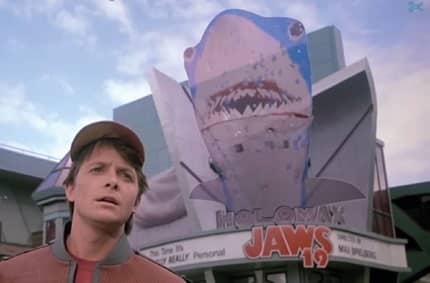 TRANSPORT
Continue Reading with Magzter GOLD
Log-in, if you are already a subscriber
Get unlimited access to thousands of curated premium stories and 5,000+ magazines
READ THE ENTIRE ISSUE
December 2019