In the pantheon of modern horror, few characters have gathered as impressive a following as the famed Firefly family of Rob Zombie's HOUSE OF 1000 CORPSES and THE DEVIL'S REJECTS. With those nefarious sorts now returning for a third outing with 3 FROM HELL, we caught up with the writer/ director to discuss the new film and his career...
STARBURST: It's been 14 years since we last saw the Firefly family in 2005's The Devil's Rejects, so why was now finally the right time to give these characters a third feature outing? Rob Zombie: I'm not exactly sure. I've always thought about the characters. Over the years, they keep getting more popular, and they're always present in my life, but I never thought I would make another movie. Then, about three years ago, I got the idea that I wanted to do this. I went to Lionsgate, who made the other movies, and said, "I'm thinking about doing this". I had to get their approval, and they were on board with doing it. From there, I began working on the script and working on ideas - and here we are.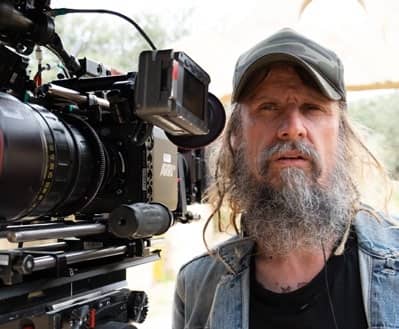 Was the general narrative of the movie always largely the same as what we see in the finished film, or were there any major changes throughout the development of the story?
There were different phases that it went through. I always knew I wanted to do a threeact thing, where the beginning was like a documentary and a prison film, Act 2 was more like a home invasion movie, and Act 3 was this Mexican Western.
Many hold the Firefly family on the same pedestal as Michael Myers, Jason Voorhees, Freddy Krueger, and the classic Universal monsters. Being such a big horror fan yourself, what's it like to have created a group of characters who are such big favourites?
It's pretty weird. I've always been a fan of these things, I always wanted to make movies, but you never know if you're going to get to do these things. Once you get to do them, you don't know if anyone's going to care. To have these crazy characters who I thought up 20 years ago and made a movie that people still care about, it's amazing. It's the best thing you could hope for. You want to make things that people remember and want to revisit and come back to, that another generation finds. The fact that that's the way it's gone, it's awesome.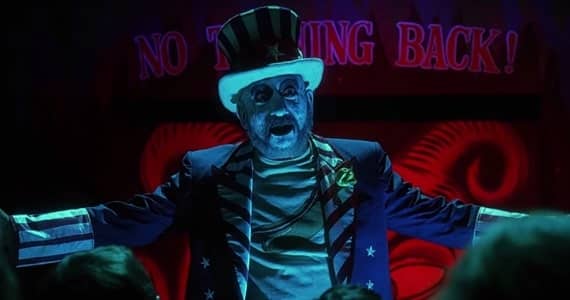 One thing that will catch many off-guard in 3 from Hell is that Captain Spaulding is only in the first act. Was that always the plan, or did you ever have Spaulding playing a larger role in the film?
No. All that was just due to real-life situations, unfortunately. The original version of the script that I was getting ready to shoot had Captain Spaulding in the movie all the way through, right to the last scene. There was no other character; the character that Richard Brake plays - Foxy - wasn't in there, it was just the original three. Then, three weeks before we were beginning to shoot the movie, I got a call from Sid [Haig], and he told me that he had been in the hospital, that he was out now, but he was still recovering. That's all he said. So I went to visit him, and he had changed a lot. I mean, he's 80 years old, but he had lost a lot of weight and was now super skinny, he was really frail, he was still ill. That's when I started rewriting the movie, because I was like, "He can't do the whole movie. It's too much. It's way too much." It's hard enough making movies when you're young and healthy, but to expect him to do it at that age was ridiculous. I kept changing it, little by little, changing it for him as time went on. Then another week would go by, and he didn't seem like he was getting any better at the time, so I was getting more nervous and I kept changing the part. Eventually, right before shooting, the studio demanded that, because he was 80 years old and he'd just got out of the hospital, we had to get him cleared to work by the insurance company and go through all this red tape. Once that happened, they wouldn't clear him to work. At that point, they wouldn't even let him be in the movie. They were just, "He can't work." So I begin to freak out, I start rewriting the script, I come up with the idea for this other character to fill in the blank where Spaulding is now missing, and then I get Lionsgate to finally agree to let me bring Sid in for one morning to film as much with him as I could so that I could at least get him in the movie. All those creative choices were based on real-life problems.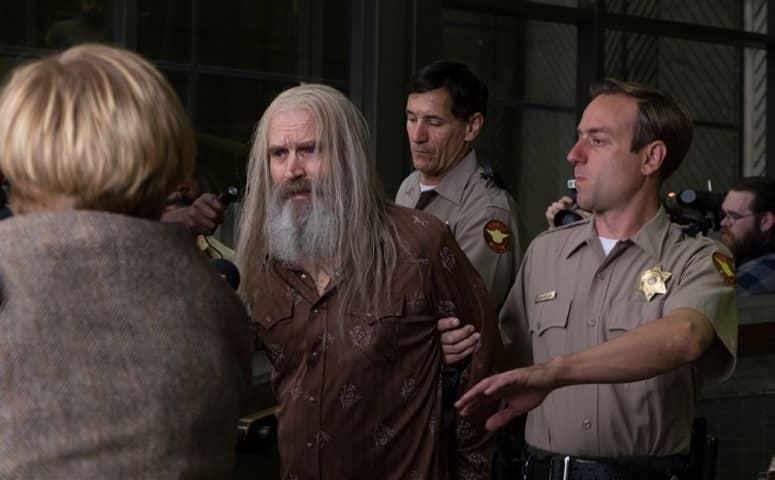 You'd previously worked with Richard Brake on 31 - in which he was phenomenal - so was Richard instantly the first person who came to mind once Sid's role was reduced?
Continue Reading with Magzter GOLD
Log-in, if you are already a subscriber
Get unlimited access to thousands of curated premium stories and 5,000+ magazines
READ THE ENTIRE ISSUE
November 2019