Tapping Into Pure Indulgence At Tri Lanka
I had heard rumblings about this new place called Tri Lanka
After hours and hours of travel and prep and driving hundreds of kilometres, I'd be lying if I said I wasn't praying for relief for my weary legs by the time we drove into Galle on the southern tip of Sri Lanka.
So when I finally arrived at Tri Lanka, about 40 minutes from Galle, it felt like a well-deserved reward.
Located on Lake Koggala, Tri Lanka is a property that's all about indulgence, both the venue and its surroundings. You'll really, truly understand this when you set foot onto the property and experience the 360 degrees of luxury. The team here hasn't cut any corners, not even by a millimetre. Fluffy towels, extraordinary views, dreamy amenities that you'll no doubt want to pop into your carry-on bag on the way home—it all comes together to create a pure, tranquil, luxurious retreat.
THE STORY
I had heard rumblings about this new place called Tri Lanka so when I was planning out my Sri Lanka trip, I immediately jumped online to take a peek and saw that it was exactly what I was looking for! (I mean, take a look at Lake Koggala and tell me, honestly, that you wouldn't want to sleep surrounded by that beauty!)
Created by owner Robert Drummond and his wife Lara Baumann, together with Raefer Wallis, award-winning architect of A00 Architects, and Tharindu De Silva, a Sri Lankan architect also part of the A00 team, Tri is a bubble of passion and creativity. Unlike a number of new properties that smash, slash, and cut their way through existing beauty for the sake of vanity, Tri embraces what is already there and only seeks to complement it.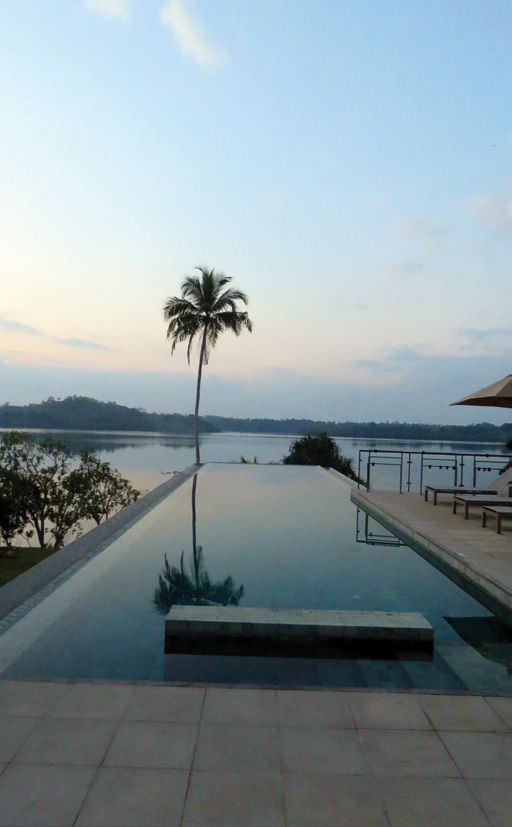 Tri Lanka has worked exquisitely and eloquently to respect and maintain the land by working with what already exists instead of trying to mold it around a particular vision. It's new, beautiful, and cutting edge but also manages to balance hip trendiness with a zen mindfulness.
Rob is cool, calm, and collected with a mixed background of yoga, photography, and banking and got his first taste of property development in Sri Lanka in 2001 when he bought a plot in Galle. Then in 2003, he had the chance to purchase land from a local farmer which, come 2015, became Tri Lanka. It wasn't a slapdash effort; this hotel was carefully crafted from Rob's vision for a specific design.
Being into yoga himself, coupled with Lara's passion for it, he wanted the property to emphasize the surroundings and revolve around health and wellness but without making it a strict yoga retreat. Do yoga, don't do yoga, it's your choice. The main thing is making sure you enjoy yourself!
With all of that being said, though, we have to highlight Lara for a minute. Saying that she's passionate about yoga probably downplays who she is and what she's done. Lara developed Quantum Yoga, which is a dynamic form of yoga based around what is most suitable for you, which is determined by identifying your dosha. In Ayurveda, there are three doshas (mind-body-types) which are categorized at Vata, Pitta, and Kapha. It's pretty interesting so if you have a chance to discover your dosha, it'll likely enlighten you on how to approach health and wellness in the way that's best for you!
So, knowing all of this, you can understand why Tri Lanka is the way it is!
GETTING THERE & FIRST IMPRESSIONS
From Colombo Airport, you're looking at about a 2.5 hour drive or 165 km, though if you like making an entrance, Cinnamon Air could bring you in on their sea plane. Considering how stunning the lake is from the ground, I can't even being to imagine the beauty that would greet you from above. If you're coming in from Galle, it's a 40-minute drive.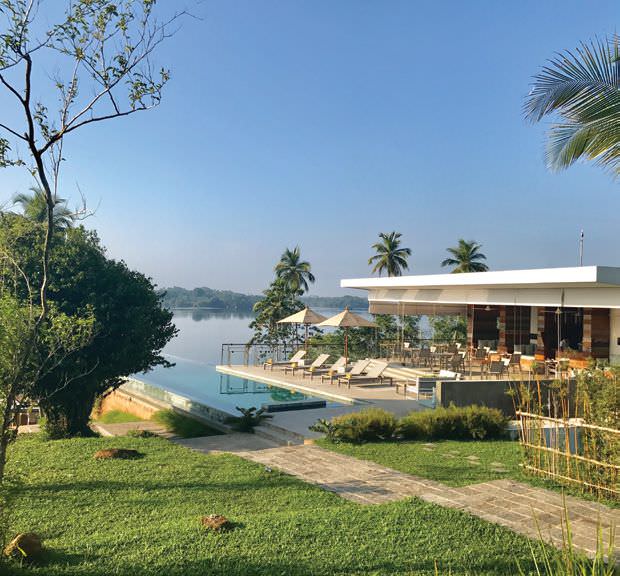 Even my faithful driver and travel buddy Kalan (thanks AMW Group!) said, "Ma'am, this looks like a very nice property" as we pulled up to Tri. Though he may have also just been relieved that we arrived without getting lost, for once.
Continue Reading with Magzter GOLD
Log-in, if you are already a subscriber
Get unlimited access to thousands of curated premium stories and 5,000+ magazines
READ THE ENTIRE ISSUE
Summer 2017