Rarefied Air
Watch Time
|
July - August 2020
The Breguet family revolutionized watchmaking in the 19th century and aviation in the 20th. The modern Type XX collection is the culmination of its multi-generational savoir faire in both fields.
Montres Breguet, founded by legendary Parisian horologist Abraham-Louis Breguet in 1775 and renowned as the watchmaker to royalty like Napoleon Bonaparte and Marie Antoinette, is not a watch brand commonly associated with traditional "tool watches." Take a closer look at the venerable maison's history, however, and its contributions to the more practical side of timekeeping come into focus. (Of course, even Breguet's most influential invention, the tourbillon, now regarded as an attractive but redundant feature in a wristwatch, was itself a practical invention in the beginning.) Its nautically influenced Marine series evolved from the marine chronometers that Abraham-Louis Breguet produced as official watchmaker to the French Royal Navy in the 1800s, for example. And the other Breguet watch collection that regularly marries utilitarian roots with luxurious contemporary details, the aviation-centric Type XX, traces its illustrious history to the early 20th century and the first Breguet scion to branch out from horology into the nascent field of manned flight.
That history begins with Louis-Charles Breguet (18801955), great-great-grandson of Abraham-Louis and one of early aviation's major pioneers. Educated in engineering at France's École supériuere d'électricité, Louis-Charles embarked upon a different professional path than that of his watchmaking ancestors, fascinated by the new science of aviation that had begun to gather steam in the early 20th century. In 1905, LouisCharles teamed with his brother Jacques to invent an early gyroplane, a forerunner of the modern helicopter, which in 1907 became the first piloted aircraft to make a vertical-ascent flight. This invention heralded a number of breakthroughs in years to come. Louis-Charles built and flew his first fixed-wing aircraft, called the Breguet Type I, in 1909 at the world's first international event devoted to showcasing heavier-than-air flying machines, the Grande Semaine d'Aviation de la Champagne. Just a few years later, in 1911, he founded the Societé des Ateliers d'Aviation Louis Breguet — later shortened to Breguet Aviation— whose earnest mission was the manufacturing of aircraft for the increasingly mobile world of the 20th century.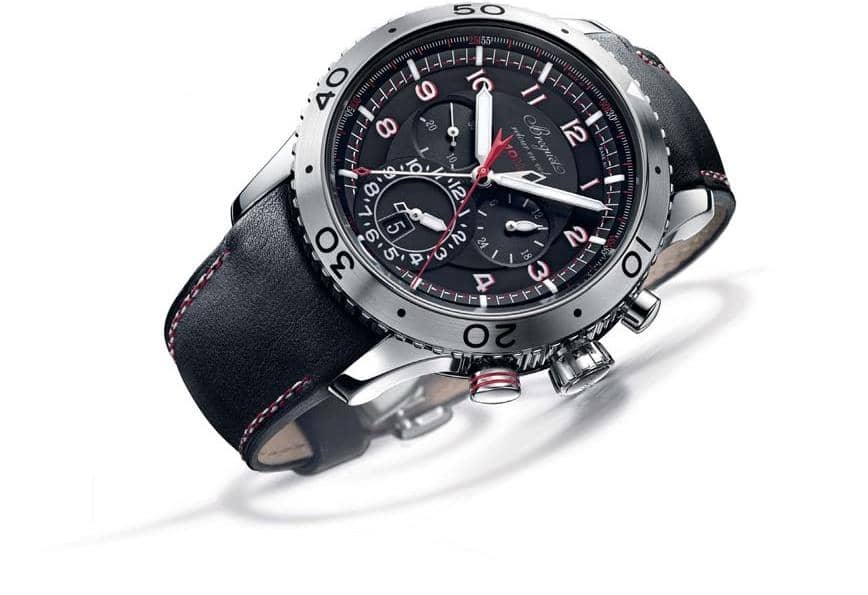 World War I, which began in 1914, was the first military conflict during which airplanes would play a pivotal, tactical role, and Breguet Aviation swiftly became one of the most important contributors to the war effort for Louis-Charles' native France. The company manufactured aircraft for both reconnaissance and bombing missions, including the famous Breguet 14 biplane, which was used for both; it was also notable as the first mass-produced aircraft to use large amounts of metal, rather than wood, in its airframe, rendering it lighter and more maneuverable in aerial combat. The Breguet 14 was such a success that it was exported to squadrons of other Allied nations, including the United States, and paved the way for other significant models like the Breguet 19, another light-bodied bomber, and the 763 Deux-Points, an early double-decker transport plane. After the war, demilitarized Breguet 14 planes were pressed into service to fly airmail and freight by another firm founded by Louis-Charles Breguet, Compagnies des messageries aériennes, an early commercial airline that merged with four others in 1933 to form today's Air France.
You can read up to 3 premium stories before you subscribe to Magzter GOLD
Log in, if you are already a subscriber
Get unlimited access to thousands of curated premium stories, newspapers and 5,000+ magazines
READ THE ENTIRE ISSUE
July - August 2020