Luminox Puts Its Watches To The Test In A Rigorous Training Exercise
WOW Singapore|Issue 54
Luminox showcases a new partnership with MISAR, the Malaysian International Search and Rescue organisation, and puts its watches to the test in a rigorous training exercise
When one is on a press junket for a watch brand, it is entirely normal to worry if there will be anything to drink, other than champagne. That's an exaggeration – a liberty taken by this writer to grab your attention because there was no champagne to be had on this Luminox journey to KL. In its place there was nothing but discomfort, a sweat bath, and a palpable scent of fear that was only alleviated by the Luminox watches we were issued, which in my case was the Navy SEAL 3600.
If you know anything about Luminox, you might be thinking that this will be yet another tale of discipline- and fitness-challenged watch journos struggling through a pared-down version of the Navy SEALs training course. Leave that notion aside because we're here for an entirely different reason, which is why other watches issued this trip included Luminox ICE-SAR Arctic 1200 models (this page, left), and the 30th Anniversary Sport Timer 0900 series limited edition.
Now that you're all settled in, I pray you stay and get to grips with what the new Luminox collaboration with the Malaysian International Search and Rescue (MISAR) is all about. We are all assembled at the MISAR headquarters in KL as Captain Balasupramaniam Krishnan, a cheerful bear of a man, tells us about the search and rescue course we'll be participating in, the Luminox Code Red Survival Course. Yes, instead of getting yelled at by a burly former US Navy SEAL as we try to tackle a course designed to rob us of our dignity, we'll be learning the search-and-rescue ropes. In some ways, that's more terrifying because this involves a measure of using both empathy and asking useful questions. Journos are usually only required to do the latter.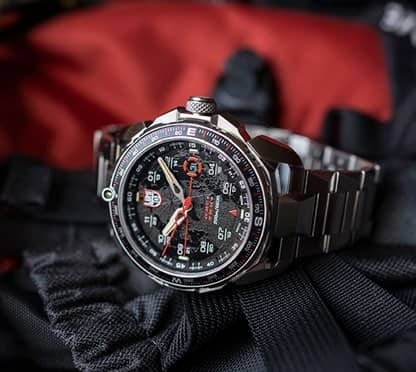 What's the point of a watch in a situation like this, you might ask? Well, there's a firm time-limit on our activities – 30 minutes for each of the five separate set-pieces we were assigned – so we had to synch up our tickers within our respective groups. As Captain Bala says, search-and-rescue operations are always run against the clock. Speed is key in getting to victims trapped under the rubble of collapsed building, for example, even if that happens to include getting through concrete and steel.
You can read upto 3 premium stories before you subscribe to Magzter GOLD
Log-in, if you are already a subscriber
Get unlimited access to thousands of curated premium stories and 5,000+ magazines
READ THE ENTIRE ISSUE
Issue 54