JOIE DE VIVRE
WOW Singapore|WOW Jewellery 2018
What Mother Nature has spent millions of years creating fully uncovers its beauty and brilliance in the skilful hands of Rolex's in-house gemmologists and gem-setters
A French phrase often used to express exultation of spirit, there's no better physical manifestation of "joie de vivre" than the passionate work of uncovering the brilliance of what Mother Nature spent millennia if not mega-annum of years creating. As early as mankind has encountered them, gemstones have fascinated and enchanted us.
In centuries past, royalty often owned the finest gems. Over time, their almost mythical qualities have attracted provenance of an alchemic mix of truth and legend. In 1367, England's Prince Edward helped a Spanish king win a battle. It was said that the grateful pontiff gave the Black Prince, a dark red, irregular gemstone, a stone which King Henry V eventually wore in his helmet crown. As the bards would recount, the precious stone protected his life by deflecting a fatal blow during the Battle of Agincourt. That said, fact or fiction, diamonds, sapphires, rubies or emeralds all share one precious quality – undeniable beauty. As such, king and commoner, religious and lay, and men (and women) of all creeds and professions have depended on the métiers d'art of skilled artisans to bring exquisite light to otherwise ordinary lives.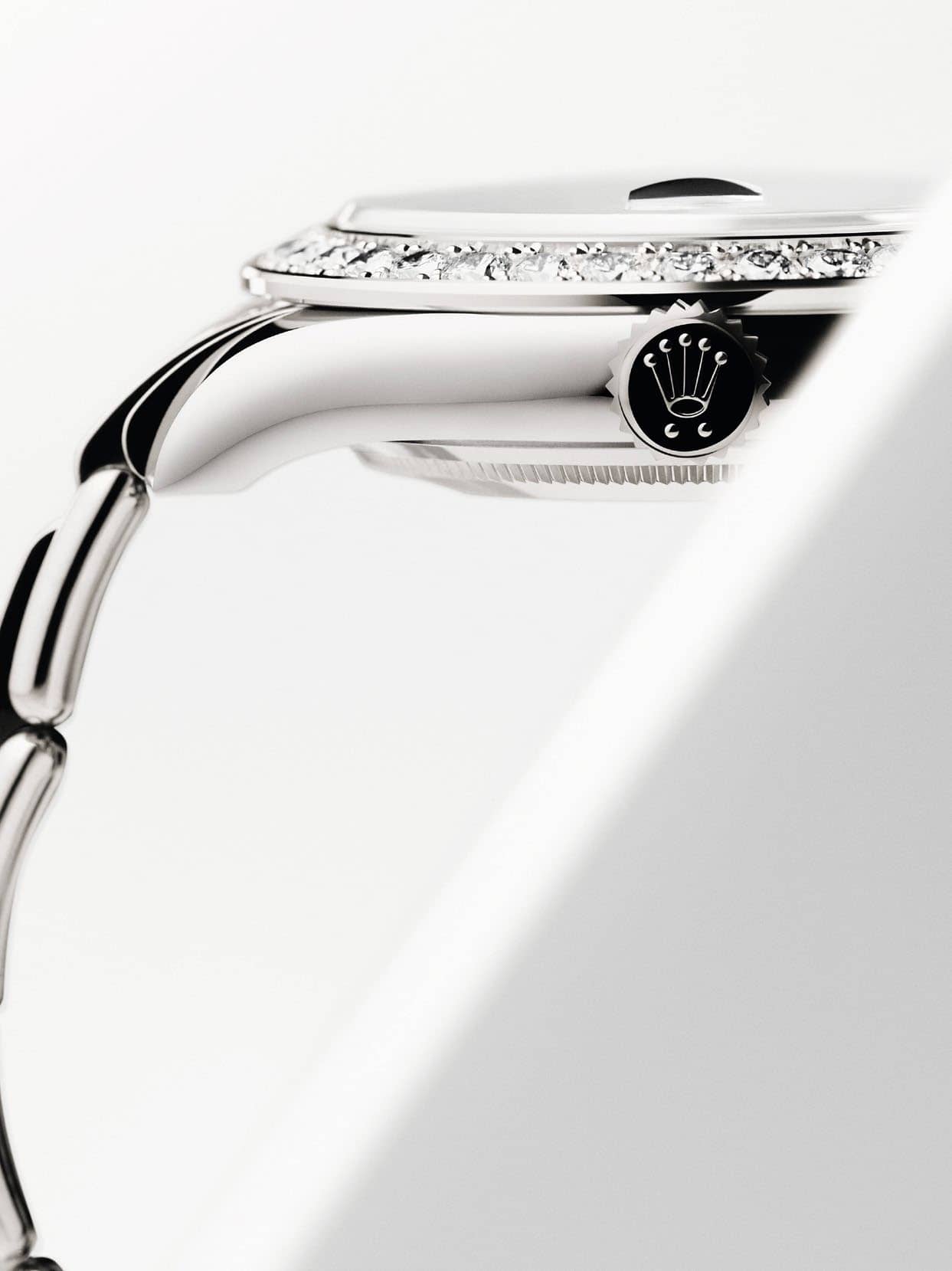 Among these artists, Rolex counts itself one of its masters, splendidly harmonising the lustre of scintillating jewels against a euphony of steady chronometric beat rates. Led by a team of in-house gemologists and gem-setters, it has offered gem-set watches throughout its entire history. In embellishing its watches with precious stones, the brand endows them with an alternative aesthetic whilst conserving their identity and all their technical features such as reliability, robustness, and resistance to magnetic fields and shock.
HARNESSING A STONE
Rolex gemmologists are responsible for examining and selecting the gemstones received. The selection process seeks to retain only the purest gems, which meet the most exacting criteria. It's an exquisitely high standard required to match the brand's impeccable technical benchmarks, which not only include reliability but also precision via COSC certification.
The grading of gemstones is usually characterised by four aspects – cut, clarity, colour, and carat. Upon arrival at the ateliers, all gemstones – both diamonds and coloured stones – undergo rigorous verification procedures carried out by gemmologists armed with both expertise and a range of analysis tools.
You can read up to 3 premium stories before you subscribe to Magzter GOLD
Log in, if you are already a subscriber
Get unlimited access to thousands of curated premium stories and 5,000+ magazines
READ THE ENTIRE ISSUE
WOW Jewellery 2018