Boss Lady
With her inspired big-screen debut in Bradley Cooper's new version of a star is born, Lady Gaga reinvents herself yet again. At home in Malibu with Jonathan Van Meter, she strips away the armor.
LADY GAGA'S HOUSE IN Malibu is on a relatively nondescript road just off the Pacific Coast Highway, situated in what feels (for Malibu) like a normal suburban neighborhood. When the gates to her compound swing open, you head down a long gravel driveway that threads through the multi-acre property, past the fencedin ring where she rides her horse, Arabella, past the barns and the stables and the giant barking dogs, Grandpa and Ronnie—and pull up to a house made of field stone that looks, at first glance, as if it belongs in the South of France. A cheerful young fellow greets you at your car, explains that he is the head of security, and asks you to sign an NDA. There are at least a dozen other cars parked around, most of them belonging to people who are doing some kind of work here—taking care of the property or the lady in residence in one capacity or another. The whole setup is both grand and yet, somehow, unassuming (for a rock star's house in Malibu).

When Gaga comes down the stairs and makes her entrance on this hot, do-nothing August afternoon, she is wearing a diaphanous periwinkle robe with ruffled edges that sweeps the floor, nothing underneath but a matching bra and thong—along with nude kitten heels and Liz Taylor–worthy diamond jewelry. Having just returned yesterday from a long, restful vacation on some remote tropical island with her boyfriend, she is uncharacteristically tan, and as she leads me out through the French doors into the garden, I can see nearly every one of her tattoos—and her shapely behind—through the robe. There are roses trembling in the breeze, and a long, sloping, grassy lawn that leads down to a pool and the Pacific Ocean beyond, flickering in the high afternoon sun. "This is my sanctuary," she says. "My oasis of peace. I call it my 'gypsy palace.' "

She bought this palace about four years ago, when she was going through a rough patch—both physically and mentally—and has been spending more and more time here lately. "I just got rid of my place in New York—it was too hectic every day outside on the street," she says. As we stand there looking out at the ocean, I ask if she's happy. "Yes—I'm focusing on the things that I believe in. I'm challenging myself. I'm embarking on new territory—with some nerves and some overjoyment." (Gaga has a funny habit of making up words that always make perfect sense.) "It's an interesting time in my life. It's a transition, for sure. It's been a decade."

In April, Gaga noted on her Instagram that it was the tenth anniversary of her first single, "Just Dance." It was the song of the summer of 2008—the final hours of the golden years, just before the economy imploded and the Great Recession took hold—and almost immediately, she became the biggest pop star in the world, haunting our dreams—and nightmares—with monsters, meat dresses, and some of the stickiest melodies ever written (GAAAAGA OOOH-LA-LA!). When I ask her what has changed for her over these last ten years, Gaga, who's 32, says, "A galaxy," and laughs. "There has been a galaxy of change." She pauses for a moment. "I would just say that it's been a nonstop whirlwind. And when I am in an imaginative or creative mode, it sort of grabs me like a sleigh with a thousand horses and pulls me away and I just don't stop working." Another pause. "You . . . make friends, you lose friends, you build tighter bonds with people you've known for your whole life. But there's a lot of emotional pain, and you can't really understand what it all means until ten years has gone by."

On October 5, Warner Bros. Pictures will release the fourth iteration of the tragi-musical love story A Star Is Born, starring Bradley Cooper and Lady Gaga. The first version came out in 1937, starring Janet Gaynor and Fredric March, followed by Judy Garland and James Mason in 1954 and Barbra Streisand and Kris Kristofferson in 1976. Gaga thinks of it less as a remake than as a "traveling legacy." Directed by Cooper, in his debut, the film is remarkably assured, deeply engaging, and works on several levels: as a romance, a drama, a musical, and something else entirely, almost as if you're watching something live, or documentary footage of a good old-fashioned rock'n'-roll concert movie. "I wanted to tell a love story," says Cooper, "and to me there's no better way than through music. With music, it's impossible to hide. Every fiber of your body becomes alive when you sing." As Sean Penn said, after seeing the film more than once, "It's the best, most important commercial film I've seen in so many years," and he described the stars as "miracles." Cooper and Gaga, and the film itself, are likely to be nominated for all manner of awards.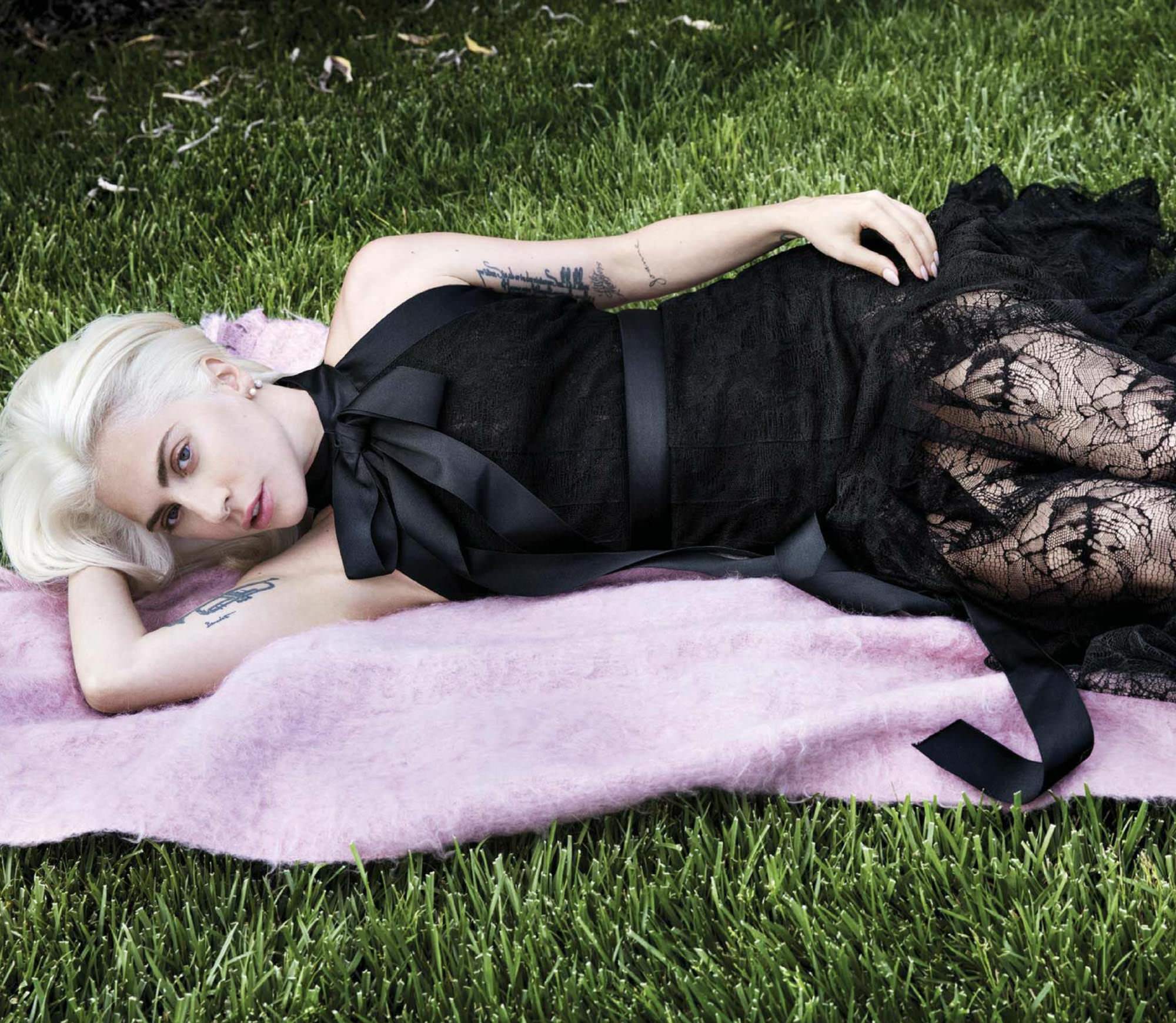 Cooper is a revelation, having utterly transformed himself into a booze-and-pills-besotted rock star: He learned how to play guitar, worked with a vocal coach and a piano teacher for a year and a half, and wrote three of the songs. "All because of Gaga," he says. "She really gave me the confidence." His singing is astonishingly good. Gaga, whose only acting experience is in some of her early videos (Google the long-form versions of "Telephone" and "Marry the Night" if you want to see the early promise), various episodes of American Horror Story, and a couple of cameos in Robert Rodriguez films, not only holds her own with Cooper but somehow manages to make you completely forget that she is Lady Gaga—no small feat. But what really makes this film sing, as it were, is the impeccable chemistry between the two stars, particularly their early scenes of meeting cute and falling in love, which are some of the most touchingly real and tender moments between two actors I've ever seen.
Gaga and I have moved inside and taken up spots on the boho-chic sofas in the sitting room off her kitchen. She opens a bottle of rosé. There are candles flickering, cut flowers on the table. Gaga first met Cooper at Saturday Night Live about five years ago, but only briefly, and then one day in 2016—having signed on to make A Star Is Born and in the early stages of figuring out who could play Ally to his Jackson Maine—he went to a cancer benefit in Sean Parker's backyard in L.A. "She had her hair slicked back," says Cooper, "and she sang 'La Vie en Rose,' and I was just . . . levitating. It shot like a diamond through my brain. I loved the way she moved, the sound of her voice." He called her agent and, the next day, drove to Malibu. "The second that I saw him," says Gaga, "I was like, Have I known you my whole life? It was an instant connection, instant understanding of one another." Cooper: "She came down the stairs and we went out to her patio and I saw her eyes, and honestly, it clicked and I went, Wow." He pretty much offered her the part on the spot. "She said, 'Are you hungry?' and I said, 'I'm starving,' and we went into her kitchen for spaghetti and meatballs."
You can read up to 3 premium stories before you subscribe to Magzter GOLD
Log in, if you are already a subscriber
Get unlimited access to thousands of curated premium stories, newspapers and 5,000+ magazines
READ THE ENTIRE ISSUE
October 2018