The Graffiti Queen Of Miami
Town & Country
|
December 2018 / January 2019
Meet JESSICA GOLDMAN SREBNICK: real estate magnate, Florida macher, and fairy godmother to street artists around the world.
Jessica Goldman Srebnick was standing in front of a cartoon image of Donald Trump urinating on the Constitution, biting her lip with mild concern. It was just days before Art Basel Miami Beach in 2017, and Srebnick, looking both breezy and statuesque in a sundress and sandals, was assessing this particularly provocative panel of a large mural by Lady Pink. The street art pioneer was one of the 12 artists Srebnick commissioned to create something new to coincide with the fair at Wynwood Walls, the outdoor art park that she owns and has cultivated into one of the most Instagrammable spots on earth.
Srebnick called over her rather hip mother to listen as Lady Pink cheerfully explained the nearly finished mural; the artist referred to the Trump administration's recent executive orders on immigration and made statements that at least half the country would agree with. Soon everyone was convinced that the pee image would not be the most controversial thing at the fair, let alone offensive to the point of problematic backlash, and Lady Pink should carry on with her painting.
Srebnick was relieved to have arrived at that conclusion. Though she is a businesswoman—in addition to Wynwood Walls she owns much of the neighborhood, including two trendy restaurants serving items like fig strewn brick oven pizza, office buildings, and storefronts housing tenants like Warby Parker and Panther Coffee, all of which has made the Wynwood neighborhood Miami's most vibrant across-the cause way destination—she loves her artists. They are like family to her, and she adores their often weird, outsider perspectives. Not only has she become, over the years, a patron to such street artists as Shepard Fairey and Kenny Scharf, but she is a sort of fairy godmother to the ones following in their footsteps, artists like Joe Iurato, Audrey Kawasaki, and Tristan Eaton. Some she anoints by awarding them space on the coveted Houston Bowery Wall in Manhattan, which became famous in the late 1970s when Keith Haring turned it into his canvas. The wall has been owned by the Goldman family since 1984; Srebnick chooses a new artist to grace it about once a year. "It's the Oscars of graffiti art," she says.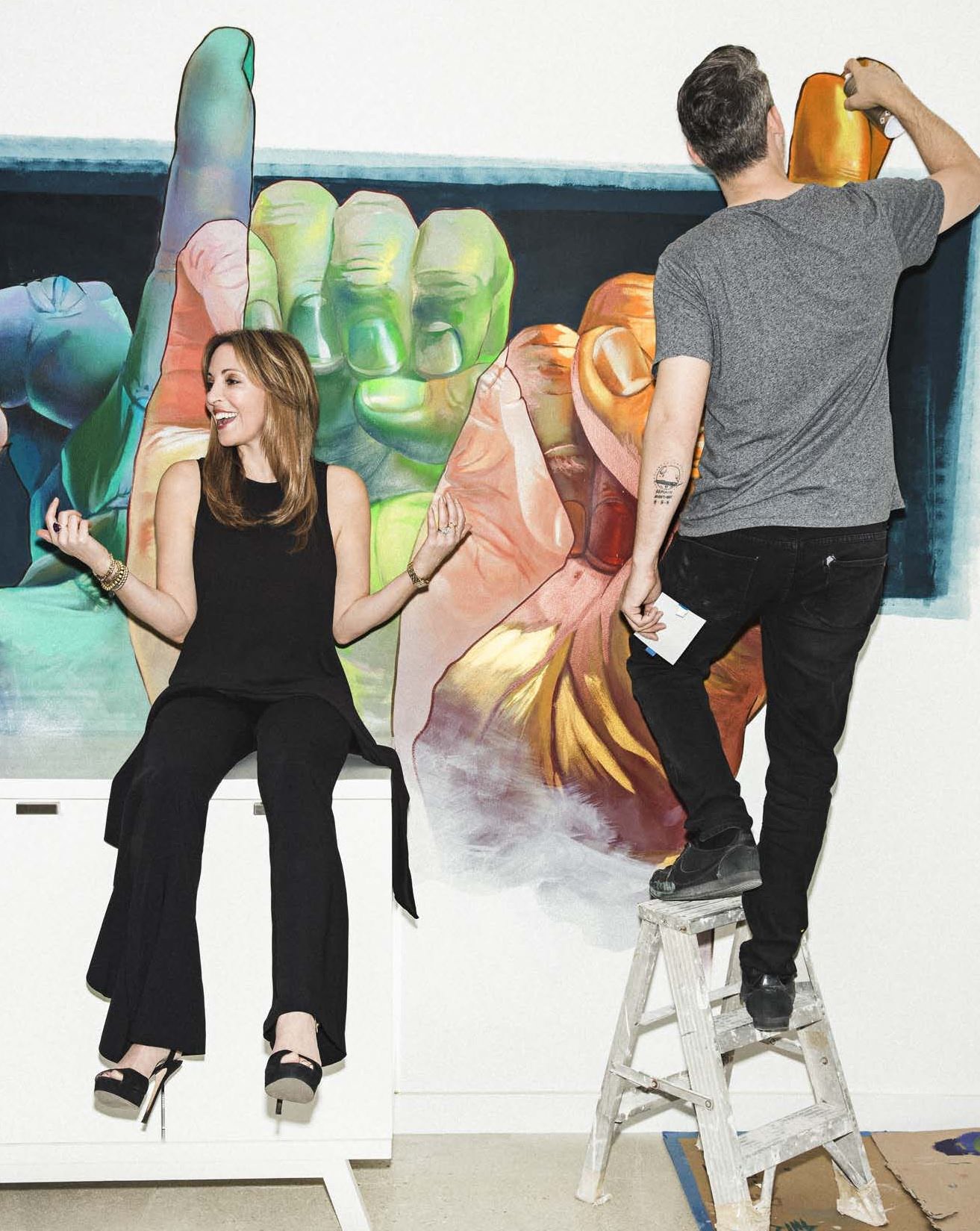 The same can now be said of Wynwood Walls, where Srebnick periodically invites artists both famous and unknown to take over vast spaces for months or even years, until she decides that a particular wall is in need of something new. Right now works by Fairey (a giant mural of Srebnick's real estate tycoon father, Tony,Goldman) and other big names, like the London Police, sit alongside the work of such newcomers as Tatiana Suarez and Pro176. Hordes of schoolchildren, tourists, and local artsy types gather at the gates to Wynwood Walls every morning before the 10:30 opening and wander through, ending their stroll at the Goldman Global Arts gallery, where they can buy works by the artists featured on the walls. But most valuable of all are the millions of posts with #WYNWOOD and #WNWOODWALLS and #WYNWOODART hashtags; as charming as it is in person, Wynwood Walls is a place distinctly, savvily made for social media.
You can read up to 3 premium stories before you subscribe to Magzter GOLD
Log in, if you are already a subscriber
Get unlimited access to thousands of curated premium stories, newspapers and 5,000+ magazines
READ THE ENTIRE ISSUE
December 2018 / January 2019