Model Matriarch
How Does Cindy Crawford Make Sure That Her Fashion Phenom Kids Escape The Pitfalls Of The Industry? The Supermodel And Beauty Mogul Sets An Example That's Equal Parts Humble And Fierce.
The world's hottest mom is freezing.
It's an unusually chilly 57 degrees at midday in Malibu, and Cindy Crawford, wearing a tweed blazer over a cream sweater, has sought refuge next to a crackling fire inside the local Soho House. She asks for coffee, extra-hot with almond milk, and glances outside, where a choppy ocean shimmers in the February sun. "We're not used to this cold," she says with a little shiver. "My son and I were in Minneapolis for the Super Bowl, and they were deicing the plane, and he was like, 'Mom, what's that?' He had no idea." She laughs. "California kids!"
Crawford, 52, is now entering her fourth decade as a supermodel, walking the runway in glistening gold chain mail for Versace last fall, starring in a new Pepsi ad campaign (unveiled at the Super Bowl), and rolling out new products from Meaningful Beauty, her skincare line. "When I was in my late twenties I thought my career would last about 10 years, tops," she says. "Out with the old. And yet somehow here I am."
But as busy as she is with her own career, the role consuming Crawford at the moment is a new one: momager to her two children, Presley, 18, and Kaia, 16, who have arrived on the modeling scene like a pair of sonic booms. "They have agents, but I would say for the first year, for sure, everything was 100 percent through me," Crawford says. "Eventually I want to empower them to be in charge of their own careers, but they're not ready for that yet. Right now they're mostly, 'Mom, just tell me what to do.' " She laughs. "Mom, as you might imagine, is fine with that."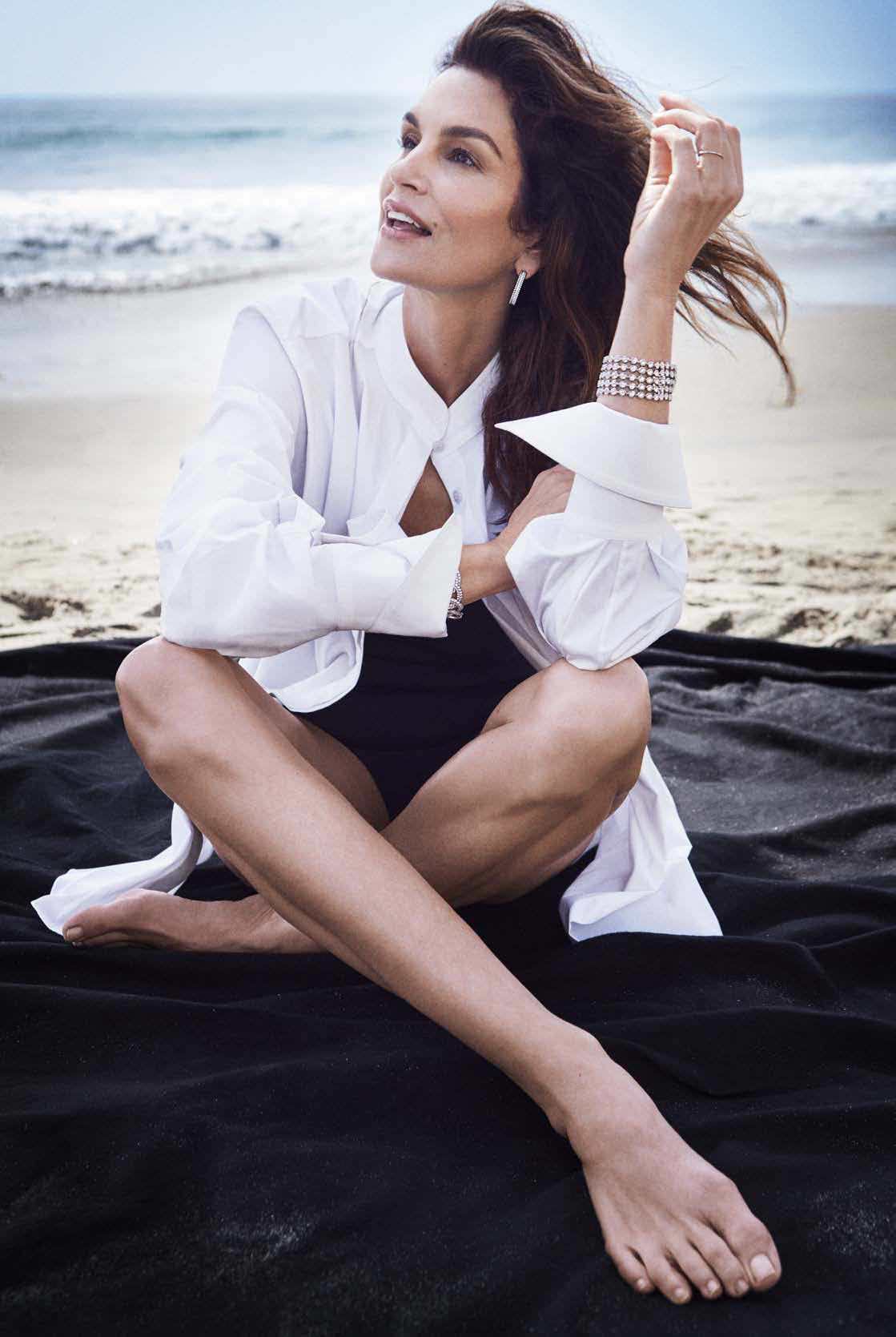 The dark-haired Kaia, who looks like Crawford's mini-me, first gained the fashion world's attention in 2012, when she posed in a leather jacket and miniskirt for a Versace ad. She was 10. But Crawford and her husband of 20 years, Rande Gerber, vetoed their daughter's request to keep sitting for photographers: When you're 16 we'll talk about it.
That day came in early September, and Kaia was on a catwalk for Calvin Klein four days later. She has since walked for Prada, Chanel, Fendi, Alexander Wang, and Marc Jacobs. French Vogue gave Kaia her first solo magazine cover in February; she wore a hot pink Saint Laurent minidress and feathered thigh-high boots. On the chilly day I meet Crawford, Kaia is working in Milan. "I might go meet up with her in Paris," Mom says. "I can only go, like, a week without seeing her."
"But we talk every day, at least, and text," Crawford continues, leaning in close as if she's sharing a secret. "If she doesn't text me back within 15 minutes, I do one in all caps and a lot of exclamation points. Just respond, okay? Or else I'm going to track you through your Uber account."
You can read up to 3 premium stories before you subscribe to Magzter GOLD
Log in, if you are already a subscriber
Get unlimited access to thousands of curated premium stories, newspapers and 5,000+ magazines
READ THE ENTIRE ISSUE
May 2018