How Jewellery Designers Are Making The Most Of Lockdown
The Art of Jewellery|June 2020
Jewellery designing is a key to make jewelleries look attractive and beautiful and for that every jewellery designer is on his toes in search of new designs and its inspirations. Today travelling in search of design inspiration is not possible due to lockdown but designers definitley sit home and can take an advantage to travel in thier mind, travel in their imagination, get inspired by the visions and things that are arround. This article will describe about how jewellery designers are utilising their lockdown period and sketching down their imagination into a beautiful designs.
Working on few designs based on current situation
For Laksh Pahuja, Director, Gemma Designer Jewels Jewel Virtuoso design and creativity is beyond jewellery. Informing about how is he working on designs during lockdown he says, I have kept my self very positive in creativity and I have worked on few designs based on current situations for eg, Corona, India-China dispute, and Nepotism in film industry.
Briefing on his plans to reach out masses with latest designs amid lockdown he says, My designs are for classes and I have designed few for celebrities personalised jewellery which has a stamp of Laksh Pahuja.
Further adding on work scenario he said, Will be taking all the safety precautions as we have a huge factory we can't work from home will have to educate our artisans on safety guidelines.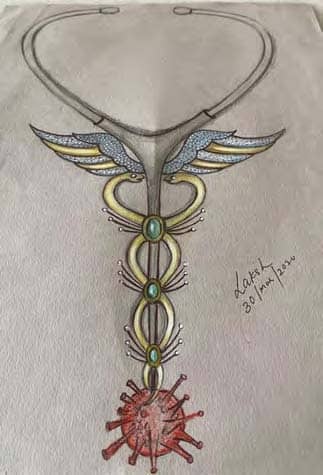 Creating trends will bring originality
Sharing his views on what jewellery will be trending further he points out, Do Cartier, Bvlgari or any luxury brand follows trends?. He adds, No, so as a designer you should always create Trends then Follow as it brings creativity and originality in your work.
Indian Rose collection- A theme worth exploring
"Now that we are in a lockdown and are spending all our time at home, the longing to experience the magic of mother nature is becoming stronger," says Pallavi Foley, Owner and Designer, Pallavi Foley Boutique Jewels. She adds, "Studies have shown that flowers have an instantaneous impact on our happiness, thus a theme worth exploring."
Based on the above line Pallavi is working on expanding the Indian Rose collection, into a couture wedding line, which is inspired by the paintings of roses in the palaces of Bikaner. In one of her visits to Bikaner she had spent a lot of time sketching her version of the roses, inspired by what she saw in the paintings. Today as she works on detailing the wedding jewellery line out, she is noticing that she is spending more time on every single detail, including the colour grading of minakari (enamel) that she is working on closely with the craftsmen, blending the carved rubies and shapes of uncut diamonds, into innovative and iconic motifs.
Further informing about her plan to reach out to the masses with latest designs, she informs that, "We are planning to look at a strong presence in the space of digital and online jewellery design and shopping, in both high-end bespoke jewellery and everyday wear.
New accessories to change world
Briefing on the new trends Pallavi says, "As new accessories are needed for the changing world. Some of my few design directions including, Appreciation of the gifts of Nature, The Evil Eye collection Angels collection, The Wear Your Prayer' collection saw a new popularity and could possibly be seen and become more popular as we go through this transformation, because of our new reality.
Nature has always been an inspiration
In Anand Shah, Owner, Anand Shah Jewels case it has always been nature and lately he has been getting to spend more time with nature and that is where he draws his inspiration from. Informing about how Anand is approaching his clients to showcase new designs he says, "Since the work operations are currently at a halt, we haven't been able to cater to customers on a full fledged basis but we do have demand for our existing collections and we are working it out accordingly."
Further informing on the business plan Anand believes that this is very new for everyone and we are yet to figure out the new normaly. "We are hoping for our regular operations to resume so that we can work on new collections for the future," he adds.
Huge demand for light weight jewellery
"Currently there is a huge demand for light weight jewellery and this will persist in the coming years as well. Besides this, traditional jewellery can never go out of style especially for any specail occasions," informs Anand.
Sketching on Intimate Gift collections
You can read up to 3 premium stories before you subscribe to Magzter GOLD
Log in, if you are already a subscriber
Get unlimited access to thousands of curated premium stories and 5,000+ magazines
READ THE ENTIRE ISSUE
June 2020