Dance Queens
TRUE LOVE Magazine East Africa
|
September 2019
Ayomar, Aggie and Pauline are three young women who are pushing boundaries in Kenya's professional dance industry.
Luciann Wanjiku, Aduh Irene And Annabel Mwenga
'I create my own rules to complement the artist I am dancing for.' AGNES KIUNGA, 28 IG @aggie_the_dance_queen
Did you ever think you would be a dancer?
Not really. My parents encouraged me to take a Bachelor's degree in Biology at Kenyatta University. Then after my graduation, I decided to follow my passion which is dancing and choreography. I auditioned at Sarakasi dome six years ago and they liked my presentation. I have been working with them ever since. Training and mentoring children at Sarakasi is fulfilling. I love my job because I dance for impact.
What is your greatest dance achievement?
Remember 'OdI Girl' from Sauti Soul's, Short and Sweet video? That's me! Others are performing for President Uhuru Kenyatta at the Institute of monetary studies and in countries like France, Norway, and Berlin.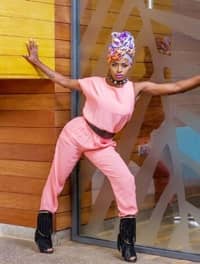 Does dance pay?
Dance puts food on my table and has opened doors for my businesses including my online fashion enterprise. I also design costumes for Sarakasi dancers.
Are there rules that you adhere to as a video dancer?
Yes. I have set my own, like no revealing clothes, nudity or compromising my work ethics just so I can feature in a video. I strive to be different because music videos today glorify nudity.
Do people judge you when they learn that you are a dancer?
Yes. Most people do not understand art as a career. This has now changed. They have started noticing me and my work and taking photos now that I am a celebrity.
How fit must one be to be a dancer?
Fitness is vital. You need to have physical strength and flexibility. dancing skills can only be perfected by exercise. I go to the gym daily to do aerobic and plyometric exercises.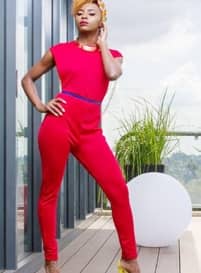 Does your size affect your dancing?
No it doesn't. I am 5'4 and I weigh 49kg. It's not about size, but what you can do with your size.
What are some of the things that can be done in the industry to make dance as a profession more rewarding?
First, people should realise that dance is like any other art. I wish modern and urban dance could be incorporated in the school curriculum and in events like drama festivals.
What is your greatest fear when it comes to dancing?
Getting injured. It would mean quitting dance. All my efforts would go down the drain.
You can read up to 3 premium stories before you subscribe to Magzter GOLD
Log in, if you are already a subscriber
Get unlimited access to thousands of curated premium stories, newspapers and 5,000+ magazines
READ THE ENTIRE ISSUE
September 2019