Thinking Of Pizza, During A Plague
T Singapore: The New York Times Style Magazine
|
September 2020
As restaurants across Singapore try their best to stay afloat, brave new ones emerge — despite the risks. Lucali BYGB, an offshoot of the famed pizza joint in Brooklyn, is one of them.
To launch his first restaurant with a takeawayonly menu amid a ravaging pandemic was something restaurateur Gibran Baydoun never imagined doing. But that was what happened anyway. Early in June, Baydoun's Lucali BYGB, an offshoot of the Brooklyn-based pizzeria Lucali, announced a taster menu ahead of its opening. The original founder Mark Iacono's Lucali Pie — the 18-inch wood-fired pizza which shot it to snaking-queue fame — was deliberately not included in the teaser's selections.
"I refuse to let someone have my pizza the first time in their apartment when I have no clue what has happened from the time it left my oven to the time it went to them," says Baydoun, 31, who partnered up with Iacono for its Singapore restaurant.
In the second phase of Singapore's gradual reopening, dining out is now no longer prohibited. But after a brutal two-month period of confinement in which the world was put on pause, restaurants across the island are still trying their best to navigate around new restrictions.
Despite the risks, however, brave new ones have emerged. Lucali BYGB is one of them.
Described by The New York Times as "a luxury restaurant disguised as a pizza joint" and propelled to international recognition by an episode of David Chang's "Ugly Delicious" on Netflix, Lucali is known to be the gritty haunt of in-the-know locals. Jay-Z and Beyoncé famously had dinner at the pizza joint instead of going to the Grammys some years ago. Lucali BYGB, only its second outpost, is located some 20,000 miles away, occupying a space in a warehouse in Kallang's industrial neighbourhood.
When Baydoun relocated to Singapore four years ago to take up a general manager position at Marina Bay Sands, he arrived with a string of experiences in New York's hospitality industry under his belt, including stints at restaurants like Chang's Momofuku and Hillstone Restaurant. Through his observation, he realised that Singapore's burgeoning dining scene along with its steady rise of interest in food culture and its new class of forward-thinking chefs was similar, in many ways, to New York's. Bringing Iacono's pizzas to the city-state, he thought, would only make sense.
"There was a chance we could have opened right before lockdown," he says of Lucali BYGB's opening, "and that would have been an utter disaster. We would have lost a lot of momentum. So now I feel like we're opening with a little bit of grit under us."
After several limited dine-ins, the restaurant finally announced that it was officially open for booking early in late July. Here, Baydoun recounts his experience as a restaurateur during these unlikely times and shares his take on what lies ahead for Singapore's food industry.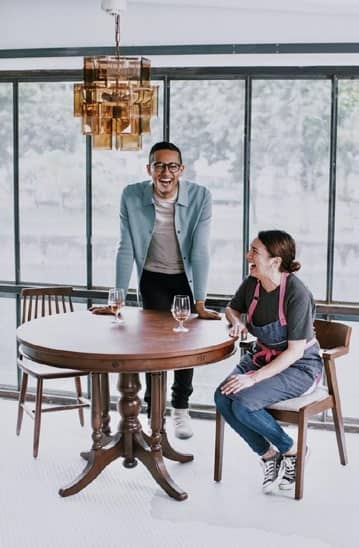 You can read up to 3 premium stories before you subscribe to Magzter GOLD
Log in, if you are already a subscriber
Get unlimited access to thousands of curated premium stories, newspapers and 5,000+ magazines
READ THE ENTIRE ISSUE
September 2020