The Fashion Gangs
T Singapore: The New York Times Style Magazine|July 2020
Clothing design is often perceived as the work of a solitary and singular talent, of an outsider looking in. But as Balmain's Olivier Rousteing, Maria Cornejo, Gucci's Alessandro Michele and Telfar Clemens prove, making clothes is in fact the ultimate act of collaboration. Introduction by Alice Newell-Hanson
Maria Cornejo and Co.
By Kate Guadagnino Photograph by Olivia Arthur
ONE MIGHT THINK Maria Cornejo's clothes enthrall creative women because she herself thinks like an artist. When the designer launched her label, Zero + Maria Cornejo, in New York in 1998, it was with a distinctive vocabulary of geometric shapes: near-seamless asymmetrical dresses and separates that flirt with the avant-garde. But her followers are less likely to talk of form or abstraction than about how Cornejo's clothes make them feel — namely, like themselves. "She leaves room for you to make them your own," says Camilla Nickerson, Vogue's style director and an old friend of Cornejo's (the pair became close through their sons and often holiday together, most recently to Costa Rica). Another pal, Teresita Fernández, a New York-based installation artist who was wearing Cornejo's designs well before her gallerist introduced the two of them 12 years ago, feels "her clothes are for women who are creating something beyond their own appearance."
This, it turns out, is entirely intentional. "The clothes are interesting to me, but I'm more interested in what someone does in them," says Cornejo, 57, who grew up in England after her family fled their native Chile during the reign of the dictator Augusto Pinochet, and has spent much of her adulthood in New York. Her flagship on Bleecker Street — on a block where, for a time, landlords would only rent to artists and makers — has remained a destination for over a decade (before that, her shop was on nearby Mott Street), even as countless other independently owned downtown boutiques have been forced to close. "From the beginning, it's been clients bringing friends who become clients," says Cornejo. "I always say, 'Let's be cool by association.' " She was particularly proud to meet one of her fans — "an actual brain surgeon" — a few years ago in Austin, Texas. "Of course they're interesting women," the model and activist Christy Turlington Burns says of Cornejo's admirers, who include Michelle Obama and Cindy Sherman. "Because that's Maria, and that's what she attracts."
That's another thing Zero devotees are likely to mention — their deep respect for the woman behind their favorite shearling coat or no-nonsense jumpsuit. "In part, her clothes are attractive because they're imbued with her ideals," says Nickerson. Cornejo was among the first truly sustainability-minded designers — she produces 85 percent of her line locally, seeks out recycled fabrics and repurposes unused scraps from previous collections. "There's also a palpable solidarity with other women to her designs," says Fernández, who brought up feeling comforted by the fact that a Zero dress she once wore to a Museum of Modern Art party had practical pockets. Similarly, Cornejo strives to flatter all body types with her roomy draping, which means many of her clients wear Zero shifts through their pregnancies (and postpartum). It's these small but generous gestures that make a woman who wears something of Cornejo's feel not just like herself but also as though she's in commune with a friend, whether or not she actually knows the designer. "If you're looking for authenticity and someone to get behind," says Turlington Burns, "she's right here."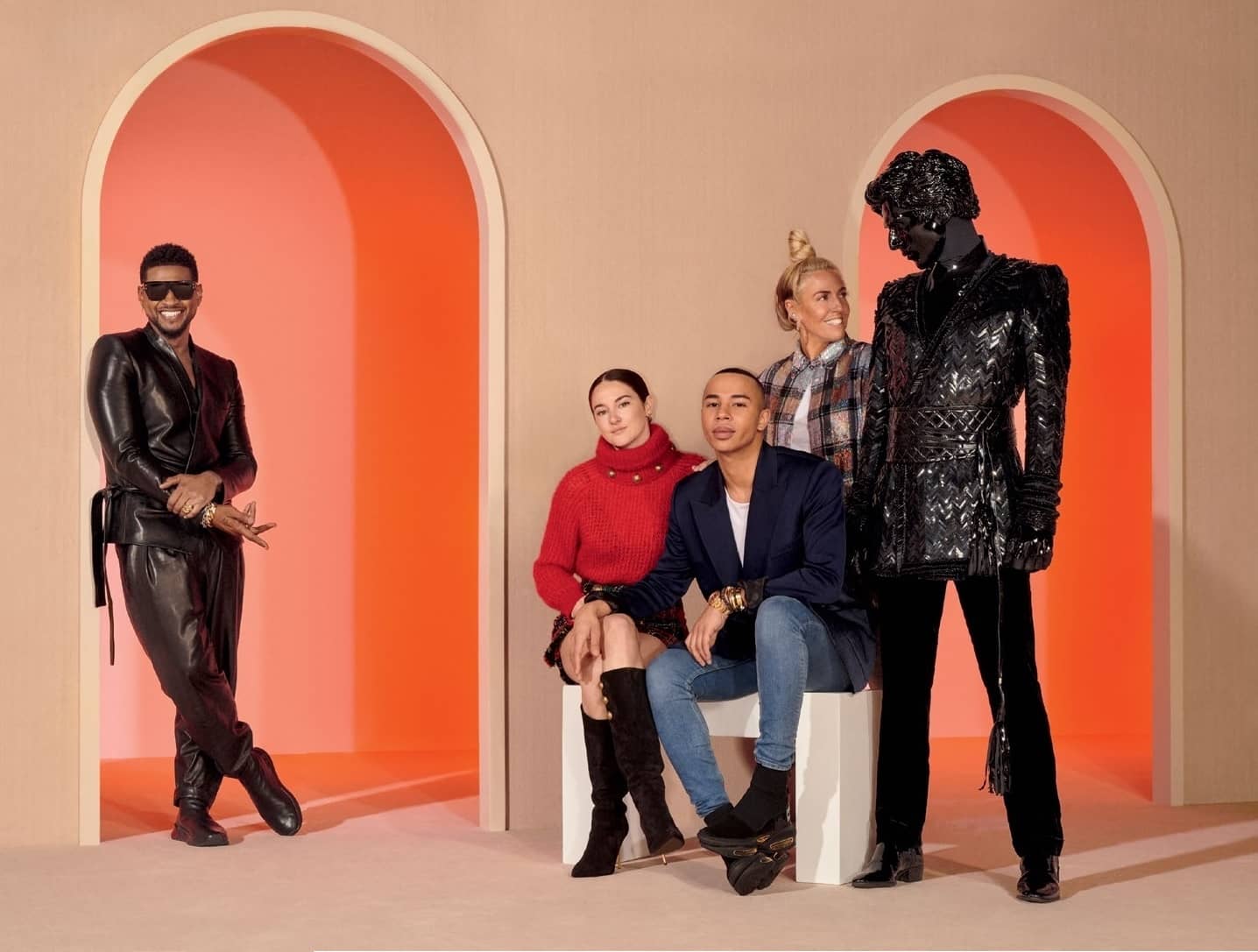 Olivier Rousteing and Co.
By M. H. Miller Photograph by Ilya Lipkin
OLIVIER ROUSTEING, the 34-year-old creative director of Balmain, is best known for two things: The first is his audacious clothing, which has recently included hyper-short sequinned minidresses with a big-shoulder, Grace Jones-esque silhouette, chocolate-brown pantsuits made entirely of latex and a waist bag with a large "B" emblem worn over a leather blazer; the other is his community of very famous friends, who often appear at his shows and other culture-defining events wearing his designs. Perhaps his finest hour was dressing Beyoncé during her 2018 set at the Coachella music festival in the California desert, in clothing that ranged from riffs on the marching-band uniforms of historically black colleges to meticulously crafted Afrofuturist headgear.
You can read up to 3 premium stories before you subscribe to Magzter GOLD
Log in, if you are already a subscriber
Get unlimited access to thousands of curated premium stories and 5,000+ magazines
READ THE ENTIRE ISSUE
July 2020