The Artist Eternal
T Singapore: The New York Times Style Magazine|July 2020
Frank Stella's Minimalist abstractions helped change the direction of painting at the start of his career. Now at the end of it, the 83-year-old artist looks back to his beginnings.
STARS — THE KIND that appear in the cosmos — have coordinates, not addresses, and the same is true for certain earthbound luminaries, too. One gloomy November morning, I follow my GPS to an anonymous set of buildings in the Hudson Valley. The rain buckets down forebodingly, but I know I'm on the right track when I make out a set of immense cast-aluminum and stainless-steel sculptures by the side of the road, a few of them distinctly stellar in shape. For good measure, the name "Stella" is spray-painted on a piece of wood indicating the entrance.
This hangar-like structure, about a 90-minute drive north of Manhattan, has been Frank Stella's studio for the past two decades.
The vast space, more easily traversed by golf cart than on foot, is divided into rooms for both fabrication and display. Here, I find more star variations: The grandest has 12 points and is made of glossy black carbon fiber. At over 20 by 20 feet, it's puffily imposing and gently comic. Its neighbours are a pair of cleverly interlocking wooden stars, one in teak, another in birch, the humble quality of the carpentry a counterpoint to their complexity of form, reminiscent of da Vinci's illustrations of the Platonic solids. More futuristic are two slightly smaller ones made from polished stainless steel; they're what might have resulted if Buckminster Fuller had created cat toys for giants. When I look closer, I notice that some of them have built-in bases on their bottommost points that resemble little shoes: These stars have their feet planted on the ground.
As does the man himself. Stella, dressed in khakis and a blue fleece zip-up that has "Team Stella" stitched on it in white, is now 83, but he's retained the scrappy, unpretentious persona he's famous for, as well as the curly hair and glasses. This is the man who, nearly six decades ago, gave Minimalism its great tagline by proclaiming: "What you see is what you see," his words a rallying cry for what art could be, and, equally, could do without. A fixed light in American art's galaxy since the 1960s, he has arguably influenced visual representation as powerfully as Andy Warhol.
Unlike many mid-20th-century artists who rose fast only to seemingly collapse under the pressure of their own reputations, Stella kept pushing himself by using new forms, materials and technologies. When he felt he'd reached the limits of the flat canvas, he built out from it in reliefs inspired by "Moby-Dick" and Polish villages. In the 1980s and '90s, he made metal sculptures that looked like race cars or jet engines turned inside out, as well as unwieldy canvases covered in Pop-coloured riots of form — operatic assemblages of cones, pillars and graffiti-like brushwork, like something Charlie Sheen's character might have had in his home in the 1987 film "Wall Street." That the godfather of Minimalist painting turned into a progenitor of the contemporary baroque has always flummoxed critics.
Perhaps the secret to his longevity, his decade-upon-decade habit of creating, is again a matter of balanced forces, the measures he's taken to temper his bright burning ambition. When we meet, the artist has just celebrated the arrival of his fifth grandchild, Sophie. (Stella, who has five children, has been married to Harriet McGurk, a pediatrician, since 1978, and they live in the same house in Greenwich Village he's owned since the 1960s; his first wife was the art critic Barbara Rose.) He seems to lack any real self-destructive impulse; he never succumbed to matters of lifestyle. When I ask him if he has any vices, he dodges. "You have to ask my wife," he says dryly.
He has (at least) two, it turns out: cigars and fast cars, both of which have informed his work in various ways, from sculptures based on three-dimensional representations of his own smoke rings to his use of technological innovations derived from the auto industry, like carbon-fibre skin over steel or aluminum frames. In 1982, he was caught driving his silver Ferrari 105 miles per hour in a 55-mile-per-hour zone on the Taconic State Parkway, and in lieu of jail time, he delivered public lectures on his painting. His racing days are now long over, and he can no longer do much of the physical labour involved in art-making. And so it might seem he's come full circle, returning to the deceptively simple geometries he was making six decades ago, only now expanded into three dimensions.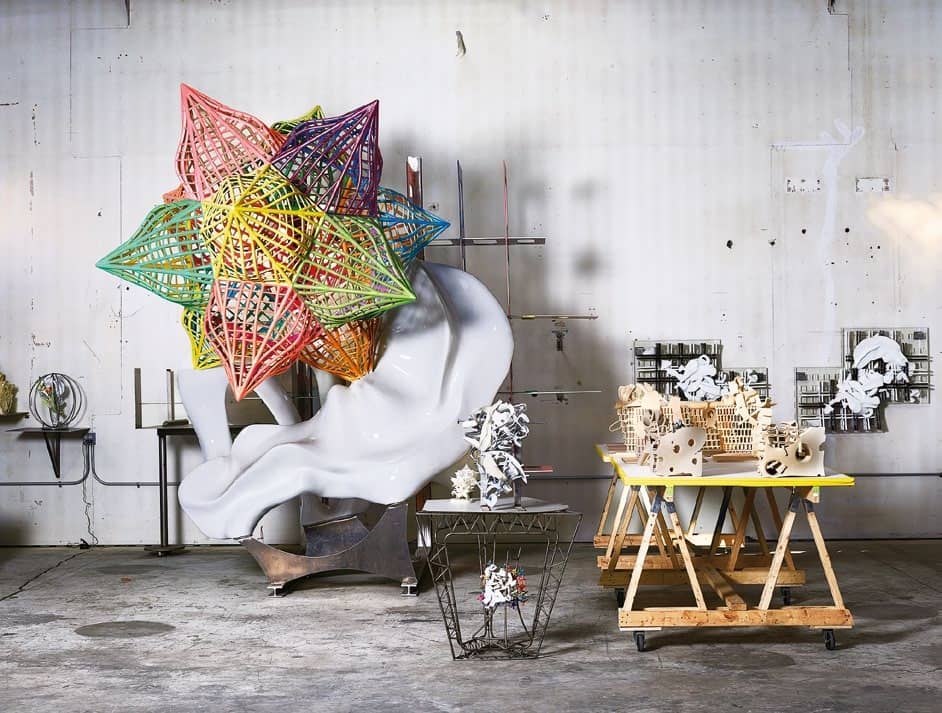 You can read up to 3 premium stories before you subscribe to Magzter GOLD
Log in, if you are already a subscriber
Get unlimited access to thousands of curated premium stories and 5,000+ magazines
READ THE ENTIRE ISSUE
July 2020