Coming Up - Maisie
T Singapore: The New York Times Style Magazine
|
September 2020
As a child, Maisie Williams grew up on television sets and in the public eye. Now we witness the Pasha de Cartier ambassador transition into the next chapter of her life story, both onscreen and off
It's evening here in Singapore. The day is slowing down to an end, but the bright, clear voice of Maisie Williams rings through the all-black Zoom window, reverberating the midday Parisian energy, and I compose myself.
Amid a global pandemic with stay home directives, Williams and a few of her friends had decided to make the city of Paris their temporary home. "When the borders opened, we decided to come and quarantine here for a while because we love it here, and because none of us have jobs," Williams jests.
Listening to her speak about her life experiences is rather surreal. After all, Williams is a 22-year-old young woman who grew up in the public eye. She started to act when she was 12 but was really pushed into the glare of the spotlight at 14 when HBO's "Game of Thrones" premiered. In the eight years that it ran, the television series became an international phenomenon, and turned its characters into pop culture icons. And Maisie Williams, who played the gutsy youngest daughter of the House of Stark, was no exception.
As a teenager, Williams found herself having to forge her image and develop her identity under intense public scrutiny. "Socially, maybe I found it quite hard," says the actress who spent puberty in castle sets and dodging enemies on horseback. "But I never really knew anything different [from this]."
In some ways, her age acted to her advantage. Perhaps she was too naive to be fazed or to feel inadequate. "I just wanted to perform for anyone who would watch me," she digs at her memory to share about her "showing-off" phase. "It's different now; I'm not quite so full of myself."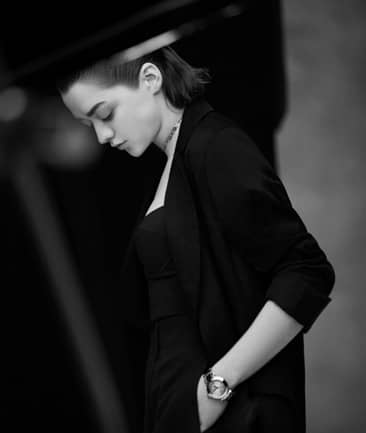 It is clear that a decade of growing inside an enormous production like "Game of Thrones" changed Williams's perception of life forever. "I learned so much about work ethic and about passion, and the sacrifices that you need to make for success from a very young age. For that I'm really grateful." And her confidence and professionalism belied her youth.
You can read up to 3 premium stories before you subscribe to Magzter GOLD
Log in, if you are already a subscriber
Get unlimited access to thousands of curated premium stories, newspapers and 5,000+ magazines
READ THE ENTIRE ISSUE
September 2020