Perfectly Me!
Seventeen - US
|
October - November 2018
Body confidence starts from within—and it gets a boost when you're part of a community of acceptance. Just ask these six teens, who are helping us celebrate another year of our #PerfectlyMe initiative with Instagram. Their stories (along with their filter- and Facetune-free photos—all taken on iPhone Xs) will help inspire you to embrace who you are.
''I'm pretty,
I'm beautiful,
I'm loved."
Sydney, 19, Scottsdale, AZ
syd.egan
Not that long ago, I struggled with my perception of my body. I was introduced to diet culture in second grade, and I have been on and off diets ever since. In high school, it became unbearable; my friends were all the "perfect" size. I felt like I was supposed to be "the funny girl," not the cute one or the sexy one, because of my size.
But the summer before college, I made a friend named Kortney [inset], who radiated confidence and preached self-love. She helped me realize that body confidence does not have a size, and I slowly learned to love who I am. Now I work out to be healthy, not to be skinny. Being perfectly me is wearing what I like to wear, not what someone with my body shape is "supposed" to wear.
I'm studying to be an adolescent therapist. I want young women to realize that self-worth isn't dependent on size, acne, hair length—anything like that. You should never let those things hold you back.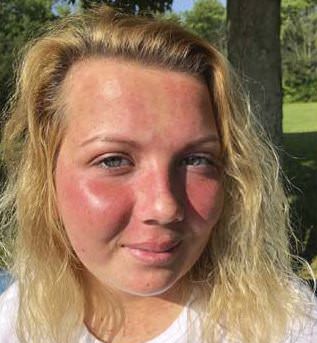 ''For a long time, I covered up my skin. Now I don't.''
Nikole, 19, Indianapolis, IN _queen__niki_
Most people don't like to be seen. I like people to notice me. And they do. I have a rare condition called cutis marmorata telangiectatica congenita. I was born burgundy, and I now have discolored patches of red-pink and blue-purple all over my skin—on my face, on my legs.
I've been bullied my whole life. People always called me names because of my skin, so for a long time I covered it up. But senior year, I started telling my story so people would know why I look different. Nobody is the same. Why judge others?
That's something I learned from my mother. She also taught me how to do my makeup—I'm really good at it now, though I feel perfectly comfortable without it. For me, putting on makeup is about being creative, not hiding what I look like.
I love how independent and strong I am. I don't need the approval of other people, and I embrace all my imperfections. Still, it's an ongoing journey. It never stops.
You can read up to 3 premium stories before you subscribe to Magzter GOLD
Log in, if you are already a subscriber
Get unlimited access to thousands of curated premium stories, newspapers and 5,000+ magazines
READ THE ENTIRE ISSUE
October - November 2018