Molly Esterline
Her 1947 Ford F1
"With old cars, you have to get to know them," Molly Esterline tells me as she guides her 1947 Ford F1 up a hill. The matte black pickup, dubbed Rebel Rose, lets out a deep rumble as it switches gears. "Sometimes she's a little testy, other times she's happy. I know it sounds ridiculous, but I literally feel like [this truck is] a person."
On this hot Monday afternoon, we wind through the back roads of Agoura Hills, California, near where Esterline and her sister grew up surrounded by cars. "My dad has seven hot rods," Esterline says. "I really wanted someone in the family to pass one down to me, but they're all still truckin'." So this year, after a string of life changes, Esterline found a vintage ride of her own—a big, loud, and curvy antique Ford dating all the way back to the Truman era that feels both tough and rustic.
Though it's only been a few months since Esterline acquired Rebel Rose, the two are already bonded for life. "She's my War Rig," Esterline gushes, referencing Charlize Theron's massive 18-wheeler from Mad Max: Fury Road. She cranks open a small flap-like vent on the truck's dash. "That's the air conditioner! It's the same as in the movie when the sand comes in and they open up the headers!" she says, and smiles proudly as we soldier on.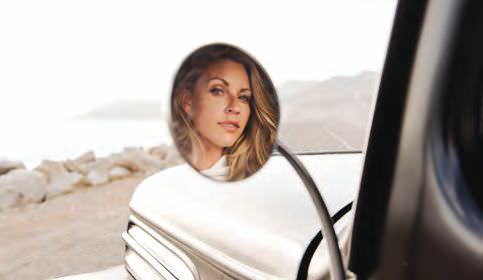 How did you find your truck?
You can read up to 3 premium stories before you subscribe to Magzter GOLD
Log in, if you are already a subscriber
Get unlimited access to thousands of curated premium stories, newspapers and 5,000+ magazines
READ THE ENTIRE ISSUE
October 2017