The Unbecoming Of MS.Jones
Digital creative Kim Jones forges her own way to a truly authentic life set to change the world one idea at a time, as she uses her voice and platform to inspire many to embrace their selves. In this special, she collaborates with Metro as Creative Director to shape the visual narrative of the jet-set life
7:00AM – ARRIVING IN STYLE
We are 24 nautical miles from the dock and Kim Jones is surfing in knee-high boots. She is posing for the photographer. Kim's hands are in mid-air, showing offthe sleeves of the white Louis Vuitton top, her feet wide apart, a stance that engages the core as she tries not to slip. In this position, she delicately balances at the edge of the bow of the ship. We know the challenge of remaining vertical in this position, but she gives no indication of discomfort, no indication that she will fall. She will not fall.
Kim is a conundrum for many. On one end, she is a little shy, soft-spoken, and sweet, but her mind is razor sharp, her words are direct, and she means business. Back when she first broke out into the scene as a commercial model, the fresh-faced, British-Filipina from Australia who was just here on vacation until she fell in love with the country, was the picture of just that. Sweet as daisy, TVC-ready, and not a strand out of place or a blemish to mar her smooth,olive complexion.
She found great pleasure in mounting her own fashion stories on her blog, set in exotic locations as she shows offher current favorite brands—a mixture of off-the-radar local and international labels. Her following grew larger as she set out her own directional path, along the lines of Garance Dore's inspirational meanderings and Chiara Ferragni's romantic travelogues, mixed in with Leandra Medine's zany, irreverent prose. Her life in fashion curiously intersected with that of one of the country's heartthrobs—Jericho Rosales—who she now calls husband, further adding to the enigma of Kim. Who was she, and why her? What's all the fuss?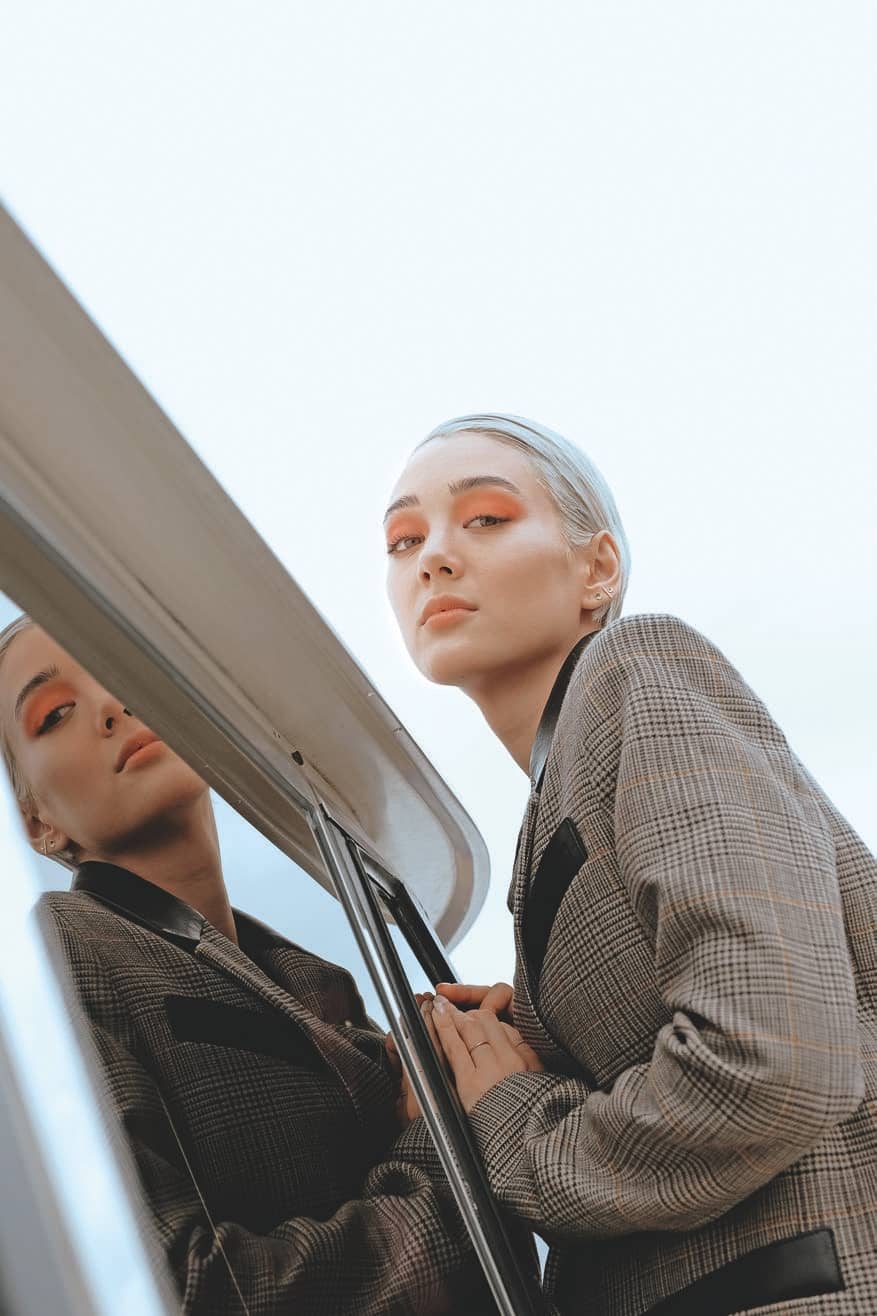 BECAUSE OF WHAT SHE DOES, and who she is married to, it's easy to attempt to put her in boxes. Model-muse, most definitely. Blogger, if one can still use that word, is an attempt to capture her past, when blogs were still a thing. Influencer comes in next, because that's what bloggers have progressed into, but that description likewise begs further prodding. It is more of an adjective than a noun, and no sooner does one say influencer than one can say pusher, peddler, or even, endorser. What we settle on is the factual: Digital creative.
"It isn't the easiest route to take, especially in the influencer age, I constantly get put in certain boxes," she says, calling to mind our discomfort over how to describe her.
"It's so much more about having a voice," she adds. And while this might have turned offmany brands, clients even followers, especially in the country, it has also opened doors to other markets internationally who are more accepting of the idea.
"It's a process, by no means the easy way out. But it's so important for my audience to see I'm just as invested in what I put my mind and my soul into. And that it's communicated. Whether that be as small as styling with clothes," she says, or creating a film, or still photography—she is on board.
You can read up to 3 premium stories before you subscribe to Magzter GOLD
Log in, if you are already a subscriber
Get unlimited access to thousands of curated premium stories, newspapers and 5,000+ magazines
READ THE ENTIRE ISSUE
February 2019