Eyes Wide Open
Marie Claire - US
|
October 2018
She Went From Ingenue To Serious Dramatic Actress (And Has An Oscar And An Emmy To Prove It). In Next Month's Drama Boy Erased, Nicole Kidman Brings Her Signature Humanity And Heart.
NICOLE Kidman and her husband, the country music star Keith Urban, like to play a little game. Say they're talking about a guitarist: "When I say to him, 'What kind of guitarist is that person?' we do this," she says, patting her head, patting her heart, and then motioning …downward. "Head, heart, or—" she cocks an eyebrow. "It's a great way to describe different artists, right?"

It is. And it also begs a question: What kind of artist is she? "Well, I always say I'm a pretty even mix, but I'm probably dominated by that," she says, with one hand over her heart. "If you don't come from a feeling place, you just end up with an enormous amount of technique.

"I have this," she says, tapping her head again, "but that can be overruled. It fluctuates too. I have a strong sexuality. It's a huge part of who I am and my existence."

Anyone who has seen Kidman in HBO's hit series Big Little Lies has witnessed all three elements at play, but off screen her sexuality also manifests in more innocent ways, like when she sees her husband—who crashes our interview at Noshville Delicatessen in Nashville, where the couple has lived since they married in 2006. "Excuse me," Urban says, approaching the booth. "Can I clear these dishes for you?" Kidman beams and pulls him down next to her. They eat here often enough that the burgundy-haired hostess, Linda, barely bats an eye when they enter but can't help exhaling dreamily when they leave: "I could stare at him all day long. He's just the most beautiful man!"

As for Kidman, on this sticky day, she seems to exist in a different climate, wearing her pale-blond curls swept up at the nape of her neck and a charcoal blazer despite the heat. If the other diners have noticed a movie star eating among them, they aren't doing anything about it, which is one reason why Kidman loves living here. It's hardly a quiet city—on any given day, the streets are filled with tourists and Pedal Taverns powered by drunk bachelorettes—but it isn't crawling with paparazzi, like L.A. or New York. It is crawling with country-music stars, many of whom like this particular diner. "You have Vince Gill, who comes every day," Kidman says, forking some fruit. "He's usually here for breakfast, so I thought I'd see him."

Kidman now considers Nashville her hometown and her two daughters with Urban, 10-year-old Sunday Rose and seven-year-old Faith Margaret, Nashvillians. (For souvenir shopping, Kidman recommends a place downtown where one daughter got her first pair of pink cowboy boots.) The family home has a recording studio for Urban. Kidman used it herself while singing on Keith's 2017 track "Female." "I was eating breakfast and went down in my pajamas," she says. "Yeah, I'll do anything for him.

"I have a very sort of quiet life, I suppose," she adds. "I try to live a soulful, artistic life." That means "trying to raise my daughters in a really conscious, present way. Time becomes so precious as you get older," she elaborates. It also means signing on to projects that resonate with her deeply. "I mean, I feel probably more now than I ever have. I'm incredibly sensitive to the world and to the way in which we're all navigating together as people. Artistically, I can make statements."

Statements like "Love is love"—the message of her new film Boy Erased (out November 2), directed by Joel Edgerton and based on Garrard Conley's 2016 memoir about being a Baptist pastor's son (played by Lucas Hedges) who is pressured to undergo gay conversion therapy in Arkansas. Kidman plays his torn mother; Russell Crowe plays his intolerant father.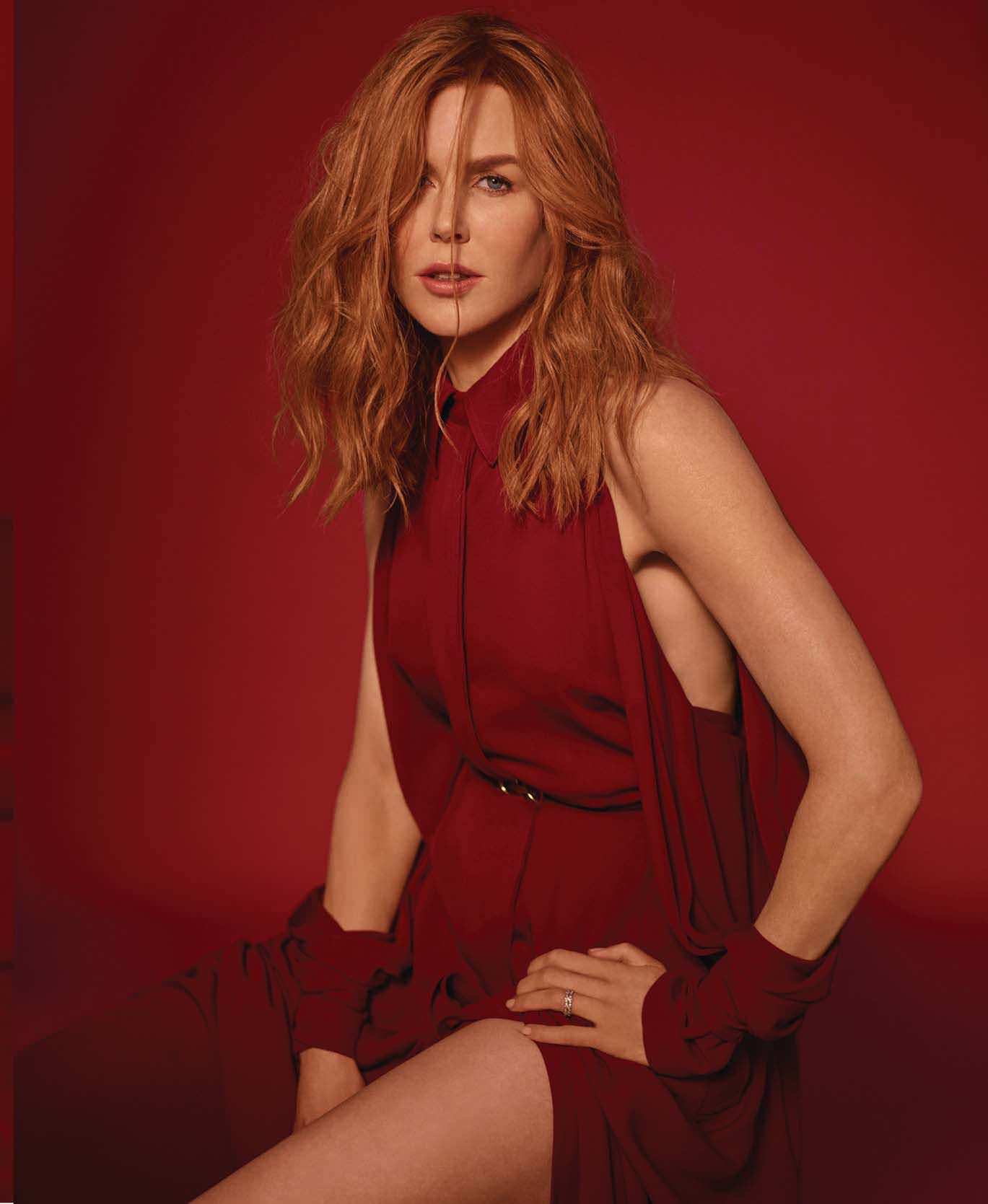 You can read up to 3 premium stories before you subscribe to Magzter GOLD
Log in, if you are already a subscriber
Get unlimited access to thousands of curated premium stories, newspapers and 5,000+ magazines
READ THE ENTIRE ISSUE
October 2018