Facing The Floods
Marie Claire - UK
|
November 2019
Photographer Gideon Mendel has spent 12 years capturing the extreme rise in flooding across the globe. Here, he tells Marie Claire about the devastating human impact.
Kashmir, India, 2014
'I arrived in Kashmir two weeks after the rivers had burst their banks and found Mushaq Ahmad Wani and Shafeeqa Mushtaq living on the second floor of their house with their two young children; the ground floor had been completely submerged and was still inhabitable. Mushaq worked as an artist, and had saved much of his collection by storing paintings upstairs, but many houses in this area were on the brink of collapse, held together by mud mortar alone. Everyone seemed to be in shock and there was a lot of anger, too. They hadn't been warned early enough by the authorities and Shafeeqa was keen to show the world what they were going through; for others to bear witness to the destruction.'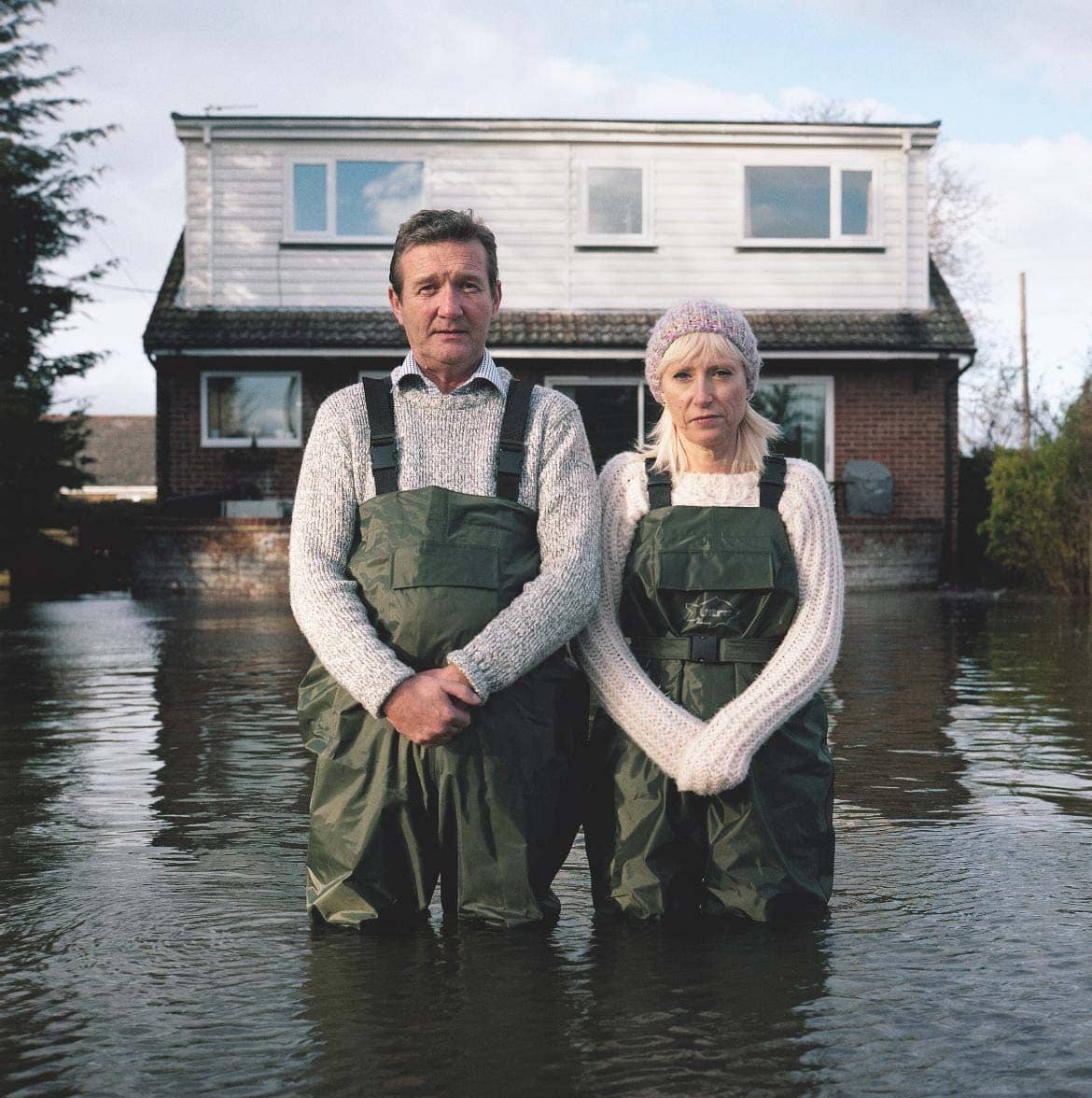 Surrey, UK, 2014
'I met Jeff and Tracey Waters after the UK's heaviest rainfall since records began and, despite their house being raised to protect them from severe flooding, they had still been affected by water damage on the first floor. Living so close to the Thames, many of their neighbours had been forced to move out by the time I arrived – some evacuated by boat – so Jeff and Tracey were two of the few people still living in the community. They were very open to being photographed, even welcoming me and my assistant in to make us bacon sandwiches after the shoot, and felt relatively lucky compared to some of their friends, whose homes has been badly damaged in the deluge.'
From deadly monsoons in Nepal and dramatic flash floods in northeastern Spain, to the near-collapse of Whaley Bridge dam in Derbyshire, 2019 has, quite literally, been awash with news of global crises caused by a complex, consistent pattern of rising water levels and submerged landscapes. The number of flood reports worldwide has surged by 50 per cent over the past 10 years and Gideon Mendel's documentary series 'Drowning World' is a striking photographic record of the human cost of flooding.
You can read up to 3 premium stories before you subscribe to Magzter GOLD
Log in, if you are already a subscriber
Get unlimited access to thousands of curated premium stories, newspapers and 5,000+ magazines
READ THE ENTIRE ISSUE
November 2019