NICOLE undone
Marie Claire Australia
|
November 2020
She's Australian film royalty, a critically acclaimed Hollywood heavyweight and our First Lady of country music: Nicole Kidman needs no introduction, but let us anyway. On the eve of the release of her new TV thriller, The Undoing, editor Nicky Briger meets the woman, the star, the legend
Nicole Kidman slips into our light-flooded Lavender Bay studio in Sydney without fuss or fanfare. Dressed in track pants and a slouchy tee, her hair swept back into a tight topknot, you'd almost be forgiven for missing her entirely, except for the fact she's nudging six foot and seems lit from within, thanks to her famed alabaster skin. She's been up past midnight every night this week, pulling 14-hour days shooting the TV adaptation of Liane Moriarty's Nine Perfect Strangers, but you wouldn't know it. She's warm, spry and chatty as she enthusiastically sifts through a full rack of high-fashion pieces: "It feels like ages since I've properly dressed up. I'm excited!"
It's Sunday – her supposed "day off" – yet after today's shoot, Kidman has a slew of Zoom meetings for her production company, Blossom Films, followed by a one-hour session with her dialect coach ("I'm playing a Russian who spent time in America and Britain, so try nailing that accent!"). In-between all that "work stuff", she'll eke out time to collect her two youngest kids, 12-year-old Sunday and nine-year-old Faith, from her sister Antonia's place. The juggle is real, even when you're a Hollywood powerhouse with about 60 hit film and TV productions to your name. "She's the hardest working person in the business," says long-standing friend and Big Little Lies producer Bruna Papandrea. "Her talent is immense, but it's her work ethic that's truly astounding. She'll work tirelessly not just to get it done, but to get it right."
It's been two months since the multi-award-winning actor/producer relocated to Australia with her husband, country music star Keith Urban, and their two daughters after the pandemic forced production of Nine Perfect Strangers to shift from LA to idyllic Byron Bay. It was a mammoth logistical task to move cast and crew, something Kidman was involved in as producer: "I've had a lot of sleepless nights, there's been a lot of stress this year, but we're making it work with protocols and limitations. I still can't believe we did it!" But more on that later. Today we're chatting about her latest project, The Undoing, an HBO psychological thriller in which Kidman plays New York therapist Grace Fraser who discovers her picture-perfect marriage isn't what it seems. Warning: this six-part nail-biter, written by David E Kelley of Big Little Lies fame, requires binge viewing. (The sadists at Foxtel only sent five episodes, so I have an excruciating wait for the finale.) "I want it to be a date-night series – couples to settle on the couch with pizza and devour it," says Kidman, who also sings the opening credits.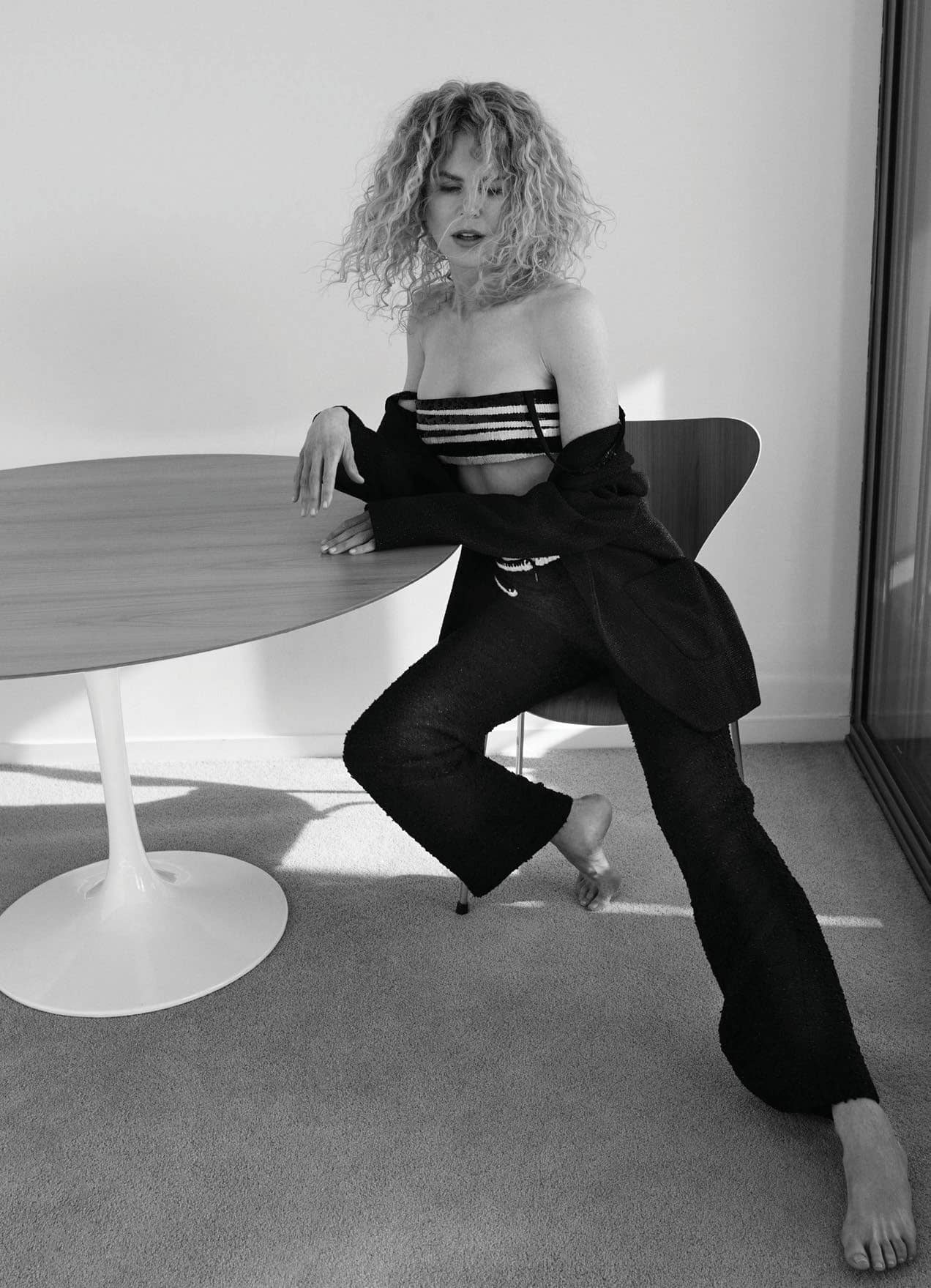 Here, she opens up about working during COVID, her "simple life" with Urban and the kids, and her passion for championing female creatives.
marie claire: Welcome back home! I bet you're happy to be filming in Oz with the state of the world right now.
Nicole Kidman: Absolutely; we're just so grateful. The whole time during COVID, I couldn't pop home and see my family, which was really tough. I missed my mum's 80th and her knee operation, so now I'm just trying to be here. Last night, I dropped the kids at a sleepover, and then visited Mum. Friends are asking, "What did you do last night?" and I'm like, "I watched a documentary with my mum!" That's my big Saturday night.
You can read up to 3 premium stories before you subscribe to Magzter GOLD
Log in, if you are already a subscriber
Get unlimited access to thousands of curated premium stories, newspapers and 5,000+ magazines
READ THE ENTIRE ISSUE
November 2020