'Facing our daughter's KILLER'
Marie Claire Australia
|
October 2020
When Swedish journalist Kim Wall boarded a submarine while on assignment, her parents could never have imagined the horror that would unfold. Now, Ingrid and Joachim Wall are sharing their daughter's life and tragedy in a new book
FRIDAY, AUGUST 11, 2017
The quiet of our bedroom is pierced by a ringing phone. The red numbers projected on the ceiling show 5:31 am. I answer the phone while Jocke, lying next to me in bed, remains asleep. The voice on the other end of the line belongs to Ole, [our daughter] Kim's partner. He sounds shaken, his voice is forced. "Kim has disappeared from a submarine near Copenhagen." If there hadn't been such obvious worry in his voice, I would have thought he was kidding. Disappeared? From a submarine? Near Copenhagen?
This is how the nightmare began — the nightmare we would never awaken from. Our daughter left to do an interview for a story — a completely ordinary workday for a freelance journalist. But Kim never came home from work. Instead of writing headlines, she became one.
I wake Jocke. We ask Ole if we can call him back. Soon we're completely awake and, ever so slowly, a completely improbable picture takes shape. Our daughter left yesterday evening to do a story about Peter Madsen, a man well known in Denmark who builds submarines and wants to launch himself into space. Kim was supposed to do the interview on board the UC3 Nautilus, which the man had designed and cobbled together himself. The underwater craft was a well-known silhouette in Copenhagen.
Ole says he's stayed up all night waiting for her. He's biked all over Refshale Island in the northern part of Copenhagen, looking for her, calling her cell phone over and over, searching everywhere. He's called the police and the Danish Coast Guard. He's pleaded and begged them to understand that this is serious. Ole has done everything in his power to find Kim. She was just going to finish this assignment before meeting up with him and some good friends after work. We try to get a picture of what might have happened. We decide there's been an accident. Something's happened with the submarine that made it impossible for it to resurface.
We follow the news on TV; the submarine is the top story. At 7 am, the Danish media are already reporting on it. One headline reads: "Helicopters and ships searching for private submarine with two on board near Copenhagen." The article briefly reports what is known. As longtime newspaper journalists, we're familiar with the situation. But this time the unfolding news is about our daughter. It's almost impossible to take it in. It feels so unreal that if this were a film, you'd turn it off. It's simply nonsense.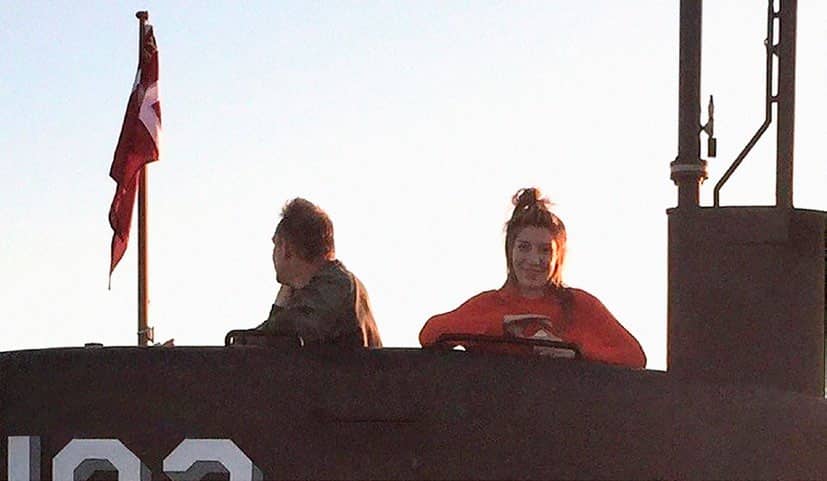 Later, at the police station, Jocke and I are shown into a cold room on the ground floor. We wait, unsure exactly what we're waiting for. We hope it's a message that Kim's been found, unharmed, but such a message never arrives. We're offered coffee before the interview begins. The first question has to do with when I last had contact with Kim: "See you Tuesday night. I love you! Kiss, kiss!" Kim said to me at lunchtime on Thursday. I'm out walking the dog in the lovely late summer sunshine when I call her. She's curious to hear what we think about Ole, whom we had just met the evening before. I joke and say that he gets high marks. And I add, "Keep this one." "Don't worry - he's the one. So you'd better get used to having him around for the rest of our lives," she replied.
You can read up to 3 premium stories before you subscribe to Magzter GOLD
Log in, if you are already a subscriber
Get unlimited access to thousands of curated premium stories, newspapers and 5,000+ magazines
READ THE ENTIRE ISSUE
October 2020