FROM TV STAR TO PAEDOPHILE HUNTER
Marie Claire Australia
|
September 2020
Child-sex trafficking is a multi-million dollar industry and one of the fastest-growing crimes in the world. Marisol Nichols – of CSI, Law & Order and Riverdale – uses her acting nous to go undercover in the real-life role of a lifetime: catching child predators in a dramatic sex sting. By Erika Hayasaki
An actor sits on the edge of a mattress in a $90-a-night, hard-luck motel room, the grimy curtains drawn. Cobwebs cloud the splotchy ceiling and the room smells musty and of old smoke. In the bathroom, the floor tiles peel at the edges and beige streaks stain the tub and toilet. Bulletproof vests hang on the backs of chairs, ready. On the table are bags of beef jerky, barbecue potato chips and oranges. There are cans of body fuel and enough bottles of water for everyone: two dozen law-enforcement officers from the local county sheriff's department; two from outside agencies; an FBI agent; two civilian decoys; a former government investigator. And Marisol Nichols, star of the hit TV series Riverdale. But she is not on a Hollywood set, she is playing a role – the role of a parent pimping out a child or, depending on what the situation calls for, the role of a child being pimped out to a guy: a dirtbag on his way to a dismal motel to have sex with an 11-year-old girl who doesn't exist.
Nichols thumbs a message into a hook-up app popular among men seeking sex with children. She pretends to be the child's father: "In town today/ tonight only, need someone to educate son/daughter while I and ms watch." (Educate is code for sex.)
Online, Nichols is a trafficker enticing adults who want to sleep with children. On the phone, she feigns the voice of a child, sounding drugged and sheepish. "What do you like?" the men ask, thinking she is 13. She giggles and stammers on cue. Unlike the other roles she's been cast in, Nichols isn't being paid for this performance. She flew herself here, halfway across the country from her home in LA, to this midsize, Midwestern city for the two-day op.
Nichols dresses the part in case a perp (perpetrator) glimpses her through the window. She's 46, but at 163cm with a hoodie over her head and a bedsheet draped across her shoulders, she can pass for a teenager. Or she might wear her long, dark hair matted and put on a beer-soaked Mötley Crüe T-shirt, and suddenly she's a young junkie mum prostituting her kid. She can play madam or victim.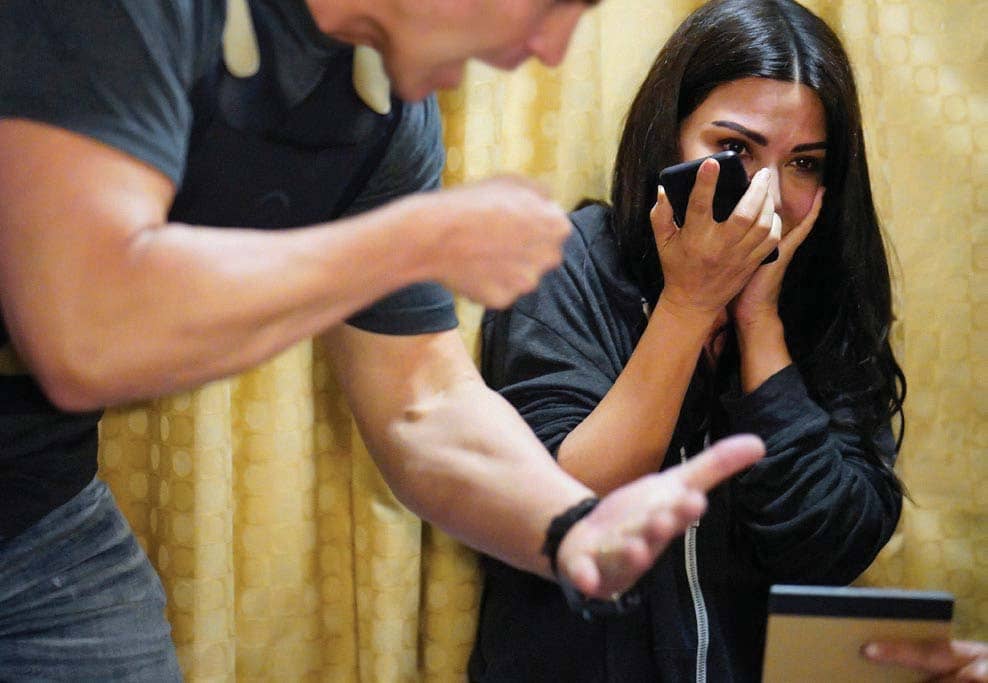 On this morning, she wears a black baseball cap backwards, a black V-neck T-shirt and bell-bottom jeans. She carries a pack of American Spirit cigarettes. She could be anyone. Most of these guys, she says, are "wimps". Cowards. Sick men who want to take advantage of a girl. She remembers one sting in which she played a trafficker who set up child sex parties. The target was 38, looked like a real estate agent, probably in a fraternity in college. "Looking the guy in the face," she says, got her in her gut. "These guys look like normal people. And you're pretending that you just happily and eagerly set up children for them to have sex with."
Nichols kept her cool throughout the interaction, but adds: "To watch his eyes" – the way they lit up at the mention of an underage kid – "you want to kick him in the balls and beat the hell out of him."
Each sting is like a battle that might never end. But if these two days and all the manpower and expenditure of taxpayer money snags a single predator, it will have been worth it – because that man won't be able to make victims out of who knows how many children.
Child sex trafficking, says Nichols, is commonly viewed as a third-world scourge, but it's an epidemic in the west too (in the US, for example, estimates place human trafficking victims in the hundreds of thousands). People turn a blind eye because they don't want to hear the dirty details. People don't want to know about adults having sex with kids, the things they say they want to do to them. "Your mind protects you from that much evil," she says. "[But] if good people don't know about it, it will keep happening, because good people are the only ones who will do anything about it."
You can read up to 3 premium stories before you subscribe to Magzter GOLD
Log in, if you are already a subscriber
Get unlimited access to thousands of curated premium stories, newspapers and 5,000+ magazines
READ THE ENTIRE ISSUE
September 2020