Elle raiser!
Marie Claire Australia|June 2020
At the tender age of 22, Elle Fanning is already a seasoned Hollywood pro. This month she stars as Catherine the Great in television's most hotly anticipated new drama
I meet Elle Fanning in a London hotel restaurant, where she jumps up to hug me the minute I arrive. It's noon on Sunday, "so should we order breakfast or lunch?" she asks the waiter, who is just as uncertain. He says she probably knows the menu better than he does by now, given that she's been living here for six months while filming Stan's upcoming show The Great, about Catherine the Great. I tell her I want this interview to be a natural conversation rather than a recitation of a list of questions. "Oh good," she says, her blonde hair falling onto the straps of her baby-doll petticoat dress, a smudge of last night's mascara under one eye. "Interviews terrify me! No matter how comfortable you feel or how lovely the person, it's still like, what I say is gonna be out there forever."
Fanning began her career at age two, playing the younger version of her elder sister, Dakota Fanning, in various screen productions. By the age of four, she was winning her own parts, such as a cheeky preschooler in the Eddie Murphy film Daddy Day Care. (I rewatched it recently; you can already see the talent in the wide-eyed, imaginative kid who seems to be following the script intuitively.) By 2005, she was playing the child of Brad Pitt and Cate Blanchett's characters in Babel, reuniting with the pair three years later in The Curious Case of Benjamin Button. Her grandmother homeschooled her and chaperoned her on film and TV sets. (Her mum did the same with Dakota.) Yet in Fanning's mind, she tells me, she was still simply playing. At home, initially in Georgia until the family moved to LA for the girls' work, she and Dakota were "always dressing up and having these elaborate fantasies that we would play out", so she hadn't fully understood this was also a career. When Fanning was nine and cast as a girl with Tourette syndrome in Phoebe in Wonderland, she was taken by the director to meet children with the same condition for research. Something clicked, and she could almost see her future. "I realised, 'Oh, this is a job, and I'm telling someone's story, and there is a responsibility of getting it right,'" says Fanning.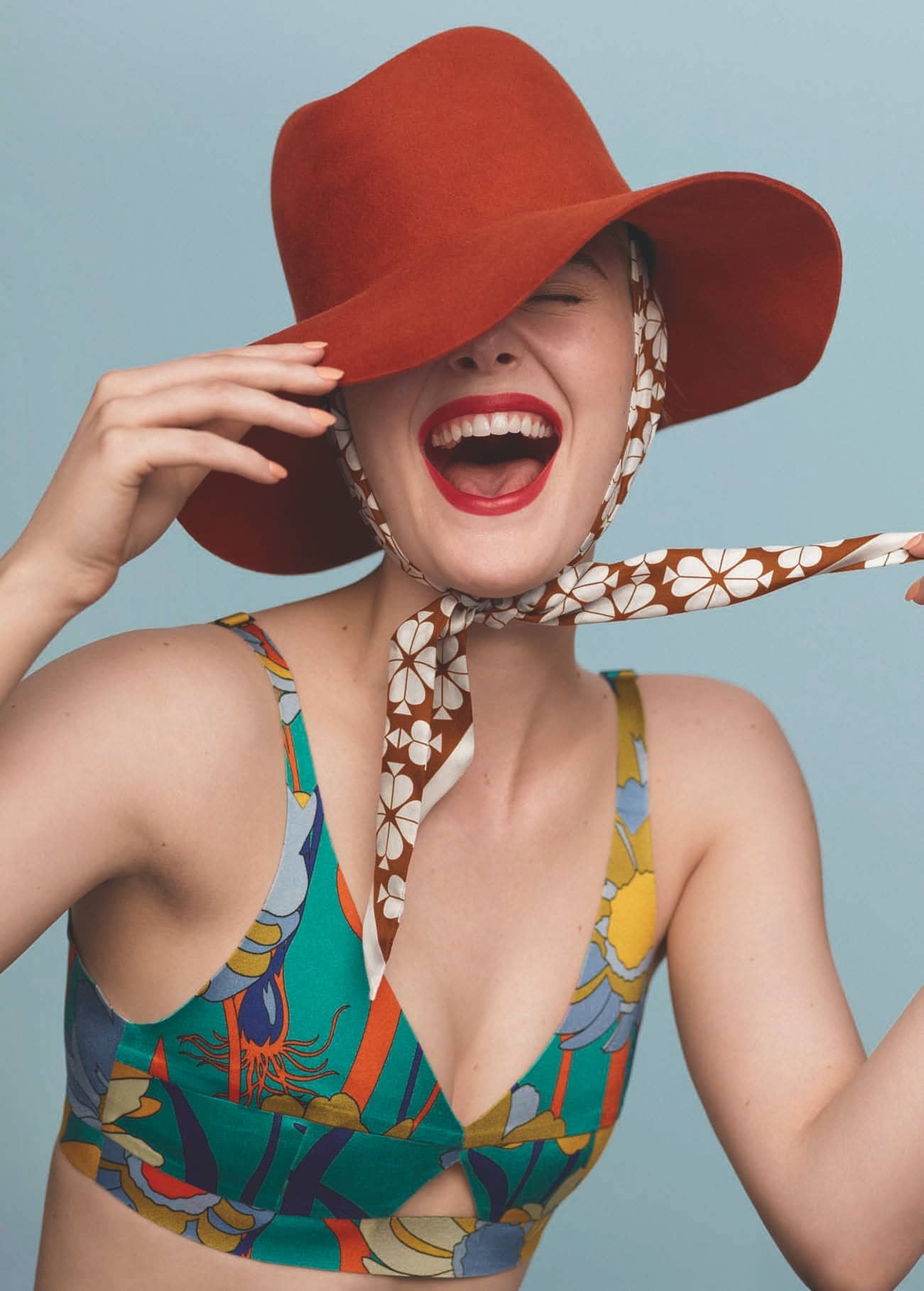 She's such easy company, with a certain bubbly innocence. You can see why Disney cast her as Princess Aurora against Angelina Jolie's Maleficent. It's a role she first took on at age 14, but she's 22 now, and after doing last year's sequel, Maleficent: Mistress of Evil, she and Jolie are on different terms. "Angelina and my relationship definitely changed. She didn't have to look at me as a kid; she didn't have to censor what she could talk about," she says, laughing. "That was exciting, to have that relationship."
You can read upto 3 premium stories before you subscribe to Magzter GOLD
Log-in, if you are already a subscriber
Get unlimited access to thousands of curated premium stories and 5,000+ magazines
READ THE ENTIRE ISSUE
June 2020