Becoming Me
Marie Claire Australia
|
September 2020
Trans-rights protests are taking place across the globe, but many have been fighting the fight for much longer. Here, three families with transgender children reflect on their emotional and physical journeys.
Model Theodora 'Teddy' Quinlivan is a face of Chanel Beauty and Georgie Stone (pictured opposite) plays the first-ever transgender character on Australia's longest-running television drama, Neighbours. Trans visibility is on the rise, yet a glance at the mental health data shows transitioning remains a deeply challenging issue. An estimated 45,000 Australian schoolchildren currently identify as transgender, and the number seeking to transition is climbing fast. But a 2017 report by the Telethon Kids Institute found almost 80 per cent of trans young people (aged 14–25 years) had self-harmed. Tragically, 48 per cent had attempted suicide. For others – the lucky ones – transitioning is defined by relief, elation and great support, their stories proving a harbinger of hope for the future.
GEORGIE STONE & REBEKAH ROBERTSON
Georgie, 20, was assigned male at birth and began taking puberty-blocking medication aged 10. Since then, she's fearlessly campaigned for trans rights, and in 2019 she became Neighbours' first trans character and cast member. Her mother Rebekah is the founder of Transcend, a parent-led peer support network for the families of transgender children. This year, the duo received Australia Day honours for their advocacy.
GEORGIE'S STORY
"When I was 11, my mum showed me a story in marie claire about an American journalist called Janet Mock who was trans. That was something I'd never seen before: a positive representation of a trans person, who was beautiful and successful and living her best life. It gave me a sense of hope and it showed me that my future could be brighter than I thought it was going to be.
"Until that point, I thought I'd never tell anyone [outside her family] I was trans because there was no other option. As a child, I felt like a mythical creature. I felt like there was something wrong with me and that people would think I was a freak.
"It was hard for me growing up, despite being really lucky with my family. Mum has been with me every step of the way, while my twin brother Harry is my biggest supporter – even when we were seven years old he'd [correct] people if they didn't use the right pronoun for me.
"Dad didn't quite understand it at first, but that all came from a place of wanting me to be safe. As soon as he realised that the best way to do that was to support me and let me be who I am, he went out and bought me my first dress. It was a tiny little sundress with spaghetti straps and flowers. I loved it.
"Today I play Mackenzie Hargreaves on Neighbours. I know what it's like to grow up and not have anyone to look up to; I had no-one to show me that I could be who I really was. That was so scary. I hope trans young people can watch me and realise they're not the problem, and be proud of themselves."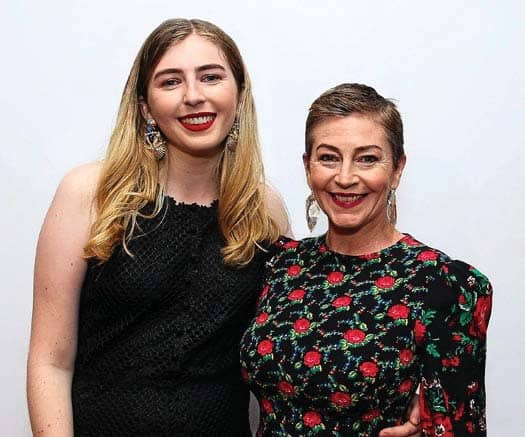 REBEKAH'S STORY
"When Georgie was little, it was a really scary, isolating time as a parent, because there was so little information about trans kids. I felt incredibly overwhelmed and really scared for her future. The hardest part was sending her off to school and wondering if she was going to get bullied that day. It's confronting to know that throughout her life, she'll be discriminated against in both overt and subtle ways. Georgie doesn't deserve that. Nobody deserves that.
You can read up to 3 premium stories before you subscribe to Magzter GOLD
Log in, if you are already a subscriber
Get unlimited access to thousands of curated premium stories, newspapers and 5,000+ magazines
READ THE ENTIRE ISSUE
September 2020