NOT ALL HEROES WEAR CAPES
MEN'S FOLIO Malaysia
|
August 2020
It's an understatement to say the COVID-19 pandemic has been very challenging. While we whine about the most trivial matters, the frontliners are working tirelessly so that we can get our normal life back. As we continue in the battle against the virus, we talk with four individuals working above and beyond their call of order about life in the vanguard of the fight.
AZHARI B. ABU BAKAR, POLICE SERGEANT
What were the challenges you faced at the beginning of the MCO?
Since the outbreak escalated very quickly, things progressed so fast that there was no scope to conduct orientation, drill, simulation, training or whatever. We had to quickly learn, consult, and adapt with our counterparts in medicine and other services. Leaves were cancelled. The messages and instructions trickled down from the hierarchy to each police station, and everyone just followed it.
Another thing was the fact that our enemy was invincible made things more difficult. Our duty was increased; our roles was required everywhere, and our responses and enforcement procedures kept changing according to the status of the pandemic. Of course, there were also long shifts and worrying about bringing the virus home and exposing our family to it.
The virus aside, what have you found to be the single toughest nut to crack in this crisis?
To educate the public to follow the SOPs. We have to ensure that social distancing is maintained, but we also have to ensure that people are not deprived of their essential needs.
Is there anything good that you've noticed coming out of the situation?
The public has become more disciplined and aware of their hygiene. I can see many Malaysians are becoming more responsible by keeping a safe distance in queue as they do their part in breaking the chain of infections. We were also grateful that when people started to understand the purpose of the MCO, compliance became better.
What keepse you going in tough times such as this?
All the thank-yous and words of gratitude from the public. I think the positive public sentiment towards PDRM during this trying time is what motivates us. We've received a lot of donations from NGOs and individuals wanting to offer support and relief efforts for all the officers which make us feel appreciated. We know our efforts did not go unnoticed.
In retrospect, what advice would you have given our government?
Be prepared and plan ahead. We need an early warning system for future crises. Having a system that we can trust is critical because only with such a system in place will citizens have trust in the government and continue to act as they do now. We shouldn't have to wait for COVID-19 to know this is how we're supposed to run a country.
What do you wish the public understood about your work?
We have always been more at risk to violence because of our profession and now viruses too, so understand that we're not trying to create an unnecessary disturbance – and follow the SOPs. I hope the public also understands that the responsibility does not just fall on the shoulders of the police. It's #kitajagakita, not #polisjagakita.
We know the crisis is far from over but what are your biggest takeaways from this wild ride of an experience so far?
Well, no one can claim to be an expert in dealing with this situation yet. We're still learning, unlearning and adapting. Probably when all of this is over, we can all sit together and share information and lessons that COVID-19 has taught us. For example, we definitely have to update our PPE inventory beyond a simple first aid kit. So far, it has helped us establish greater coordination in our teams. A more humane approach in enforcement of lockdown has met with equal cooperation from the public. Also, the importance of self-discipline.
Have you ever regretted choosing this line of job?
Not at all. I've been serving the nation for 39 years; I'll be retiring next year and I've never felt regret working as a police officer. To be honest, this outbreak is definitely one of the toughest experiences in my whole career, but it has taught me and the PDRM to be extra prepared for every situation in the future.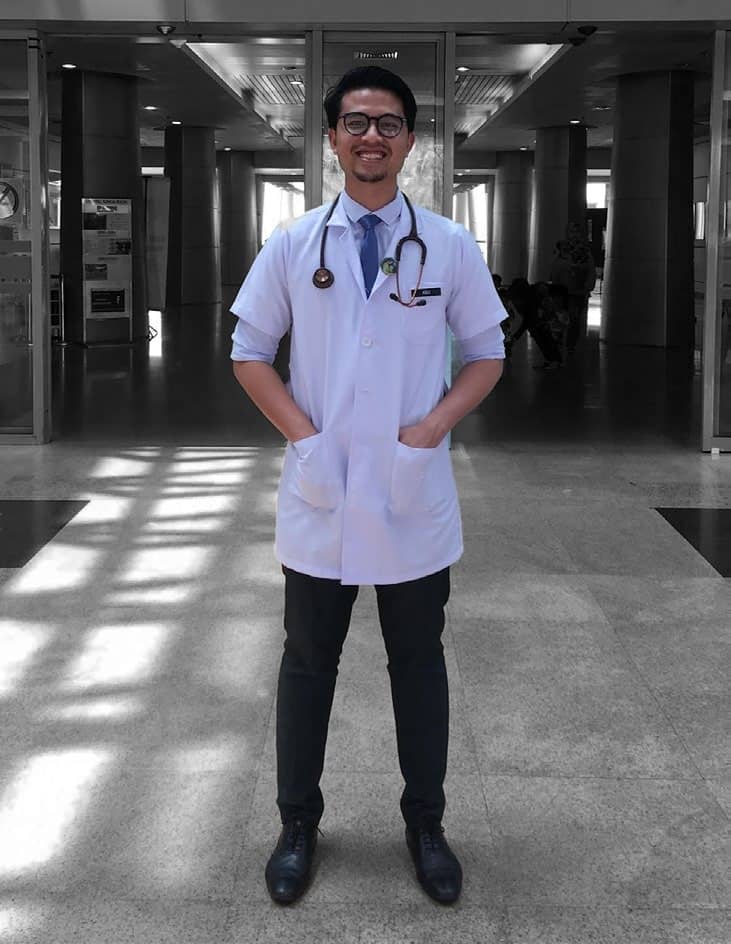 DR MOHD ADLI ZIL-IKRAM, DOCTOR
How are things now that we've entered RMCO?
You can read up to 3 premium stories before you subscribe to Magzter GOLD
Log in, if you are already a subscriber
Get unlimited access to thousands of curated premium stories, newspapers and 5,000+ magazines
READ THE ENTIRE ISSUE
August 2020