Can't Knock The Hustle
MEN 'S FOLIO Singapore
|
September 2020
A professional athlete from the EVOLVE Fight Team, a father to one-year old baby Leon and a full-time student — 25-year old Muay Thai fighter, Amir Khan shares his pre- and post-fight routine.
I used to think juggling school and my career would be impossible to handle. When we first had our son, I thought I would not have the time.
Now, I have opened my eyes and I know that there is time for anything if you are willing to be disciplined to make said time for it.
I am also a lot more willing to learn and improve in every aspect and area of my life — be it at work, at home or outside interactions with people.
24 HOURS BEFORE THE FIGHT
MORNING
I used to eat oats with nuts, blueberries, and strawberries. Oats are high in carbohydrate content and it helps fuel my glycogen storage. It is also where one's main source of energy for the brain and body, which is especially useful for high-intensity sports.
I have recently started working with a sports nutritionist and he helps me optimize my eating habits while advising me on what is good or not to consume.
Now, I eat sugary cereals like honey stars in the morning when I wake up. The reason being is that sugary cereals help to release energy fast whereas raw oats take a longer time to release the energy needed to kickstart your day. For the types of intense training that I do in the morning, I need a quicker release of energy.
That is why these are the cereals that work for me and the recommended intake is also 45 grams of carbohydrates per hour.
We have started building a solid nutrition plan and this is what I will be following going forward in my daily life and for future fights.
AFTERNOON
Before the fight, I usually consume a high amount of carbohydrates, a moderate amount of protein, and a limited amount of fat.
If I eat chicken rice, I will get plain white rice instead of steamed chicken. I generally eat four to five meals per day, including snacks like bread and rice crackers.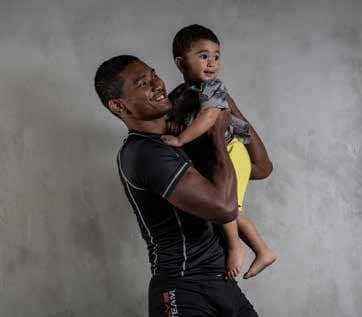 DINNER
My day to day meals are pretty simple. I will have steamed fish or grilled salmon and sometimes, even sushi and white rice.
There was a lot of trial and error, and I am currently focusing on a strategic protocol.
Even though I do not have an upcoming fight as of now, I have started working on my diet plans.
When I was younger, I used to eat mala and Thai food and it did not really use to affect my performance or body. As I aged, my body started to tell me I cannot do that anymore.
I have to be more conscious about what I eat leading up to the fight now.
You can read up to 3 premium stories before you subscribe to Magzter GOLD
Log in, if you are already a subscriber
Get unlimited access to thousands of curated premium stories, newspapers and 5,000+ magazines
READ THE ENTIRE ISSUE
September 2020