ASIA NOW
MEN 'S FOLIO Singapore
|
September 2020
Kongo, the self-taught artist based in Paris started his career painting graffiti on the streets, has since made friends with Richard Mille and Pierre-Alexis Dumas, and currently has his sights on Southeast Asia.
Kongo aka Cyril Phan has never been particular about the surface he leaves his mark on, whether it was a wall, canvas, shop window, trunk, dress, bag, scarf, jewelry, champagne bottle, humidor, car, or even an airplane. To Kongo, they were just mediums he employs when he is not multiplying collaborations with French brands like Chanel, Hermès, Richard Mille, Daum, and La Cornue to showcase traditional European savoir-faire.
The 51-year old French-Vietnamese artist likes the idea of being able to appropriate an everyday object and transform it into a work of art — something that makes life more beautiful.
The early proponent of the Parisian graffiti art scene earned a reputation for his pictorial alphabets that reconciliation painting and writing, he has since soared to new heights by reinterpreting varied universes in a language filled with colors, shapes and letters.
His focus has also shifted to the spotlighting of his Asian heritage as he plans to set up an atelier-showroom in Singapore and a boutique-gallery in Hanoi to highlight age-old Southeast Asian crafts that have influenced his joyful, energetic and optimistic touch.
This writer sits down with Kongo to talk about his artistry during the COVID-19 crisis, giving back to society and his plans for the future.
WHAT IS YOUR MOST RECENT PAINTING?
My latest painting is based on a poem by Charles Baudelaire that I reinterpreted called Hymne à la Beauté (Hymn to Beauty), which is part of Les Fleurs du Mal (The Flowers of Evil).
It's a painting that took a lot of time and energy. I always work on several paintings at the same time because I get bored very quickly. Sometimes, when I've advanced well on a painting, I let it "sleep" for a while.
With Hymne à la Beauté, I had started to sketch it last November and I've been at it for a few months. I come back to it regularly — at least a good week or 15 days every month — but there was a moment when I couldn't take it anymore because it's really big.
It's four metres wide, 4.5 metres high and full of tiny letters so it requires a lot of work and time.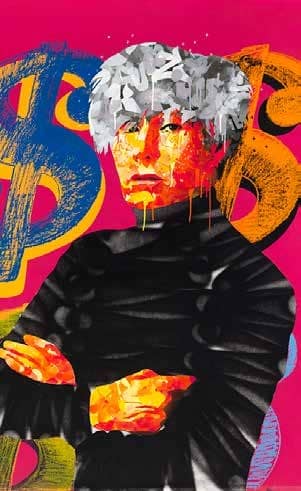 HOW DID YOU LIVE OUT THE CONFINEMENT IN FRANCE THAT WAS PUT IN PLACE TO STOP THE SPREAD OF THE CORONAVIRUS?
The first month was a month of forced rest that allowed me to ease off from my hectic pace in 2019. For the second month, I went directly to my studio and all I did was work — especially since I live next to it.
I worked on large formats and drawings, and it was a moment that really inspired me to give back to the medical personnel who were saving thousands of lives with ridiculously little means.
So, I proposed a project to the Paris hospital where I donated a painting to the hospitals of paris — Hospitals of France Foundation — which they auctioned off to raise funds to help these hospitals.
You can read up to 3 premium stories before you subscribe to Magzter GOLD
Log in, if you are already a subscriber
Get unlimited access to thousands of curated premium stories, newspapers and 5,000+ magazines
READ THE ENTIRE ISSUE
September 2020