SISTERS OF THE REVOLUTION
MEGA|June 2020
IN THEIR FIRST COVER TOGETHER, SUPERMODELS DANICA MAGPANTAY, CHAT ALMARVEZ AND CHARO RONQUILLO PAY HOMAGE TO THEIR ROOTS IN THIS PHILIPPINE REVOLUTION INSPIRED EDITORIAL
Prologue
THIS MONTH, WE CELEBRATE OUR NATION'S INDEPENDENCE. Not only that, it is the time for us to honor the heroes who made tremendous sacrifices to ensure future generations a nation governed by their own people and unbound by any form of tyranny. In this editorial, we play up the crimson hues to remind us of that chapter in our nation's history and the sacrifices that were made. More than that, we play up the color red because the revolution was a period filled with passion and love of country that many Filipinos were willing to do anything, even die, for it.
But aside from commemorating the past, this time of year is also about saluting our modern-day warriors—Filipinos who, in the spirit of solidarity and love of country, live to serve their brothers and sisters and make them proud in any way, big or small. This year alone, and it has only been halfway done, has churned out many stories of valor, sacrifice and triumph: Fil-Ams Stephanie Walmsley, Gigi Dement and Stephen Dypiangco won an Oscar for Best Live Action Short Film for God of Love; Manny Pacquiao, supported by unanimous decision, retained his WBO welterweight title in his 14th consecutive victory last month; and Heidi Mendoza, fraud investigator in the government's Commission on Audit, made headlines when she testified in the plunder case against former Armed Forces of the Philippines comptroller, Maj. Gen. Carlos Garcia. Despite facing possible threats, Heidi revealed to the public that of the 200 million peso reimbursement by the United Nations for the AFP's peacekeeping operations, 50 million could not be traced.
On the fashion front, we couldn't have been more proud when then 17-year-old Danica Magpantay became the first Filipina to win the Ford Models Supermodel of the World competition held in New York in January this year. Before her, only two other girls in the recent years made it as finalists: Chat Almarvez, who won second place in 2010, and Charo Ronquillo, who won third place in 2006. And before these girls, the last and only time that a Filipina model reached similar heights was when Melanie Marquez finished as first runner-up in 1986.
Thus, we've chosen Danica, Chat and Charo to be the cover girls of our Pinoy Pride issue. We take a break from the usual celebrity to put the spotlight on three women who have earned success not through fame and fanfare, but through dedication and hard work. Beautiful yet humble, these three women represent the Filipino potential to achieve world status and the ceaseless Filipino determination to strive for excellence. Their presence in the international fashion scene, not to mention the demand for their distinctly Filipina looks, is proof that the Philippines is well on its way to global conquest.
We've also taken the opportunity to not only showcase global talent, but also promising talent that has the potential to truly succeed. And in this cover, we've chosen to highlight the creativity of young up-and-coming artists. Shooting his first MEGA cover is photographer Seven Barretto, whose first published editorial also came out in this magazine. And we also feature the creation of 2011 Generation MEGA Young Designers Competition winner Russell Villafuerte, whose elegant and well constructed nude dress is worn by Danica on the cover. Of course, we haven't forgotten to salute the veterans who have helped the fashion industry flourish. Prominent names such as Jewelmer and Gaupo have become synonymous with Filipino luxury that we had to include their covetable creations in this editorial.
This month is a time to be proud as a nation—and here we present to you the women and the creations that truly exude Pinoy Pride.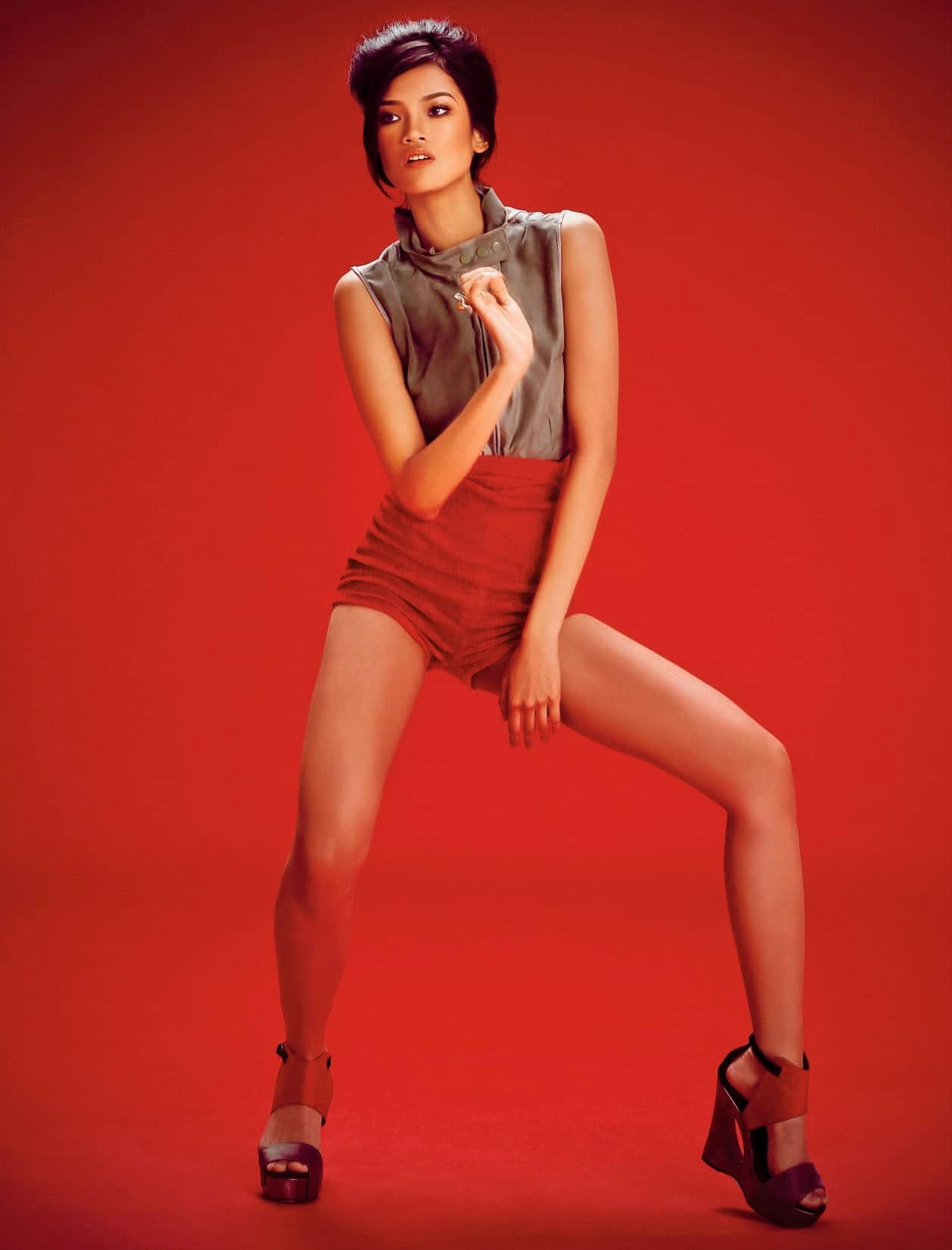 Danica Magpantay
BEAUTY IS HEREDITARY. And in Danica's case, it seems success is passed on through the genes, too. Twenty-one years ago in 1990, three years before Danica was even born, her mother, famous makeup artist Lala Flores, won Supermodel of the World Philippines and then took home the Crest Smile Award in the international competition. Fast-forward to January 2011 where Danica finds herself reliving her mom's Supermodel experience—only this time, Danica wins the coveted title of Supermodel of the World which eluded her mother during her time.
Like fellow Pinay supermodel Chat, Danica's journey to modeling success was a quick one. Danica shares that she had always wanted to try modeling, but only decided in July of last year that she was going to enter professionally. "I thought that if it didn't happen last year, then it would be too late," she says. But her mom didn't approve right away and needed some convincing. Danica, along with sister Danielle who also wanted to become a model, then did an impromptu shoot modeling a two-piece swimsuit to prove to her mom, who acted as photographer, that she had the fortitude to enter into such a profession. After the shoot and looking at the pictures, Lala consented, but not without giving her daughter a few stern words of advice: lose the weight and exercise. Danica did as her mom advised.
You can read up to 3 premium stories before you subscribe to Magzter GOLD
Log in, if you are already a subscriber
Get unlimited access to thousands of curated premium stories and 5,000+ magazines
READ THE ENTIRE ISSUE
June 2020