Charmaine Lagman
With a mind for business and a heart to make the lives of Filipinos easier through construction and premium IT solutions, Charmaine Lagman leads with love and passion
The construction and IT industries are generally dominated by men, but the entry of many female entrepreneurs and innovators have only made them grow leaps and bounds. Leading the pack is Charmaine Lagman, who together with husband Mike Lagman, built MC Geometric Proportions.
The spark came when the duo were building their own home. "With positive responses for our home and with features in several magazines, clients began approaching us. From these low rise buildings, MCGP became a Triple-A licensed contractor; our projects scale from homes and high rise buildings to roads and bridges," shares Lagman.
As the head of MCGP, she crossed paths with a group of programmers who were discussing softwares and programs during the early stages of e-commerce 18 years ago. This was another catalyst for Lagman to create a path that connects IT and the needs of the local economy. The result was Interpoint Consultancy Network Systems, which provides IT solutions and specializing in catering to local government units or LGUs.
"Frankly, we started from zero—from scratch. However, our main sources of capital for both our businesses were perseverance, courage, and faith in God. These principles have led our construction and IT companies to evolve throughout the years," says Lagman.
By combining faith and perseverance to their work ethic and vision, the Lagmans created not only a great working relationship, but also strengthened their personal one. One would think that working with family members is a bad idea but with Charmaine and Mike, their foundation has always been about respect and teamwork.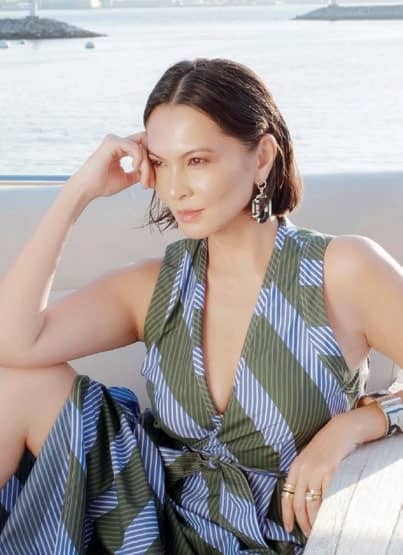 "It extends to honoring each other's opinions and recognizing our roles in our respective departments. We started these companies together; we are partners, not just co-owners. We have learned to leave work-related matters in the office in such a way that we enter our homes as husband and wife, and as father and mother. Our efforts shift to our children, even if they are situated in Los Angeles, New York, and Washington"
With the pandemic, Lagman admits that there was a learning curve not only for the companies they are leading but also in her everyday life. As a woman who is always on the go, expected to make swift decisions in these fast-paced fields, Lagman had to adapt to the world of teleconferencing. Subsequently, her style has transformed as well. She quips, "I had to adapt against mental fatigue by designating an office space in my home and changing the way I dressed. I now prefer wearing relaxed sundresses for work. It has been a transformative process reflective of my integrated work style–not only is the office space I work in important but also the embodied and empowering character I feel when wearing clothes that fit the occasion we find ourselves in."
You can read up to 3 premium stories before you subscribe to Magzter GOLD
Log in, if you are already a subscriber
Get unlimited access to thousands of curated premium stories, newspapers and 5,000+ magazines
READ THE ENTIRE ISSUE
October 2020