REINFORCING ROYALTY
L'Officiel India|January 2020
With the constant pressure of reinventing, it can be quite a feat to straddle tradition. Contemporary jewellery designers of India are stepping up in support of the rich and diverse history.
Let's confess how every time a magnum opus by Sanjay Leela Bhansali or Ashutosh Gowariker left us enchanted and completely immersed in the grandeur of our past. From larger than life sets, props to fascinating costumes and heavily embellished and elaborately crafted pieces of jewelleries—it's a mere glimpse of the rich traditional legacy of Indian art and craft summarised in 180 minutes. The history of Indian jewellery spans more than 5000 years with mentions and illustrations from epics, legends and mythology. Archaeological surveys traced the use of jewelleries back in the Indus Valley civilization. Adornments made from flowers, stones gave way to precious metals and gems owing to the socio-economical transitions in India. The advent of Mughals in the 16th century is proved to be one of the glorious period for Indian jewellery. Their reign introduced precious gemstones and most importantly, the art of jewellery engineering blossomed in this era. India was the first country to mine diamonds. The first mines were discovered in Hyderabad, and art of jewellery designing flourished under the patronage of the Nizams. The sentiment behind jewellery possession extended from royal gifts to establishing social status, sign of immortality and investment or fall back options at times of crises.
With trading and exporting businesses blooming in the 19th century, Indian jewellery experienced global influence from Russia and Europe. The mingling of ideas inspired Indian craftsmen to experiment with the designs and techniques. Modernization wasn't just limited to Indian artisans. Even the legendary jewellery brand, Cartier is known to have designed jewellery for Indian Maharajas. Innovation and adaptability are the driving factors in the realm of art, jewellery design being no exception. But, how important is it to hold on to or merge one's roots to preserve the glorious past? In our quest for answers, we speak to two new age jewellery designers Abhishek Raniwala, Co-founder of Raniwala 1881 and Latika Khanna, Founder and Designer, Latique who tell us what it takes to give a fresh perspective to heirloom designs without compromising on the old-world charm.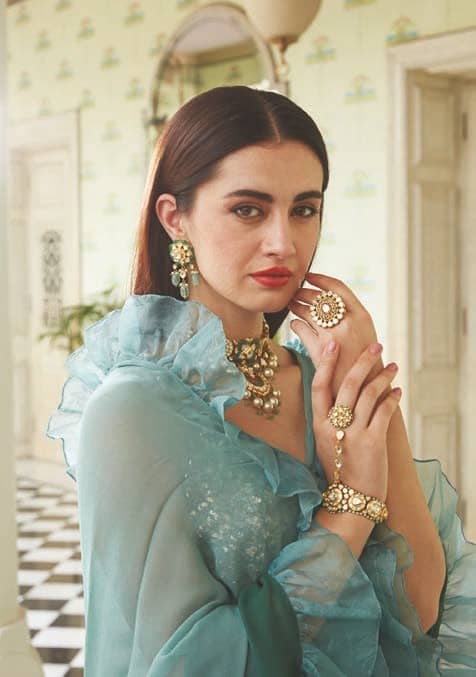 Need of the hour
You can read up to 3 premium stories before you subscribe to Magzter GOLD
Log in, if you are already a subscriber
Get unlimited access to thousands of curated premium stories and 5,000+ magazines
READ THE ENTIRE ISSUE
January 2020