Driving Force
InStyle Australia
|
October 2018
Navigating a career and personal life in the public eye, JENNIFER ANISTON continues to take the high road
I met Jen (don't roll your eyes at me—that's what we call her) in my kitchen about six years ago when my husband, Jimmy [Kimmel], and I invited our friend Justin [Theroux] over for pizza with his new girlfriend. At first I was a bit starstruck that Rachel Green was standing near my bananas. She was wearing black jeans, a black tank top and wedge sandals, and she smelled like a holiday. But my nerves faded as soon as she hugged me, pulled a lime off our tree for her vodka rocks, and dissected The Bachelor. I was expecting pretension (that's on me). I got authenticity and real connection. She was immediately warm, like an old friend. She's magnetic like that. At 49, she knows who she is. That means no boundaries, no bullshit, and a lot of laughing.

MOLLY MCNEARNEY: I want to start this interview off light. When are you getting back together with Brad? Did Justin ever wear your jeans? And when are the twins due?

JENNIFER ANISTON: [Laughs] You're the only person who could start an interview like that and actually send me into hysterics and not hives.

MM: Well, I admire your ability to remain poised and balanced even while others desperately try to tell your story for you. How do you do it?

JA: There are definitely moments of not being balanced and poised, but I do that all in my own personal space. For the most part I can sit back and laugh at the ridiculous headlines because they have gotten more and more absurd. I guess they're feeding into some sort of need the public has, but I focus on my work, my friends, my animals, and how we can make the world a better place. That other stuff is junk food that needs to go back in its drawer.

MM: What is the biggest misconception about you?

JA: Oh boy, there are so many. Let's see. I'll just Google myself and find out [starts typing]. Oh, look, I'm having a $100,000 revenge makeover!

MM: I didn't want to say anything, but you really need one. Wow, the tabloids are relentless.

JA: It's pretty crazy. The misconceptions are: "Jen can't keep a man" and "Jen refuses to have a baby because she's selfish and committed to her career". Or that I'm sad and heartbroken. First, with all due respect, I'm not heartbroken. And second, those are reckless assumptions. No one knows what's going on behind closed doors. No one considers how sensitive that might be for my partner and me. They don't know what I've been through medically or emotionally. There is a pressure on women to be mothers, and if they are not, then they're deemed damaged goods. Maybe my purpose on this planet isn't to procreate. Maybe I have other things I'm supposed to do.

MM: Yes! For starters you have this new movie coming up, Dumplin'. You play an ex-pageant queen, and you do it beautifully. Did you ever want to be in a beauty pageant when you were younger?

JA: That's hysterical. No. Do you know what I looked like as a kid? The truth is, that's all changing now. That's what this movie is all about. It's about redefining beauty and how we, as a society, interpret what beauty is. I love that the Miss America pageant is going to get rid of the swimsuit competition.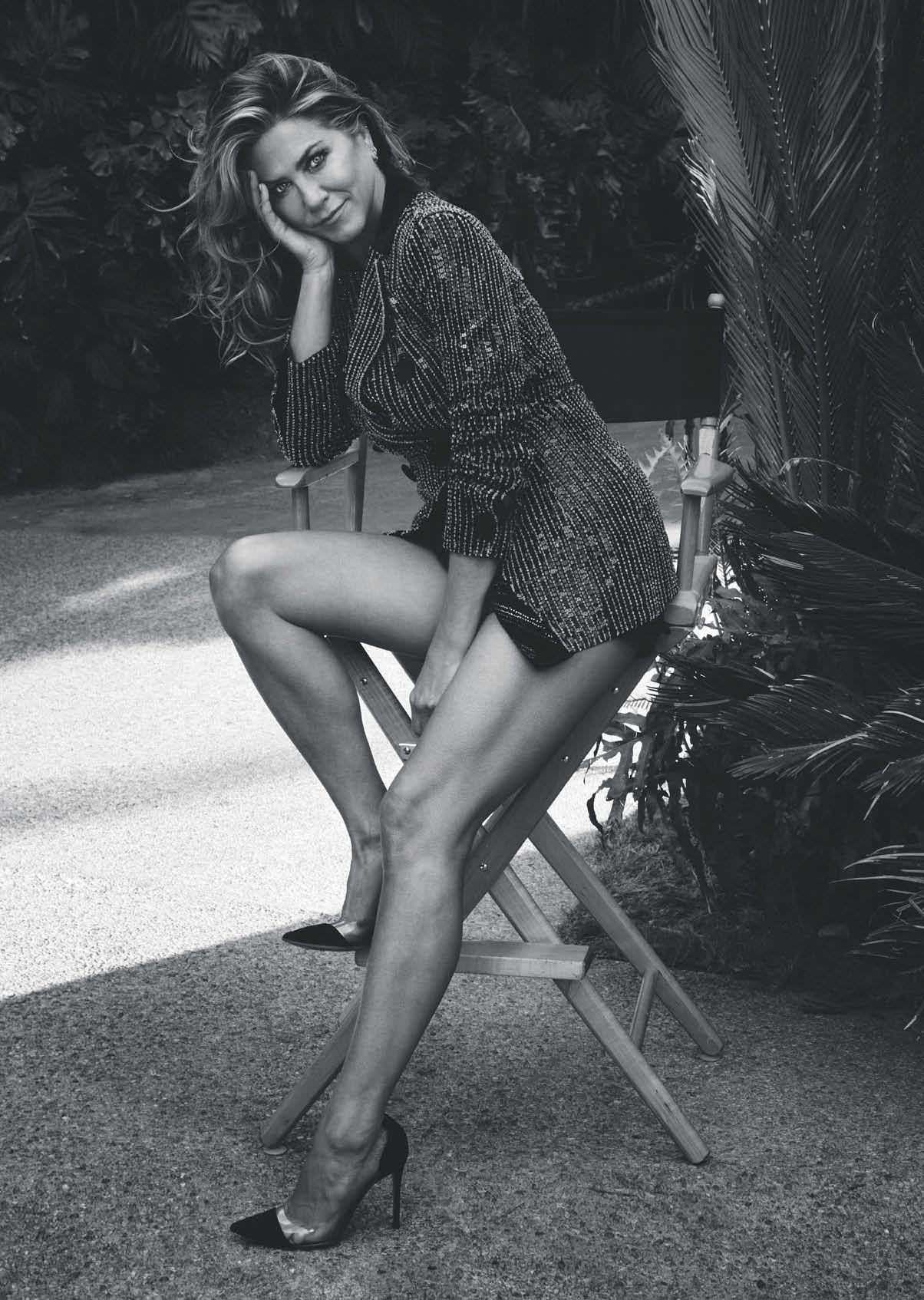 MM: Me too. I'm sure my daughter will be shocked when I tell her that was actually a quantifiable form of judging women in my lifetime.
JA: Definitely! You know, a swimsuit body is a body in a swimsuit, no matter what that body is. It's time to just stop thinking beauty is in the shape of a size [US] 4 and the right butt size and the right waist size and the right measurements. It's just old. We've done it. We've been there. Let's move on.
MM: What was it like exploring the US pageant world to prepare for Dumplin'?
JA: I had so much fun. There are women devoting their lives to training young girls for pageants, and it's the real deal. I loved those women and really enjoyed getting into their minds. My character is an ex–pageant queen who is fun but broken. It's a beautiful mother-daughter story. And, of course, there's the amazing musical element: Dumplin' is an homage to Dolly Parton, who wrote a few original songs for this film.
MM: Dolly is incredible.
JA: She's magic. I remember the first thing she said to me when she walked into my house. I said, "I don't know how you do everything you're still doing." And she replied, "Well, I dreamed myself into a corner, and now I gotta live up to it."
MM: Everything she says is a bumper sticker.
You can read up to 3 premium stories before you subscribe to Magzter GOLD
Log in, if you are already a subscriber
Get unlimited access to thousands of curated premium stories, newspapers and 5,000+ magazines
READ THE ENTIRE ISSUE
October 2018