They say it's never too early to do something remarkable. And, as we enter a new decade, we present to you a multi-talented bunch of achievers: A diverse, creative, passionate group who will make you sit up and take notice.
TANYA MEHTA, BARRY RODGERS
BHUVAN BAM
When YouTuber Bhuvan Bam steps out of his house, even in the sweltering summer heat, he wears a hoodie to disguise himself. Over 15 million people subscribe to the 25-year-old's YouTube channel, BB Ki Vines, and Bam is regularly accosted by teen fans. But, four years ago, the story was different – he was a college kid who had a night job as a singer at a Mughlai restaurant in Delhi. Fast forward to 2020, and Bam is the king of digital content. Besides putting out funny videos, he has also established himself as a singer, actor and an interviewer. He even collaborated with international YouTube star Lilly Singh and acted in a short film with Divya Dutta, called Plus-Minus last year, and recently bagged a Filmfare award for the same. "It's been an emotional rollercoaster ride for me so far. I've enjoyed success, and had my fair share of disappointments, too. In the beginning, I was lucky if my videos got maybe 15 views. But nothing stopped me from creating more content. From college WhatsApp groups, my videos travelled to other colleges, and I don't know how, but I suddenly became very popular in Karachi University. My videos went viral in Pakistan and Bangladesh, but, funnily enough, not in India. It took a lot of time for people to warm up to my videos here," he says.
Bam believes that it's only going to get bigger and better from here, but doesn't discount the fact that he could quickly become yesterday's news, given the current digital consumption patterns. "I could become irrelevant tomorrow, so, I want to master all that I can," he says.
What's your biggest social media pet peeve?
Honeymoon pictures. Fine, you're married – congratulations! But, I don't want to see 36 honeymoon pictures in Bali.
Bhuvan is wearing the 'Fast RIDER OG' sneakers from Puma
Printed jumper, trousers, both, Ermenegildo Zegna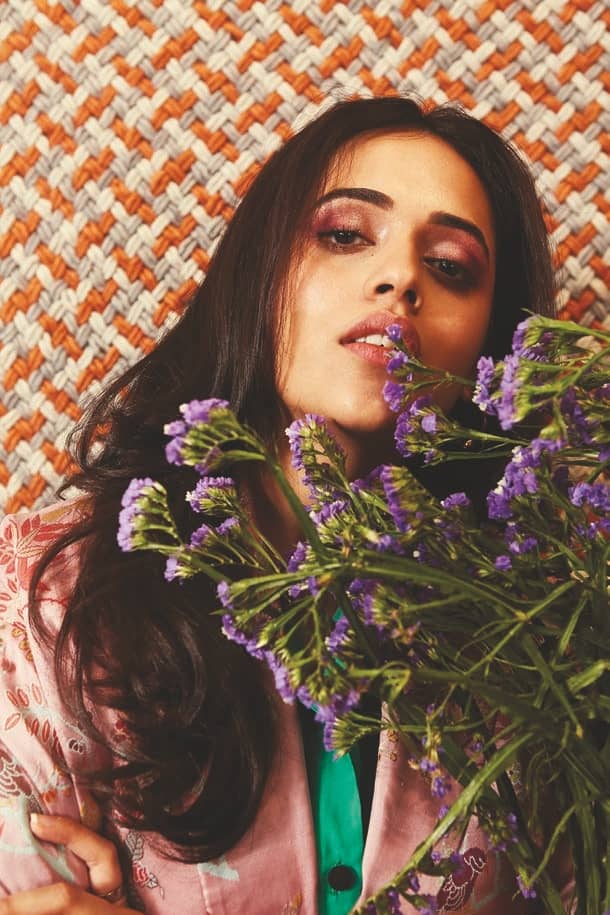 PALAK SHAH
All geared to pursue a career in finance, Shah, who graduated with a business management degree from Kings College, and an MBA in entrepreneurship from Babson College, decided to accept her father's invitation to join the family textile business, which led to the birth of Ekaya in 2012. The bespoke label creates and promotes the unrivalled versatility of the benarasi weave, offering it to the consumer through luxe fabrics as well as RTW. Since her tenure at the company began, Shah has introduced a sub-brand, Ekaya Than; has collaborated with the Fédération Française de la Création Couture Sur Measure (also known as C'COUTURE) at Paris Haute Couture Week in 2018, and regularly joins hands with talented designers throughout the country to create exclusive collections. "We aren't just preserving, we're also recreating and reinventing. We are continually offering our weavers and consumers newer techniques and products. They feel it refreshes their sense of purpose when they see newer avenues opening up for their work, allowing them to push their creative boundaries," she says. Shah's many high points from last year include working with the government to curate its textiles museum in Varanasi for the Bharatiya Pravasi Divas (NRI Day) and opening a stunning flagship store in Mumbai.
If you had a warning label, what would yours say?
Doesn't bite, but can box.
Organza blouse, Zara; silk jacket, Ekaya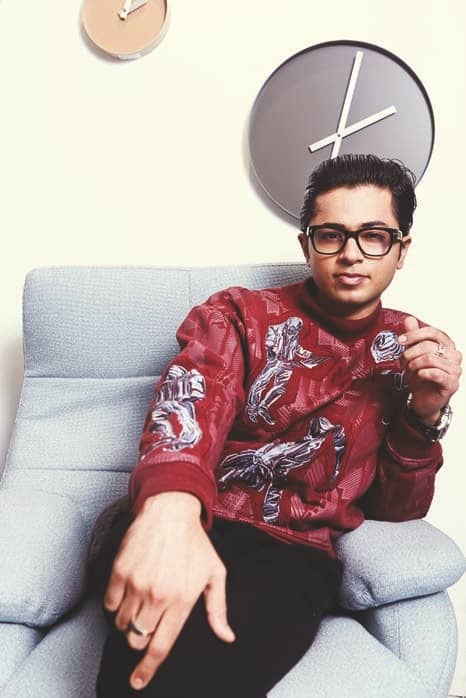 DR JEWEL GAMADIA
If you, like us, spend an unhealthy amount of time admiring celebrity photos on Instagram, the name Dr Jewel Gamadia should ring a bell. From Anushka Sharma to Katrina Kaif and Jacqueline Fernandez – the drawing card for them all is Gamadia, who is currently Bollywood's leading acupuncturist and skincare specialist. Dr Jewel's Instagram posts are a series of identical post-treatment selfies with some famous names – the only thing that changes is the face of the star he's cured and the colour of his funky ties. In fact, a closer look will reveal a skeleton in a colourful tie hanging on his wall. But how did he get so popular? How did Bollywood discover him? "This is my passion, my hobby. I love doing it. I don't see too many people in a day. On average, I may see only one client and sometimes even none," he responds tersely, adding: "I want more people to learn to communicate with their body."
If your friends had to describe you in a sentence, what would it be?
Let's stick to one word: Eccentric.
Appliqué jumper, Ermenegildo Zegna; trousers, watch, both Jewel's own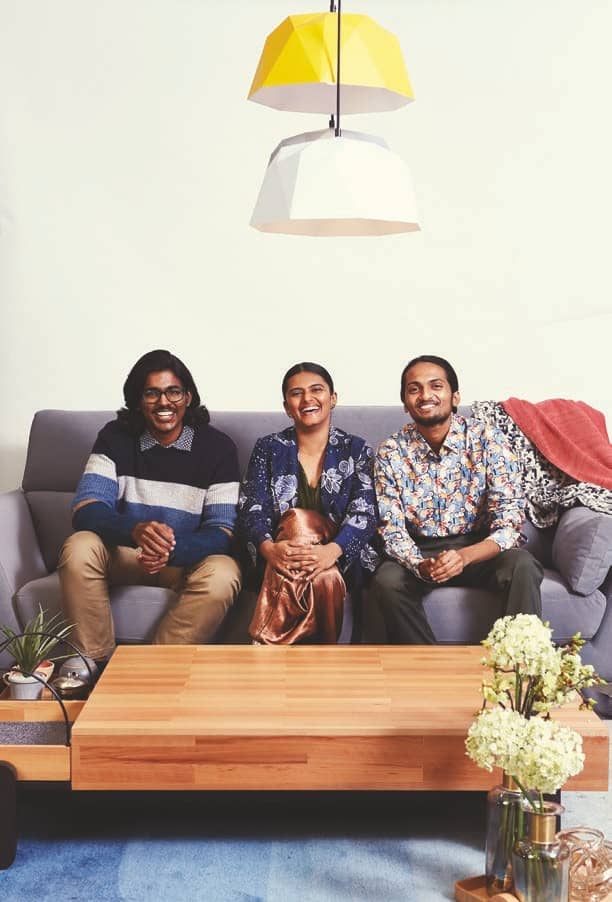 FRIDAYS FOR FUTURE
Inspired by activist Greta Thunberg's school climate strike, Fridays for Future has now become a global movement that is gaining momentum in the country, courtesy college students, Hrithik Uppala, Sachin Jacob Koonan and Pooja Domadia. This community aims to spread awareness among the youth, encouraging them to better their lifestyle choices and reduce their carbon footprint, "We try to follow a zerowaste lifestyle. In March last year, we held a global march against climate change on our own. Many celebrities and key environmentalists have started following us. FFF inspires all those who want to do something, but can't on their own," says Pooja. The group hosts an open community platform, named 'Climate pe Charcha', to discuss how climate change affects us at various levels; they also frequent schools and colleges to spread the word. In 2020, they aim to gain more support from the government.
What's your favourite 90s jam?
Pooja: Yaad Piya Ki Aaane Lagi by Falguni Pathak
Sachin and Hrithik: Numb by Linkin Park
From left to right: On Sachin: printed shirt, jumper, chinos all Marks & Spencer; On Pooja: Velvet blouse, Yavi; printed jacket, péro; satin trousers, Marks & Spencer; earrings, Lune; On Hrithik: Printed shirt, Eton at The Collective; chinos, Bhaane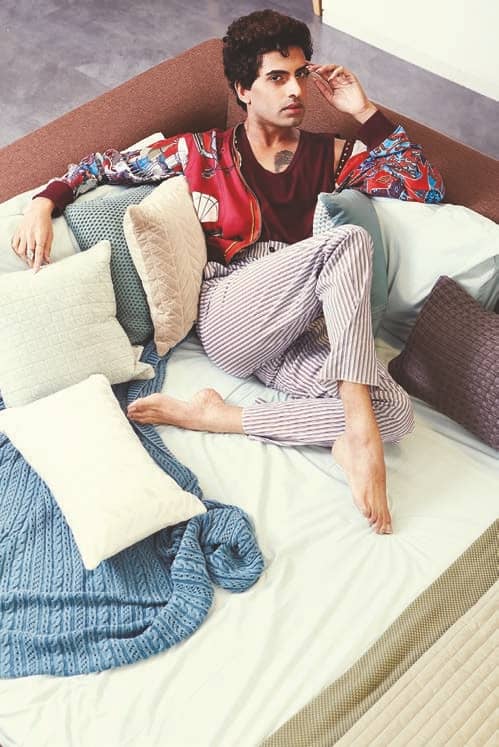 SUSHANT DIVGIKAR
A few years ago, drag was just about wearing a dress and lip-syncing. But now, it's mainstream; the bar for this most creative and transgressive art form has been raised. In India, the credit for putting drag in the spotlight can be attributed to Sushant Divgikar, and his sassy drag persona Rani Ko-HE-Nur. It's been a whirlwind year for the performer – from headlining shows at Kitty Su and at the London Pride Parade to taking his brand of music overseas, Divgikar's rapid success can be described in one word: Stellar. "My drag elevated itself in 2019. I did my first show as a judge, and I also had the privilege of sharing the stage with some really amazing artists that I look up to. I am fortunate to have people around me who are so comfortable to work with," he says. Today, Divgikar holds auditions and inducts younger drag queens by mentoring and training them. "I think that we need to normalise content related to the LGBTQIA+ community. I want to be there for young men and women who don't have a voice; who struggle to come to terms with their sexuality," he says.
If you had a warning label, what would yours say?
Don't touch; just see.
T-shirt, striped trousers, bomber jacket, all Hermès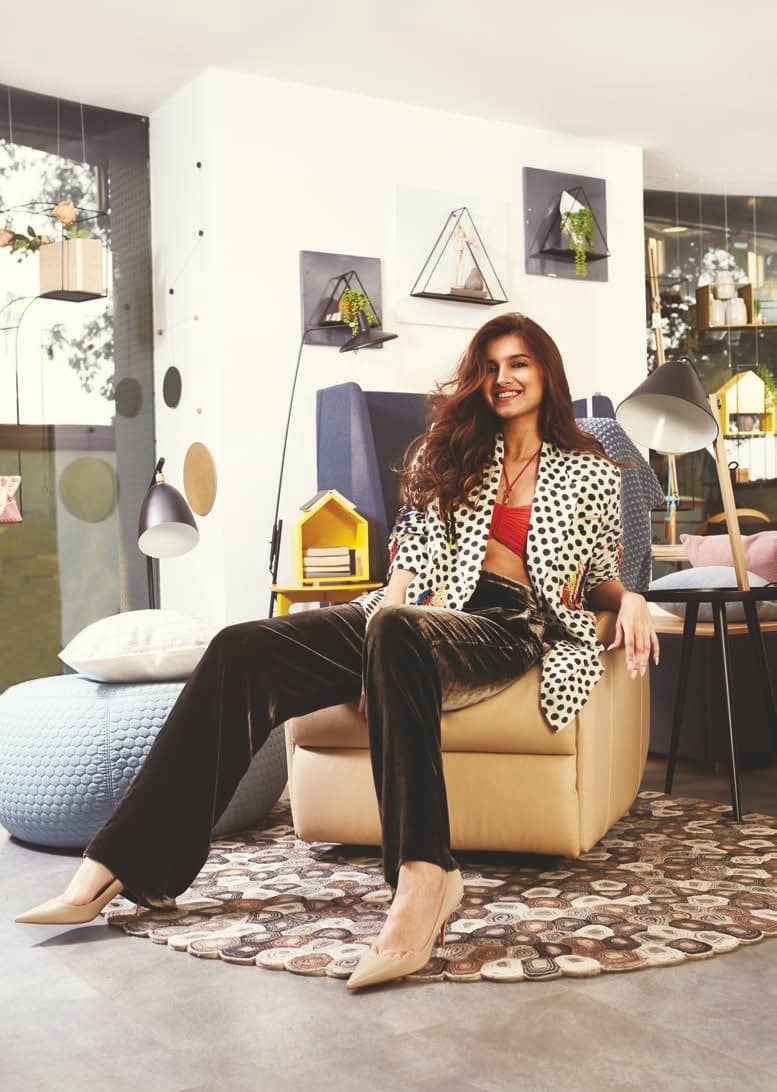 TARA SUTARIA
When Sutaria burst onto the big screen with Punit Malhotra's Student of the Year 2 last year, she checked all of the boxes for a stellar debut in the industry, but now she's proving that she has more to offer than just her good looks. A singer, dancer and trained theatre actor, Sutaria carried the momentum with her second film, Marjaavaan, where she starred opposite Sidharth Malhotra. She also displays an unflappable demeanour, and is candid about her eagerness to work across genres, "With every film and on every set, you're learning something completely new. With Marjaavaan, I was able to learn sign language and I feel lucky in a way that if I come across someone who can't speak, I can communicate with them. I'm excited to explore a new role with my next release."
What's your favourite 90s jam?
No Matter What by Boyzone
Tie-up bandeau, Shivan & Narresh; polka dot blazer, Dhruv Kapoor; velvet trousers, Zara; pumps, Christian Louboutin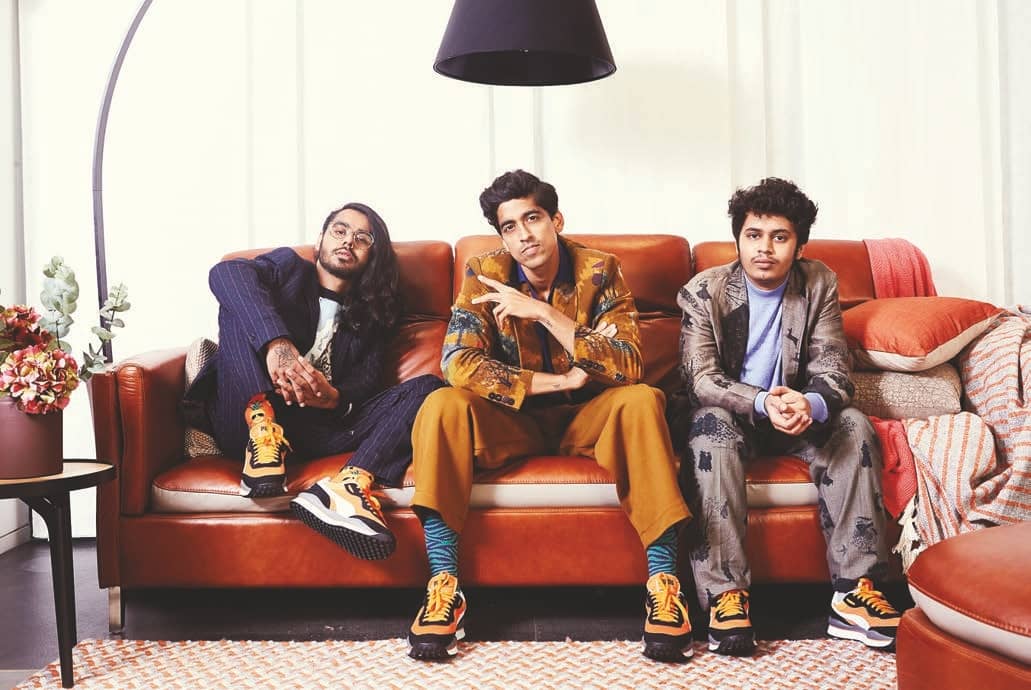 SPITFIRE SLOW CHEETA KAAM BHAARI
The moment you hear the words India and hip-hop together, the picture of Badshah humming abhi toh party shuru huyi hai starts floating before your eyes, right? Well, all that changed in 2019. Soon after the massive success of the Ranveer Singh-starrer Gully Boy, hip-hop blew up with more socially conscious and politically-charged lyrics, addressing government corruption, poverty and gender rights. Though the rappers are drawn to the rebellious nature and the sounds of American hip-hop, they've made a conscious decision to rap mostly in the vernacular to speak to – and for – the Indian masses. And now, these artists have a platform to showcase their talents, courtesy Singh and his record label IncInk Records, which he launched together with filmmaker Navzar Eranee; and, has collaborated with rappers Kaam Bhaari, Slow Cheeta and Spitfire for the music venture. "We have released a single under the label called Venom. It's been a fulfilling creative journey for all of us," says Kunal Pandagale, aka Kaam Bhaari. "The record label signifies so much more than just music for us; it feels like we belong to a family. We work with some of the best musicians in the business," says Nitin Mishra (Spitfire.) And the boys tell us that Singh is very hands-on. "Whatever we put out there is always approved by Ranveer. He gets on video calls to talk to us," says Chaitanya Sharma, aka, Slow Cheeta. If there is any art form that has a chance of breaking down class barriers in the Indian entertainment industry, it's going to be hip-hop.
Continue Reading with Magzter GOLD
Log-in, if you are already a subscriber
Get unlimited access to thousands of curated premium stories and 5,000+ magazines
READ THE ENTIRE ISSUE
January 2020