Hold The Moment
GLAMOUR South Africa
|
November 2019
Five women recall the overwhelming surprise, joy and anxiety of becoming a mother for the first time.
Tatum Keshwar, Sharon Stone, Roxy Burger, Sarah Harris, Diane Von Furstenberg
Tatum Keshwar Model and psychologist
We were on a family trip to Dubai and I was feeling a little weak, but I also had this warm, fuzzy feeling that would come over my belly from time to time. I knew that I felt different, so when I got back to SA I took a pregnancy test. I was overjoyed when I found out that we were having a baby. I always knew that I wanted to be a mom. I've always had a strong maternal pull. When I was younger, I exercised this on my little sister in a way that a cautious sibling does.
When I became pregnant, I knew that I was in a place that I wanted to be: I had always said that I wanted to be physically, financially and emotionally fit before becoming pregnant – and I'm happy to say that's where I was. I was in the best shape of my life, financially stable, emotionally strong and in a loving partnership. It felt organic.
Sometimes I would burst into tears and tell my husband, Warren, "Oh my goodness, I'm going to be a mother!" I'm not certain if it was the pregnancy hormones or me processing it all, but the anticipation of experiencing something so wonderful and miraculous was exciting. And that's precisely how every day of this journey feels, even the tiring or testing days. It may be all new and uncharted territory, but becoming a parent feels so natural and organic to me. I've grown from it. I'm more self-aware, operating on a different level of consciousness. I've realised a new depth in my capacity to love and be compassionate, and new heights of being understanding and patient – not just for my child, my partner and my family, but for everybody. This is by far the most exciting and fulfilling chapter of my life and my most favourite title.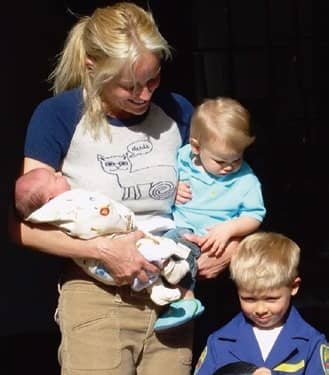 Sharon Stone Actress and producer
I found out I was going to be a parent the day after I lost my child. It was 2000, and my then-husband and I had a series of devastating late-term miscarriages. On our final attempt to have a baby naturally, I had to go through painful surgery – and 36 hours of labour – to deliver a stillborn. It was on our way home afterwards, one of the darkest moments of my life, that I got a call from an adoption lawyer: he had a client with a baby boy due in a few weeks. Would I be his mother?
Six weeks later, I listened over the phone to my son Roan (now 19) being born, in keeping with the terms of our closed adoption. From the moment I held him, I was in awe. I sat by his bassinet through the night to watch him sleep. Like most firsttime parents, I worried, but there was no need. Babies speak a language all mothers are instinctively fluent in, whether or not a child is biologically related to them. I immediately knew the difference between his various cries and what it was he wanted.
You can read up to 3 premium stories before you subscribe to Magzter GOLD
Log in, if you are already a subscriber
Get unlimited access to thousands of curated premium stories, newspapers and 5,000+ magazines
READ THE ENTIRE ISSUE
November 2019