Anju Modi: Designing Grandeur
Filmfare
|
November 18 2015
Costume designer Anju Modi tells Henal Bhatt how the costumes of Bajirao Mastani will create a history of its own.
What can be more challenging for a costume designer than recreating history and romance in all its vibrant hues? The colours of longing and love, the shades of passion and victory… Bringing to life the love triangle between 17th century Maratha Peshwa Bajirao, his devoted wife Kashibai and his courtesan, Mastani was not only about revisiting the archives for designer Anju Modi but also about delving deep into the creative recesses of her imagination. And when you have the emperor of opulence, Sanjay Leela Bhansali, helming the lavish narrative it only gets grander. The task for Anju was to ensure that the three lead players, Ranveer Singh, Deepika Padukone and Priyanka Chopra look their royal parts… and well they do!
Bajirao Mastani being a period film, what references did you use to design the costumes for Priyanka Chopra, Deepika Padukone and Ranveer Singh?
Bajirao Mastani is a period movie based on the Maratha Peshwa Bajirao's life, with a focus on his relationship with his second wife Mastani. We had historical records at our disposal. The costumes for Ranveer Singh (Bajirao) and Priyanka Chopra (Kashibai) were based on these references, on the code of dressing followed by the Maharashtrian aristocrats of that era. We wanted to maintain the authenticity of the characters and keep true to the essence of the film. There is, however, not much-recorded material on Mastani, his second wife. For that character we took creative liberties based on inspirational references.
What was Sanjay Leela Bhansali's contribution?
Having worked with Sanjay Leela Bhansali before on Ram-Leela, it was great to work together again on Bajirao Mastani, a mega project. Given the scale and grandeur of the movie, it's every bit a magnum opus. Mr Bhansali is a detail-oriented filmmaker. He took us through the scripts and reading sessions, explained the nuances of the scenes, and described his perception and visualisation of the characters. We discussed the complete look for each character and then broke it down to the colours, the silhouettes, the styling, the jewellery and every detail. Since then, I have been living the lives of the characters!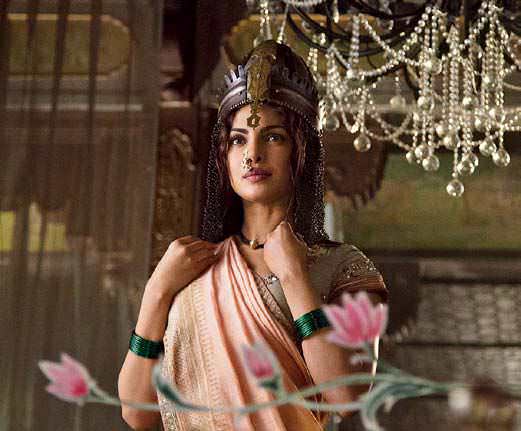 How did you go about the research?
You can read up to 3 premium stories before you subscribe to Magzter GOLD
Log in, if you are already a subscriber
Get unlimited access to thousands of curated premium stories, newspapers and 5,000+ magazines
READ THE ENTIRE ISSUE
November 18 2015