No Size Fits All
Every day Black women prove that you can choose to be fit, vibrant and happy at nearly any size. Meet five women who are living their best and healthiest lives—and sharing their strategies for success.
Can we set the record straight on something? You don't have to be a size 4 who works out constantly and eats salad at every meal to be considered "healthy." A healthy lifestyle is about being aware of the type of food you put into your body and how you get moving in whatever way that keeps you going. A person could be 100 pounds and plagued with health issues, or be 200 pounds and a muscular gym regular who watches what she eats. "Everyone has a different body structure; it isn't a negative thing. God made us different for a reason," says Thomas Boatswain, personal trainer and co-owner of Harlem HIIT, a New York City fitness studio. "One of the main things individuals should focus on is maximizing their current potential. Believe it or not, there are plenty of people who may look healthy due to their physique and fast metabolism, but on the inside they aren't doing so well." Good habits, not weight loss, are at the center of being physically, mentally and emotionally fit. Each of the women here defines what it means to be healthy and happy at their current size.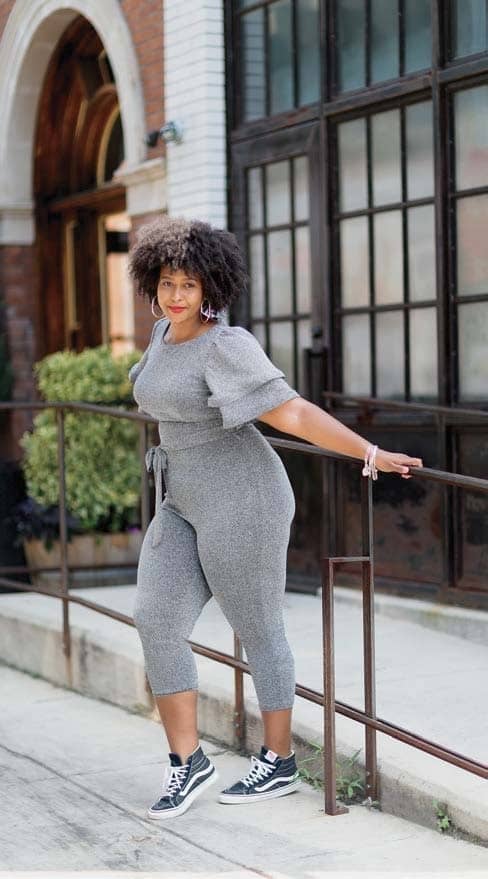 Ronnie Howard
Vibes & Vinyasa company co-founder, professional model and wellness advocate
Age: 30
SIZE 14
Ronnie Howard is a champion for health and a fitness enthusiast who is defying traditional beauty standards—and looking good while doing so. Through her modeling work, she's been featured on BET's Rip the Runway, in Health and Ebony magazines and Ashley Stewart and Kohls campaigns, and on air at QVC Networks. But the model life has not always been easy, especially because her weight has fluctuated. Now at a healthy and stable size 14, the Philadelphia native doesn't care what others think about her weight.
She's getting better at time management too. "It involves creating boundaries," Howard says. "I work such a busy schedule, I have to make time for the things that make me feel good inside and out. I do yoga a few times a week, meditate, eat well and take care of my hair, skin and nails. I also indulge in a luxurious bath every now and then. Little things make all the difference when it comes to self-care."
SUCCESS STRATEGIES
MAMA PHOTOG
Her favorite healthy snack: I'm obsessed with homemade acai bowls. Target has pure unsweetened acai in the frozen food section, and you can make 2 to 4 bowls, experimenting with different fruits and toppings.
You can read up to 3 premium stories before you subscribe to Magzter GOLD
Log in, if you are already a subscriber
Get unlimited access to thousands of curated premium stories, newspapers and 5,000+ magazines
READ THE ENTIRE ISSUE
April 2019