Stand for EARTH
Elle India|May 2020
"WE FIND OURSELVES FACING AN EVEN MORE DIRE, ALMOST EXISTENTIAL, SET OF GLOBAL ENVIRONMENTAL CHALLENGES, FROM LOSS OF BIODIVERSITY TO CLIMATE CHANGE TO PLASTIC POLLUTION, THAT CALL FOR ACTION…" SAID DENIS HAYES, THE ORGANIZER OF THE FIRST EARTH DAY IN 1970. FIFTY YEARS LATER, THE THEME FOR THIS YEAR'S "EARTH DAY 2020" IS UNSURPRINSINGLY CLIMATE ACTION. AUSTRALIA IS STILL BURNING, INDONESIA IS UNDERWATER WHILE THE AMAZON IS ALSO IN SEVERE DANGER. IT'S TIME TO HELP PROTECT OUR PRECIOUS LANDS, AIR, WATER AND WILDLIFE AND RESTORE OUR PLANET. ELLE MEETS WITH SOME OF THE MOST ENTHUSIASTIC ECO-CELEBRITIES INVOLVED WITH ENVIRONMENTAL NGOS. FROM SUSTAINABILITY IN FASHION, TO PROTECTING OUR OCEANS AND BUILDING SAFE WATER SOURCES, TAKE A LEAF OUT OF THEIR BOOK. AND REMEMBER: IT BEGINS WITH US.
VIRGINIE DOLATA & GEORGINA JOHNSTON-WATT
Actor MATT DAMON
Special thanks to Water.org for the participation of Matt Damon
Critically acclaimed actor, producer, screenwriter and CO-FOUNDER OF WATER. ORG, Matt Damon is a 21st-century renaissance man in every sense, making an impact on (and off!) the silver screen. Fifteen years ago he set himself the significant task of COMBATTING WORLD POVERTY AND POOR SANITATION, having witnessed its effects first hand when filming. Tirelessly campaigning for THE PROVISION OF CLEAN WATER and economic empowerment, since 2009, without further ado, roll out the red carpet it's Matt Damon!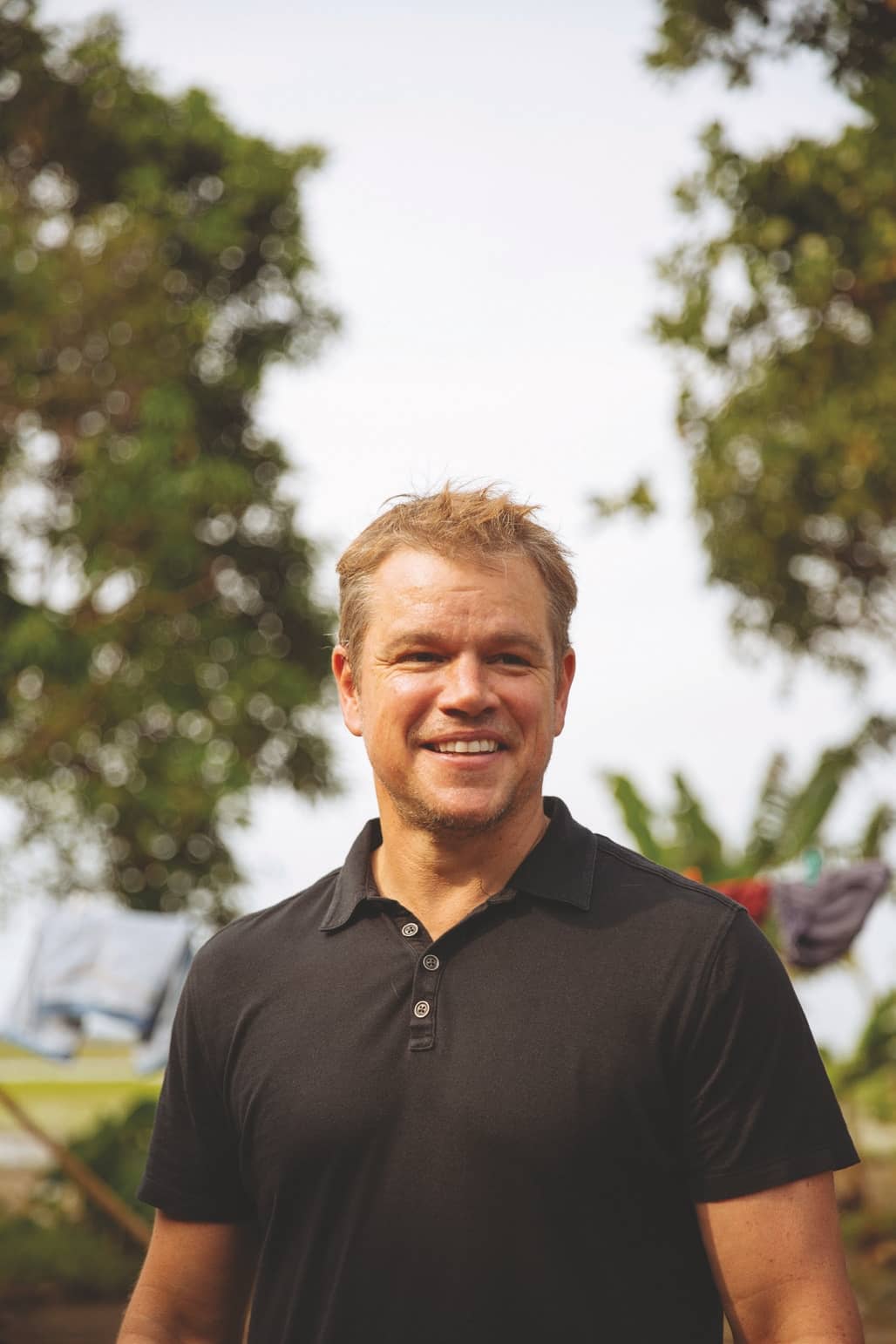 What prompted you to first get involved with this environmental cause/charity/foundation?
As I researched the world's most pressing issues, I recognised access to water and sanitation is the solution to a lot of the issues. Without water or toilets, people have no way out of poverty and some of the world's largest issues can't be solved—with them, lives, communities, and economies are changed. While I was filming a movie in Sub-Saharan Africa, I spent time with families in a Zambian village. They lacked access to water and toilets. Seeing their daily struggles to find water or a place to go really inspired my passion for, and commitment to, helping solve the global water crisis through my work at Water.org.
What are its current goals and current project?
Water.org has reached more than 25 million people with access to safe water and sanitation, and we're not stopping. Our goal is to continue to increase financing for water and toilets so more people in need can get the safe water and sanitation solutions they need—bringing the world closer to achieving the global goal of safe water and sanitation for all by 2030.
What is the worst thing you have witnessed as an environmental activist/ambassador?
About six years ago I was in Haiti. I met a 13-year-old girl who spent 3 to 4 hours of her day collecting water for her family because they didn't have access to water at home. Kids like her, shouldn't be burdened with these things. They should be playing and in school, not walking so far to find and carry heavy vessels of water from rivers or ponds.
You can read up to 3 premium stories before you subscribe to Magzter GOLD
Log in, if you are already a subscriber
Get unlimited access to thousands of curated premium stories and 5,000+ magazines
READ THE ENTIRE ISSUE
May 2020