5 Most Talented Singaporean TV Actresses
ELLE Singapore
|
April 2016
In this special, ELLE fetes five of Singapore's most talented small-screen females.
In a fishbowl city like Singapore, where students race home to catch their favourite programmes and families gather on the living room sofa after dinner, there's a certain cachet in being on TV. More so if you have a 2016 Star Awards nomination to your name.
Actresses Zoe Tay, Rebecca Lim, Ya Hui, Julie Tan and Sheila Sim would agree. All five will be at the prestigious ceremony in April to see if they get to take home the coveted Best Actress or Best Supporting Actress trophy.
Between them, they played roles differing in likeability, depth, cunning and intelligence — but each reflects a strong woman in her own right.
The fabulous five recognise the influence they wield. For Tan, Snapchatting is a way of setting a good example for healthy eating. For Tay, each work day is a chance to display professionalism on set. Meanwhile, Sim hopes to use social media to highlight the dangers of cyber-bullying.
Beautiful, confident and passionate about their jobs, they embody the spirited ELLE woman of today. Find out their thoughts on topics ranging from motherhood to popularity and the fame game.
The One To Watch
Rebecca Lim on being famous and why she doesn't call herself a celebrity.
Lim, 29, has had her share of ups and downs since taking home the Best Actress award last year. She's back to defend her title via her turn as smooth-talking property agent Du Jun Ning in romance drama Sealed With A Kiss.
What's it like to be a famous face?
Rebecca Lim I haven't completely gotten used to it, but quite strangely, I don't want to ever get used to it. I never want to take this blessed position for granted.
Is the celeb life all it's made out to be?
RL There are ups and downs for every job, and being an artiste is no different. Notice I say "artiste" because calling myself a "celebrity" seems awkward. Our jobs place us in extraordinary positions; we get to do different things daily, meet many people, go to many different places. It's a charmed life. We don't have much control over our time but everything comes with a little bit of sacrifice.
You're no stranger to the highs and lows of fame — from achievements to controversy. How have you learnt to deal with either?
RL Whenever I face trials, I pray and remind myself that these too shall pass. There's a lesson for me to learn at the end of it; I may not know what it is now, but I know that on hindsight, everything will be apparent.
I'm happy about the achievements, I'm over the moon. It took much longer for me to get to where I am now compared to many people, so I appreciate the opportunities and the highs. I'm really not the most talented [actress] nor the most beautiful. These things given to me are unmerited favours. That keeps things in perspective.
What's one of the biggest misconceptions about fame?
RL That it's a priority. If you work hard and excel at what you do, fame is a by-product. Your priority should be improving — not just in your job, but every area of your life, too.
You're known for your strong work ethic. What do you say to those who insist celebrities are just on a quest for fame?
RL There's nothing wrong with wanting fame and more — as long as you don't harm anyone in the process, you don't go against your conscience, you respect everyone you come into contact with, and treat them the way they deserve.
What advice do you have for a younger generation of artistes looking to make their mark?
RL Don't compare [yourself with others]. There will be people seemingly better than you in certain aspects, but always remember that while you may want something someone else has, there are people who wish to have something you have. Do your best, work hard, and everything will work out.
Fame is fleeting — do you agree?
RL Yes. Everyone is dispensable, and fame isn't eternal. In fact, everything that can be seen is temporary.
How well do you think today's celebs toe the line between "famous" and "infamous"?
RL I think they do it well. Everyone is very intelligent, they know how they want to market themselves. That being said, I know there are a handful who are very misunderstood. They may be the nicest people around, but because of how they look, what they do gets misinterpreted and seen in the wrong light.
The Model Actress
Sheila Sim on transitioning from print to the small screen.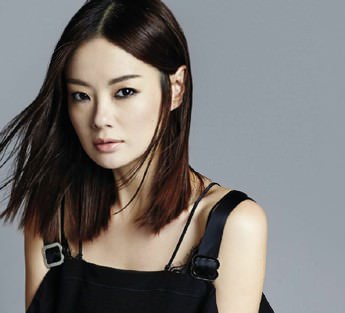 Better known for being on magazine covers and attending fashion soirées as a top model, this leggy beauty with the mega-watt smile made her foray onto the small screen in the 2013 offering I'm In Charge and continues to enjoy the craft. The 31-year-old calls her nomination for Best Supporting actress as the laid back Hong Shan Shan in 118 "a complete surprise", adding that "it was so easy being Shan Shan; it wasn't a stretch. I was just having fun every day!"
You've made big strides to score a nomination so soon… Sheila Sim
I didn't expect it! This role means a lot to me. It's my first long-form drama; for a whole year, I could be me — a bit silly, a bit boh chup, someone who handles whatever comes in a very laid back way. It's like I got nominated for being myself!
What do you think the judges saw in your performance?
SS I think I was so comfortable with the role that I was a natural at it. I think, also, it helped that I had a whole year to really develop and figure out the character. My chemistry with [Chen] Hanwei also played a big part; I can't say if this would also have been the case with someone else, but with him, it really helped. I thanked him as soon as I received news of my nomination!
How has your transition from modelling to TV been?
You can read up to 3 premium stories before you subscribe to Magzter GOLD
Log in, if you are already a subscriber
Get unlimited access to thousands of curated premium stories, newspapers and 5,000+ magazines
READ THE ENTIRE ISSUE
April 2016