On The Trails With The Superfans
Cosmopolitan - South Africa|December 2019
What makes professional women abandon every thing for a glimpse of their idols? EMILY GULLA goes on tour with them to find out
Natasha glances down at her watch quickly, not wanting to peel her eyes away from the glass doors in front of her. She doesn't have very long; it's approaching 8am and a familiar weariness has settled within her bones. She's been standing outside Radio 2's studios in London since last night, tightly wrapped up in layers of scarves and jerseys, guarding her against the frosty night.
Finally, at just past the hour, she gets a glimpse of the person she's been waiting for – sandy-haired and emerging from a black Mercedes. 'Gary!' she yells. I need to go to work!'
The Take That frontman spots her, flashes a smile and comes over. He knows what she wants, recognising her from the 28 other selfies he's taken with her over the years.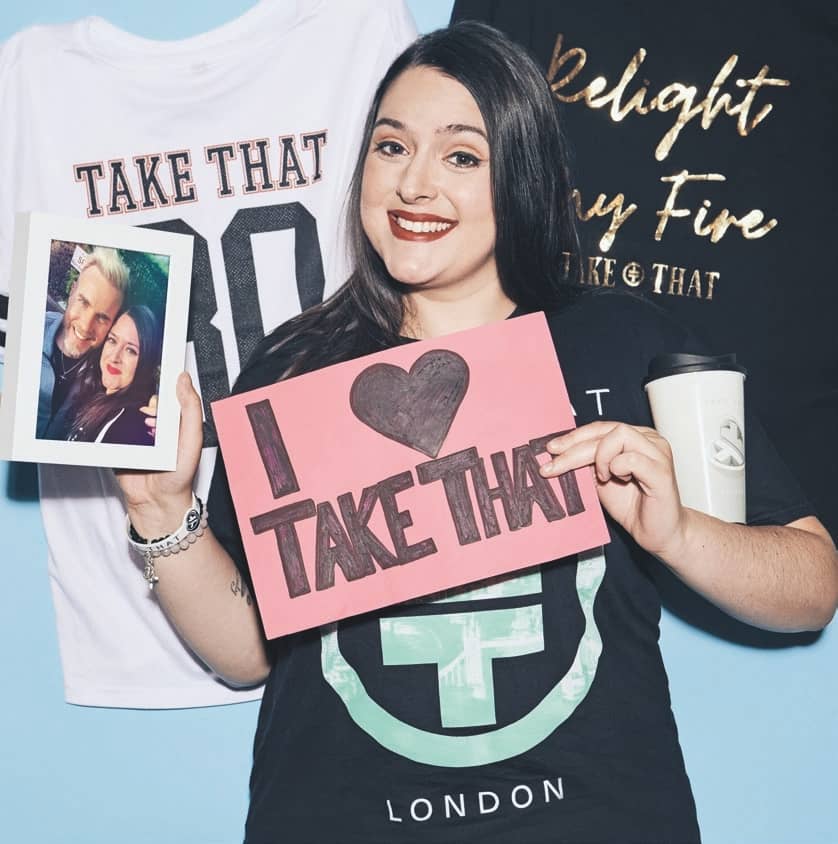 Selfie acquired, Natasha dashes to make the 40-minute journey to her office, where she's a senior administrator in the National Health Service. Sneaking into work before anyone can see her, she sprays some Batiste into her hair and changes her blouse for the 10am start. With no sleep at all, she embarks on an eight-hour shift, before she tracks down Take That again, ahead of their performance at the Royal Albert Hall.
You think you know superfans. They're teenage girls, screaming at concerts, sweaty and crying, desperate for their idol to catch their eye among the masses. But walking past the groups gathered outside gig venues and radio stations, you'll see not just the teen crowd, but people of all ages – many of whom, like Natasha, 31, juggle their obsessions with full-time careers and the demands of friends and family.
Yes, they may be loitering in the doorways of hotels and queueing for hours outside concert halls, but they're also sitting next to you in your office, working in the shops and restaurants you go to, and sitting opposite you on your morning commute. And I would know because, secretly, I'm one too.
The price of fame
It's with a sense of familiarity that I find myself jostled by a 50-strong crowd at 8am in the morning, shivering in paper-thin tights. I used to scour social media for One Direction's hotel details and skip school to await Ed Sheeran's arrival at the BBC studios. Now I'm here, outside Capital FM in London's Leicester Square, to find out what makes women like Natasha – and myself – give up their time, money and creature comforts, just for a glimpse of their hero.
The throng simmers with resentment. If they get a whiff that I don't love Miley Cyrus quite like they do, I could be in trouble. There's the scowling fan who keeps shouting at us all to 'stay in line' each time someone shuffles a few steps to avoid the early morning trucks dropping off supplies to the surrounding restaurants.
Behind me, I hear two male fans grumbling. 'F*cking autograph sellers,' says one. 'And the paparazzi…' replies his friend.
Later, I find out that Michael and Adam have both been waiting here since 3am – and they're unhappy about these 'professionals' getting in the way of 'real' fans' celebrity interactions.
You can read upto 3 premium stories before you subscribe to Magzter GOLD
Log-in, if you are already a subscriber
Get unlimited access to thousands of curated premium stories and 5,000+ magazines
READ THE ENTIRE ISSUE
December 2019