American Booty - Levi Strauss Confronts the Yoga Pant
Bloomberg Businessweek
|
July 27 - August 2,2015
At 162 years old, Levi Strauss confronts the yoga pant.
Tim Higgins, photographs by Justin Kaneps
At the foot of Telegraph Hill in San Francisco, in a renovated grain mill with soaring ceilings and wooden beams, Bart Sights is refining his recipes for denim. In his hands, stained dark blue from day after day of plunging fabric into buckets of indigo dye, he holds a list of steps for creating a particularly vexing style: women's skinny jeans. Most such jeans contain so much synthetic fiber they appear slick, cheap, and unlike real denim. Sights has been searching for a way to give the fabric just the right amount of stretch, in just the right places—enough to flatter the figure, but not so much that they stop looking like jeans.
Sights is Levi Strauss's senior director for technical innovation, and the Telegraph Hill space is the company's research and development lab. There, Levi's is overhauling its namesake brand's entire women's line. The company, founded in 1853, has survived the Civil War, the Great Depression, and other epochal threats, but in the last two years it's been tormented by an enemy none of its executives saw coming: yoga pants. "I don't even say the words," Sights says. Comfortable and flattering at the same time, athletic pants last year sold in about equal numbers to jeans for the first time in the U.S., according to market researcher NPD Group, as revenue from women's jeans fell 8 percent. At Levi's, the yoga pants scourge is especially vexing, disrupting a turnaround plan by a new chief executive officer that had been showing signs of success.
Sights, 50, has a closely shaved head and the soft remnants of a Kentucky accent. In his lab, he points to a pair of men's jeans purchased from a secondhand market in Thailand, possibly worn by a construction worker or roofer, that he wants to recreate for the women's line. Years of sweat, dirt, and stress have created a pattern as unique as a fingerprint; deep whiskers mark the upper thigh, and strips of blue have faded like paint on an old barn. Artificially reproducing the wear is easy, done with sandpaper, oxygen baths, and rocks. "The trick," Sights says, "is to get a look like this on a very modern fabric—a fabric with a lot of stretch in it."
His new technique, inspired by the makeup industry, is called contouring. Sights uses lasers to etch away the top layer of indigo, highlighting the center of the leg so the inner and outer thighs appear to recede into the background, helping the leg look slimmer. The whisker patterns on the thighs are applied in a way that draws the eye away from the edge of the hips, while chevrons run along the legs to give an elongated impression.
The finishing comes on top of new materials that Sights and his team have helped develop. It's not as simple as putting more stretch into the denim. They don't want to make yoga jeans. They want to make jeans that are more comfortable, yet retain their 19th century essence. For Levi's, a company whose riveted trousers can be found at the Smithsonian, the entire notion of innovation is ticklish. "There's not another piece of apparel in the world—probably in the history of mankind—that has remained virtually unchanged and still provides function," Sights says. "Pride in what you're wearing. Beauty." But if the tenets of denim are immutable, the way Levi Strauss sells jeans has been long overdue for a change.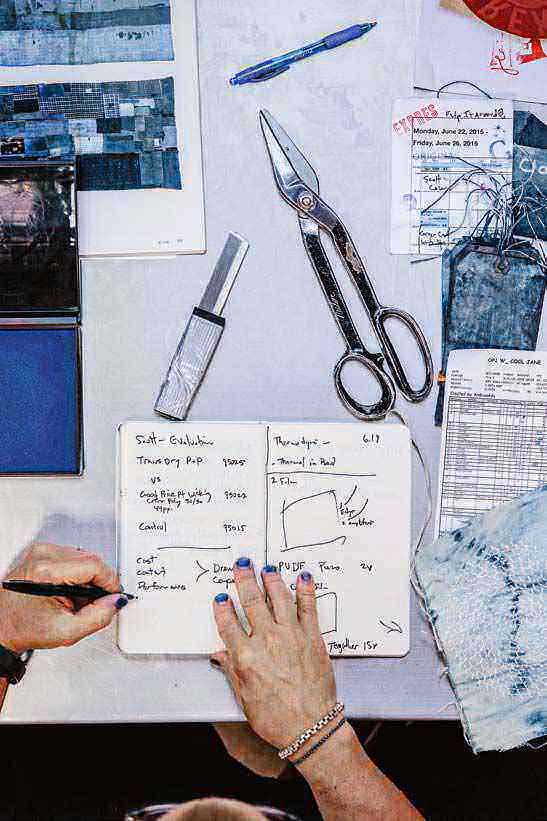 Two decades ago, Levi's was bigger than Nike, with revenue exceeding $7 billion. Sales have since sagged to $4.8 billion. The company is privately owned by its founder's heirs,and the luxury of not having to answer to public shareholders has helped make Levi's slow to respond to change. For a long time, that didn't matter—Levi's had built a machine that churned out familiar jeans for large department stores and customers with predictable tastes. Fifteen years ago, about half of the company's revenue came from its 10 largest U.S. customers. As those businesses declined— with many department stores folding or consolidating—so did their sales of Levi's jeans. Levi's now gets a quarter of its revenue from 550 company-owned stores around the world and from the Web, up from just 4 percent in 2006. "They weren't a dynamic business for the longest time," says Greg Ellis, who follows the industry for consulting firm Kurt Salmon. (Levi's debt is publicly traded, and several analysts track the company.) "When they started expanding their stores, that's when they started to think about being fashionable and participating in the top end of the market and keeping up with the style changes."
You can read up to 3 premium stories before you subscribe to Magzter GOLD
Log in, if you are already a subscriber
Get unlimited access to thousands of curated premium stories, newspapers and 5,000+ magazines
READ THE ENTIRE ISSUE
July 27 - August 2,2015