Welcome To Planet Exotic
YOU South Africa
|
30 April 2020
An off-the-wall documentary about big-cat owners in the US has been the surprise hit of lockdown
Wild cats, polygamy, murder-for-hire and a cast of characters so off the wall they'll stretch your belief to the limit.
It's the ultimate binge-worthy lockdown fodder, a shock doc to rival all others and the runaway Netflix success that's captivated millions and got the whole world talking – after they've picked their jaws up offthe floor, that is.
We're talking, of course, of Tiger King: Murder, Mayhem and Madness, the show with the incomparable Joe MaldonadoPassage, aka Joe Exotic, at its heart. He's the gay, gun-toting, mullet- wearing, foulmouthed owner of a private zoo, with a seemingly endless supply of husbands, pretensions to a country music career, presidential ambitions, a vicious temper and a penchant for blue eyeliner.
He also has a chip on his shoulder that will ultimately lead to his incarceration in a cell smaller than those in which he kept his 200-plus tigers and other big cats. Joe (57) is currently serving 22years in prison for hiring someone to murder his archenemy, Carole Baskin, as well as killing tigers to make more room in his nature park.
Here's a look at the show that's captured the zeitgeist of our crazy corona virusstricken world.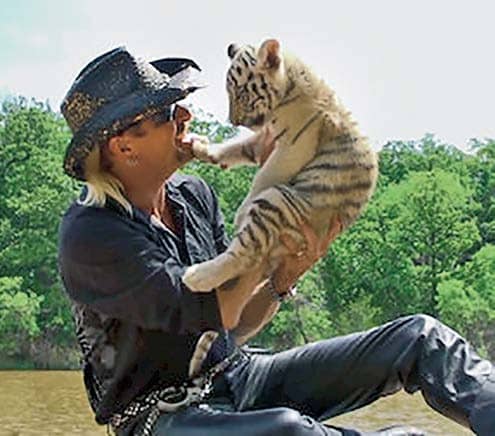 You couldn't make him up
"He was like a mythical character living out in the middle of Bumf**k Oklahoma." That's how veteran reality TV producer Rick Kirkham describes Joe, who'd hired Rick to spruce up his YouTube show.
A polarising character inspiring devotion from some staffmembers and loathing from business partners and animal- rights activists, Joe struts around his park, shirt unbuttoned to the navel, showing off mewling baby tigers to a captive audience.
He's married to John Finlay, a muchtattooed younger man with a shortage of front teeth. But that doesn't stop him falling for teenager Travis Maldonado – although weirdly, neither John nor Travis is gay.
You can read up to 3 premium stories before you subscribe to Magzter GOLD
Log in, if you are already a subscriber
Get unlimited access to thousands of curated premium stories, newspapers and 5,000+ magazines
READ THE ENTIRE ISSUE
30 April 2020