So Proud Of Our Miracle Girl
YOU South Africa|28 November 2019
Lara is the sole survivor of a set of triplets – and despite huge challenges she's thriving
THE little girl watches from the safety of her mom's arms as the front door opens to let us in.
A rose-gold balloon in the shape of the number three still floats in the living room as a reminder of her special birthday party two weeks ago.
Despite little Lara still not being able to walk at this age, her mom is delighted at the progress she's making. She's their miracle child, Jean-Mari van Vuuren tells YOU as we chat in their home in Durbanville, Cape Town.
There was a time Jean-Mari (39) wasn't sure she'd ever see her daughter grow up.
Now she and her husband, Divan (38), celebrate every milestone Lara reaches, even though it takes her longer than other kids her age to get there.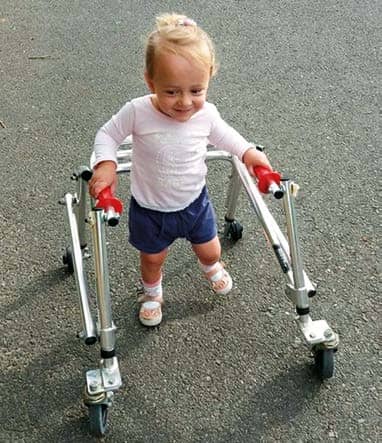 "Last week she managed to feed herself with a spoon for the first time," JeanMari says proudly. "And she's also started pulling herself up on the furniture. I'm so proud of her but I know I need to be patient."
In October 2016 Lara was born 13 weeks early, weighing just 648 grams. She was born in her parents' bakkie on the way to the hospital and her sisters, Lily and Julia, followed soon after.
Sadly, little Lara is the only triplet who survived – but although she pulled through, her journey has been anything but easy.
Earlier this year she was diagnosed with a form of cerebral palsy.
"It causes low muscle tone, which is why she can't crawl or walk yet," JeanMari says.
The condition is a result of Lara's severely premature birth and also because she suffered bleeding in the brain during birth, she explains.
"She scoots on her bum from one place to the next, although we've now bought a paediatric walking frame and she practises with it every day," says Jean-Mari, who runs an online clothing shop for toddlers as well as a cake-baking business from home.
Lara has to go for regular paediatric and other medical specialist visits.
You can read up to 3 premium stories before you subscribe to Magzter GOLD
Log in, if you are already a subscriber
Get unlimited access to thousands of curated premium stories and 5,000+ magazines
READ THE ENTIRE ISSUE
28 November 2019