'IT'S BEEN A WILD RIDE!'
YOU South Africa
|
1 October 2020
He's disabled. She's not. But that fact has nothing to do with why they fell madly in love
HANNAH Aylward was mortified. She and her new boyfriend, Shane Burcaw, were enjoying a meal at a restaurant when an elderly woman walked over to their table, laid her hands on Shane's slender shoulders, and began praying loudly as Hannah looked on in horror.
The couple had been dating for a few weeks and although Hannah was getting used to them being stared at, the impromptu prayer session was a first for her.
"Dear Lord, please give this boy a happier, better life," the woman said before Shane interrupted her invocation.
"Oh, no, no," he said, "I have a very happy life. Don't you see my beautiful girlfriend?"
Hannah is tall, blonde, and athletic, and Shane is not. His head is the size of an average adult, but his body and limbs look like they belong to a young child. He can't walk unaided and gets around in a motorised wheelchair.
At the age of two he was diagnosed with a rare form of spinal muscular atrophy, which causes his muscles to weaken and waste away over time. "I can barely move my legs, arms and hands," he explains. "I have difficulty swallowing, speaking and breathing especially when I'm sick."
The couple started a YouTube channel called Squirmy and Grubs – their nicknames for each other – which highlights what a relationship is like when one person has a disability and the other does not.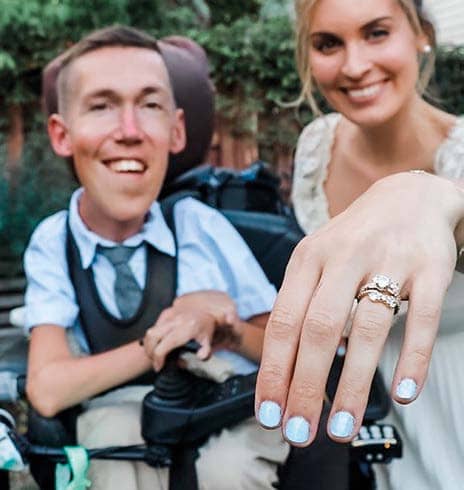 Public prayers for Shane (28) have been the least of their concerns – they're abused daily on social media, and the trolls came out in force when the couple tied the knot last month and announced their plans to start a family.
"Getting mean comments is nothing new. I thought that once we were married people would be like, 'Oh, they're for real'," Hannah (24) says. "Because we would get comments saying, 'This is fake, it's for publicity', or, 'She's using him for money or a YouTube channel', or whatever."
You can read up to 3 premium stories before you subscribe to Magzter GOLD
Log in, if you are already a subscriber
Get unlimited access to thousands of curated premium stories, newspapers and 5,000+ magazines
READ THE ENTIRE ISSUE
1 October 2020