IT WAS SUCH A SHOCK
YOU South Africa
|
20 August 2020
At first she resisted chemotherapy, then the doctors told her she'd have just 18 months to live
SHE thought she was doing everything right. She exercised a lot – she's a running fanatic – she took her vitamins religiously, ate healthily, didn't smoke and drank moderately.
So when she felt a lump in her breast she wasn't that concerned. She was breastfeeding her baby son, Cruz, so thought it was just a blocked milk duct.
How wrong she was. The blocked duct turned out to be breast cancer and Candice Kriel (32) is now fighting the disease tooth and nail – a battle made all the harder and lonelier by the fact the world is in the midst of a pandemic.
Candice, wife of Lions Super Rugby player Dan Kriel (26), is doing her best to keep her spirits up. She's spending lockdown with Dan, Cruz (20 months) and daughter Summer (3) on the family farm in Camperdown near Pietermaritzburg, KwaZulu- Natal, leaving only for her chemotherapy sessions.
She went for chemo two days before talking to YOU and she's looking remarkably well. Her hair is a little shorter than it is in the social media pics she shared recently and her eyelashes and eyebrows have fallen out but her skin is clear and she smiles a lot.
"I still don't feel very pretty though," she says.
Candice was diagnosed with aggressive breast cancer in February, a month before the country went into hard lockdown. At that stage Dan, twin brother of Bok centre Jesse Kriel, was playing Super Rugby in New Zealand with the Lions.
She'd finally decided to get the lump checked out and was referred for a mammogram. Not that she was expecting anything to come of it – it was just a precaution, she thought.
Candice was then referred for a biopsy but she still wasn't overly concerned – so when the call came a few days later while she was in the middle of a family lunch she was stunned. It was cancer.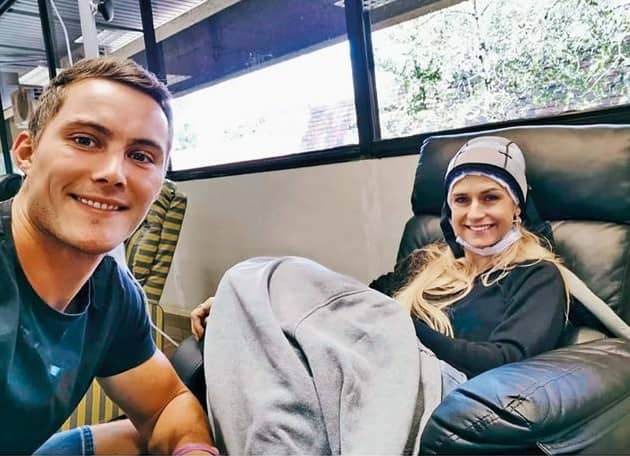 "I was in shock," Candice says. "From that moment on, everything was a blur. It just felt so surreal."
BEFORE her diagnosis, life was good and incredibly busy.
You can read up to 3 premium stories before you subscribe to Magzter GOLD
Log in, if you are already a subscriber
Get unlimited access to thousands of curated premium stories, newspapers and 5,000+ magazines
READ THE ENTIRE ISSUE
20 August 2020